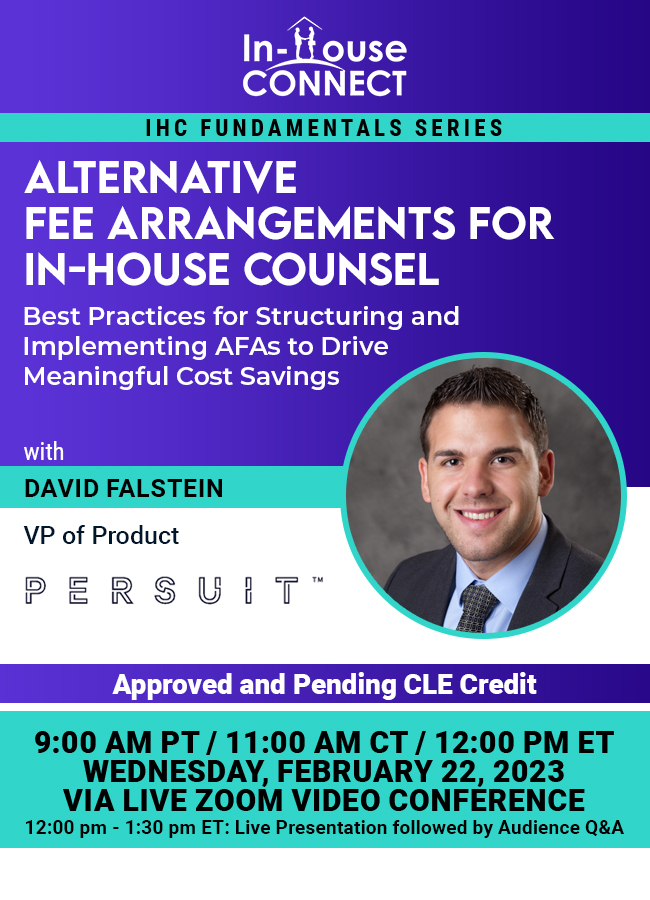 Speaker Bio

Sponsored by:

CLE Details
David Falstein   As the Vice President of Product at PERSUIT, David Falstein leads the product management team and ensures that PERSUIT is solving the most important problems for our customers as new enhancements are developed to the PERSUIT platform. While he is a licensed attorney, David was always focused on the business of law. While completing his JD/MBA at Michigan State, he wrote his thesis on Alternative Fee Arrangements ("AFAs"). David played an instrumental role implementing value-based pricing and matter level RFPs in a legal sourcing role for Johnson & Johnson. Today, David consults legal department leaders on legal ops best practices and provides strategic guidance to dozens of F500 corporations around designing and implementing more objective and competitive outside counsel selection processes.
AFAs Aren't "Alternative" Anymore: What In-House Counsel Need to Know about leveraging AFAs
Alternative fee arrangements or pricing models not purely based on hourly billing comprise 20% of the legal market right now and that number is quickly growing.
Join us on Wednesday, February 22 at 12pm ET / 9am PT for the next edition of our IHC Fundamentals Series, as David Falstein, PERSUIT's Vice President of Product, will share how AFAs are changing how in-house counsel source their firms and how to best leverage them for success.
Topics to be discussed include:
The advantages of AFAs—even for complex, high-cost matters
The financial savings generated by AFAs
How AFAs impact legal outcomes and firm relationships.
AFAs types (including pros & cons of each) and which ones are best for specific matters and practice areas
How competitive sourcing processes can provide confidence in AFA pricing proposed by firms
Who Should Attend
This program is designed for all levels of in-house counsel and legal operations professionals who are interested in better understanding AFAs and how to leverage them to capture cost savings.
CLE Information
This program is approved for CLE credit in the following states: NY, PA, CA, IL
This program is pending CLE credit in the following states:  TN, TX, OH, MN, NC, WA, GA, IN, KY, MO, CO
This program is pending CPD credit by the Law Societies of British Columbia and Ontario. For Alberta lawyers, consider including this course as a CPD learning activity in your annual Continuing Professional Development Plan.
This program is pending CLE credit for self-application by the attorney or for reciprocal CLE credit in the following states: AZ, CT, FL, ME, MT, NJ, & ND.
This program is appropriate for newly admitted attorneys and experienced attorneys.
There is NO COST to attend this program!
This program is FREE thanks to Persuit – The world's leading in-house legal teams are using PERSUIT to change how they select their firms. Let us show you how to find the most qualified firm at a price that makes sense for everyone — all without relying on the billable hour.
Wednesday, February 22, 2023, via Live Zoom Video Conference
12:00 pm – 1:30 pm ET: Live Presentation followed by Audience Q&A