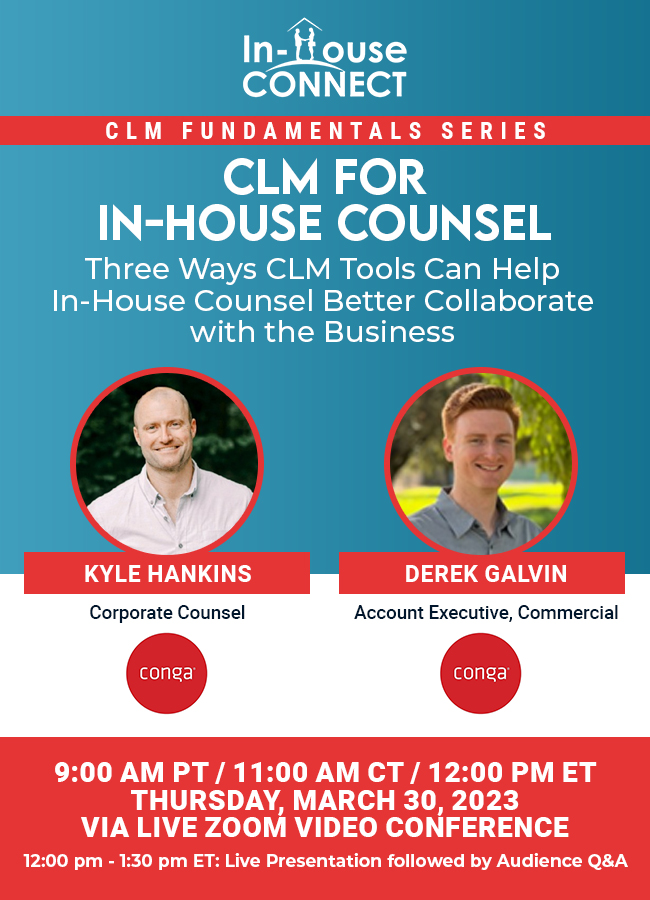 Speaker Bio

Sponsored by:

CLE Details
Kyle Hankins is Corporate Counsel at Conga. His primary focus areas are the support of Conga's Professional Services team and the support of various commercial transactions. Before joining Conga, Kyle built and ran a law firm representing private clients in contracts, personal injury, and family law. In addition, Kyle draws upon his underlying computer science degree and previous SAAS technical support experience to provide Conga with sound legal counsel.
Derek Galvin
Derek Galvin is a Commercial Account Executive at Conga, focused on helping organizations elevate their contract lifecycle management and quote to cash processes. He is an diligent software sales professional who thrives on helping people and businesses alleviate challenges and workflows through more efficient and user-friendly outcomes. He intently brings Conga's suite of products to market and wants to help you streamline your organizations' revenue operations needs.
This program is NOT CLE eligible.
CLM for In-House Counsel: Three Ways CLM Tools Can Help In-House Counsel Better Collaborate with the Business
As In-House Counsel are well aware, the negotiation and execution of a new business contract often requires significant collaboration with different organizational stakeholders. Sales, Production, IT, Tax/Finance, Insurance, Sales, the list of the different departments can go on and on. Collaborating with all these various groups is a challenge, however, with the right CLM tools and strategies, this process can become a breeze.
Join us on Thursday, March 30th at 12pm ET / 9am PT for the next edition of our CLM Fundamentals Series as, as Kyle Hankins, Corporate Counsel and Derek Galvin, Account Executive, from Conga – Crushing revenue lifecycle complexity – will discuss the three ways CLM tools can help in-house counsel better collaborate with the Business, which includes:
Creating a centralized version control system
Tracking and approving changes
Efficient communication outside the contract
Having the right collaborative technology and processes in place removes burdens and delays from contract cycles, equaling faster time to close deals.
Who Should Attend
This program is designed for both experienced and new in-house counsel who regularly collaborate with the business on contracts using CLM and want to learn how to better collaborate.
There is NO COST to attend this program!
This program is FREE thanks to our sponsor, Conga – Crushing revenue lifecycle complexity!
Thursday, March 30, 2023, via Live Zoom Video Conference
12:00 pm – 1:30 pm ET: Live Presentation followed by Audience Q&A