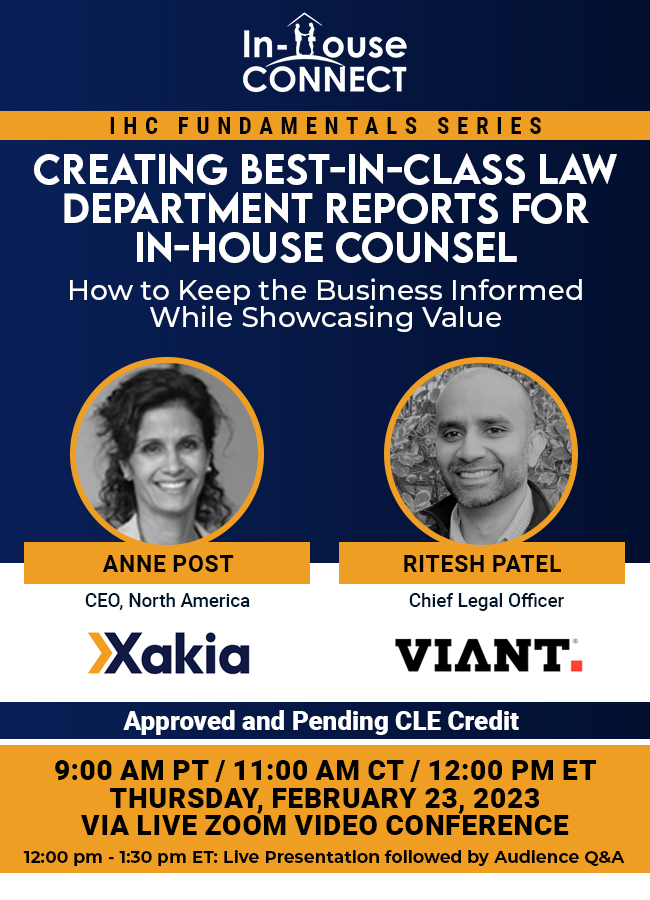 Speaker Bio

Sponsored by:

CLE Details
Anne Post
Anne Post is an experienced lawyer and entrepreneur, with a celebrated litigation career spanning more than 20 years. Anne brings to Xakia her passion for organization and efficiency, which translates to her heightened understanding of the needs of clients to achieve greater visibility and control over their legal function. Anne has extensive experience with the implementation of new systems and training processes for successful product adoption for in-house legal teams across the globe. Xakia's Customer Success program is managed under Anne's experienced guidance and includes a simple and cost-effective implementation process, which focuses on ensuring team success, while minimizing change management. Anne draws on her lengthy legal career to provide legal leadership with critical strategic guidance and a pathway to success. Anne has been with Xakia since 2017 and has overseen the launch of Xakia in North America and the adoption of Xakia by hundreds of new customers in that time.
Ritesh Patel
Ritesh Patel holds the title of Chief Legal Officer at leading people-based advertising software company, Viant Technology Inc. Patel assumed the role in September 2022, where he leads the company's legal department and is responsible for all aspects of its legal affairs, while also serving on the Executive Committee. He brings almost two decades of legal experience, advising public and private technology companies spanning a variety of industries including advertising technology, network monitoring and security, digital storage and more. Most recently Patel served as the Head of Legal for Apeel Sciences where he led its legal team on global initiatives. Before Apeel Sciences, Patel was Vice President, Assistant General Counsel at The Trade Desk, where he served as lead attorney on key revenue deals and public company reporting obligations. There he also managed the legal operations team and helped shape and scale the legal department. Prior to that, he served in leadership roles at global organizations including Western Digital Corporation, where he led a team responsible for advising the go-to-market function of divisions that generated $10B in annual global revenue. Patel earned a J.D. from the UCLA School of Law, a B.A. in Business Economics from UCLA, and is a Certified Public Accountant (inactive). (https://investors.viantinc.com/news-releases/news-release-details/viant-bolsters-legal-team-key-appointments)
Creating Best-in-Class Law Department Reports for In-House Counsel: How to Keep the Business Informed While Showcasing Value
Reporting to your stakeholders is an essential part of running a Legal Department. But what should it include? Who should receive your reports? How often? Most importantly, how do you maximize your communication to ensure it is engaging and easily understood?
Whether reporting to your C-Suite, Business Units, Board, or your own team, reporting doesn't need to be an enormous headache or even a necessary evil. Providing reports to your stakeholders is an opportunity to spot trends, identify gaps, maximize resourcing and to demonstrate the enormous value delivered by your Legal Team.
Join us on Thursday, February 23 at 12pm EST/ 9 am PT for the next edition of our IHC Fundamentals Series, as Anne Post, North American CEO of Xakia, and Ritesh Patel, Chief Legal Officer and Corporate Secretary of Viant Technology, will discuss best practice reporting and how to build your own actionable strategy for legal reporting.
Questions that will be discussed and answered include:
Who is your key audience for Legal Reports?
What data do you need to include?
What should the reports communicate?
How do you demonstrate value and actionable insights?
Who Should Attend
This program is designed for both experienced and new in-house counsel who want to provide more law department reporting but don't know where to begin, or who already provide reporting but want to provide additional or enhanced reporting.
CLE Information
This program is approved for CLE credit in the following states: NY, PA, CA, IL
This program is pending CLE credit in the following states:  TN, TX, OH, MN, NC, WA, GA, IN, KY, MO, CO
This program is pending CPD credit by the Law Societies of British Columbia and Ontario. For Alberta lawyers, consider including this course as a CPD learning activity in your annual Continuing Professional Development Plan.
This program is pending CLE credit for self-application by the attorney or for reciprocal CLE credit in the following states: AZ, CT, FL, ME, MT, NJ, & ND.
This program is appropriate for newly admitted attorneys and experienced attorneys.
There is NO COST to attend this program!
This program is FREE thanks to our gracious sponsor, Xakia – maximize your impact with legal matter management
Recording
This event will be recorded and posted within 10 days after the event, along with the presentation slides. Note, the recording is NOT CLE eligible.
Thursday, February 23, 2023, via Live Zoom Video Conference
12:00 pm – 1:30 pm ET: Live Presentation followed by Audience Q&A