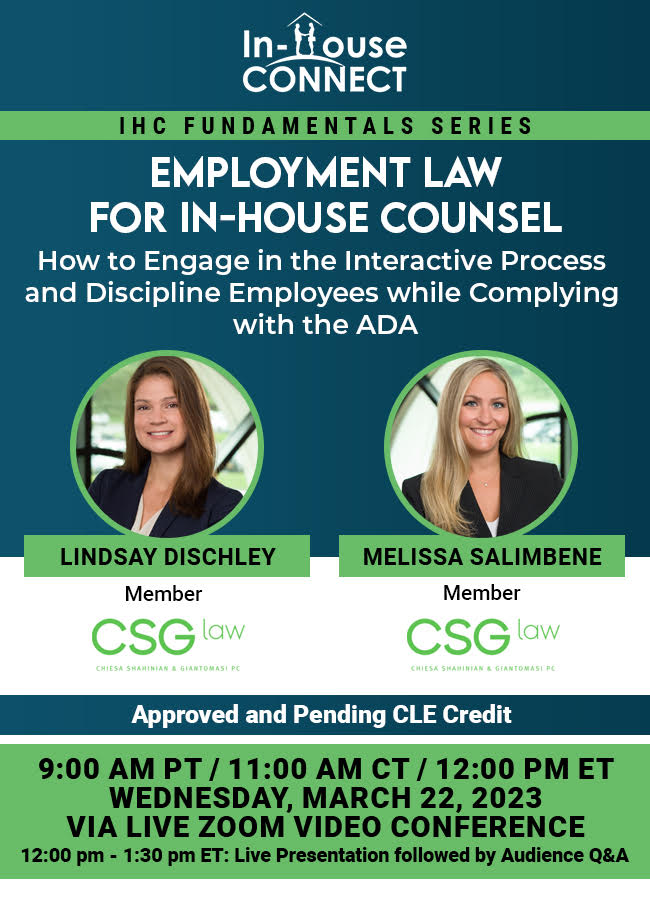 Speaker Bio

Sponsored by:

CLE Details
Melissa Salimbene
Melissa Salimbene is an experienced employment litigator and trusted advisor. For her litigation practice, Melissa regularly represents public and private employers of all sizes and industries before state and federal courts and administrative agencies in all aspects of employment litigation, including defending claims of discrimination, harassment, retaliation, and wage and hour issues. Melissa also brings and defends restrictive covenant claims involving trade secrets, confidentiality agreements, non-compete agreements and other post-employment obligations.
Lindsay Dischley
Lindsay Dischley is an experienced employment attorney. In this capacity, Lindsay represents employers in all aspects of employment litigation, including wrongful discharge, discrimination, harassment, whistleblower, retaliation and wage and hour claims in the state and federal courts of New Jersey and New York and before federal, state, and local administrative agencies, including the EEOC, New Jersey Department of Labor & Workforce Development, New Jersey Division on Civil Rights, New York State Division of Human Rights, and New York City Commission on Human Rights.
CLE Information
This program is approved for CLE credit in the following states: NY, PA, CA, IL
This program is pending CLE credit in the following states:  TN, TX, OH, MN, NC, WA, GA, IN, KY, MO, CO
This program is pending CLE credit for self-application by the attorney or for reciprocal CLE credit in the following states: AZ, CT, FL, ME, MT, NJ, & ND.
This program is appropriate for newly admitted attorneys and experienced attorneys.
Employment Law for In-House Counsel: How to Engage in the Interactive process and Discipline Employees while Complying with the ADA
The Americans with Disabilities Act (ADA) requires employers to provide reasonable accommodations to the known physical or mental limitations of a qualified individual with a disability, unless doing so would impose an undue hardship on business operations. The interactive process is used to determine whether an effective and reasonable accommodation is available for an employee under the ADA.
Join on March 22, at 12pm ET / 9am PT for the next edition of our IHC Deep Dives Series as Lindsay Dischley and Melissa Salimbene of Chiesa Shahinian & Giantomasi PC, will discuss an employer's obligations to engage in the interactive process and provide reasonable accommodations to current employees and job applicants who may need such an accommodation due to a disability.
In this interactive, informative and insightful program, Lindsay and Melissa will walk through each step of the interactive process, including
initiating the interactive process,
determining if an individual is "qualified,"
assessing whether the individual has a "disability" under the law, and
evaluating potential accommodations and whether they create an "undue hardship or burden" on the employer.
Lindsay and Melissa will also provide an update on litigation trends and best practices as to how employers can discipline, and even terminate, employees with disabilities without violating applicable law.
Who Should Attend
This program is designed for all levels of in-house counsel who manage employment law matters for their organization.
There is NO COST to attend this program!
This program is FREE thanks to Chiesa Shahinian & Giantomasi PC – We continuously evolve by keeping our clients' best interests top of mind, finding solutions that work!
Wednesday, March 22, 2023, via Live Zoom Video Conference
12:00 pm – 1:30 pm ET: Live Presentation followed by Audience Q&A