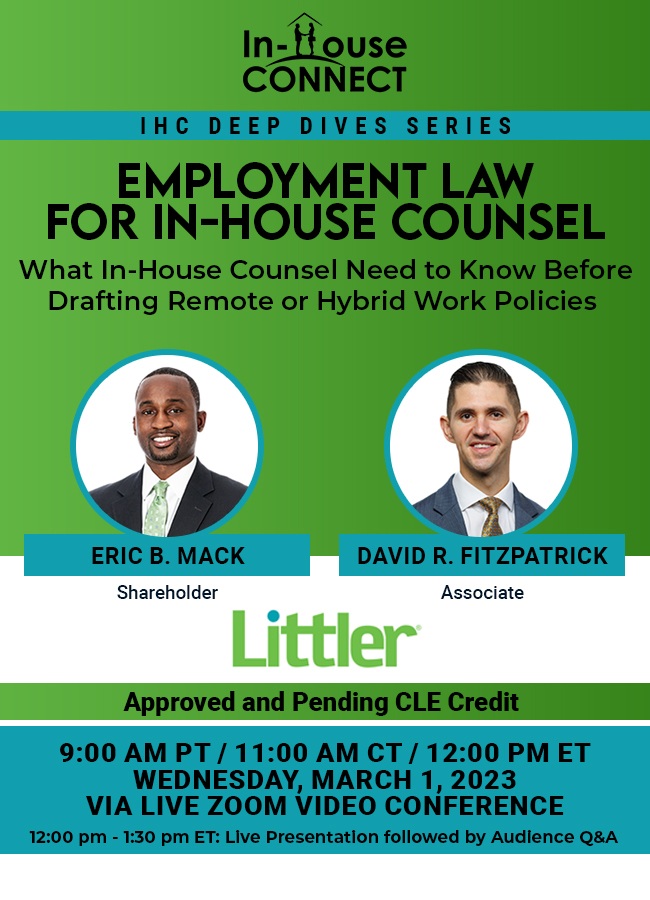 Speaker Bio

Sponsored by:

CLE Details
Eric B. Mack
Eric B. Mack defends private employers, especially financial institutions and hospitals, in a variety of employment disputes, including:
– Claims of wrongful termination
– Misappropriation of trade secrets
– Violations of non-compete agreements
– Tortious interference
– Wage and hour disputes
Additionally, Eric regularly counsels employers on day-to-day personnel matters, practices and compliance. He routinely conducts in-house training on employment-related topics. He has spoken extensively on various issues, including transgender employees in the workplace, FMLA/ADA issues, and wage and hour issues in the digital age. At his prior firm, Eric authored a monthly wage and hour blog which highlighted significant issues related to wage and hour issues across the United States. As an undergraduate, Eric played on the men's varsity basketball team and was the team captain during the 2003-2004 season.
David R. Fitzpatrick
David R. Fitzpatrick focuses his practice on employment and labor law issues. Prior to joining Littler, David worked as an associate in the litigation practice group at a full service law firm based in New England. He participated and assisted in all phases of litigation on a wide variety of legal areas, including employment, construction, property, torts, malpractice, and contract disputes. David also served as a chambers law clerk for Justice Gilbert V. Indeglia (ret.) and Justice William P. Robinson, both of the Rhode Island Supreme Court.
Employment Law For In-House Counsel: What In-House Counsel Need to Know Before Drafting Remote or Hybrid Work Policies
The landscape for hiring and retaining talent has changed over the last three years.  Today, current and prospective employees value quality of life more than past generations and, therefore, overall compensation is not always the primary factor in making their employment decisions.
Now that many employees have the option of working remotely, requiring employees to return-to-work has become a challenge, and employers are offering more incentives than ever to have employees work in-person in the office.
Join us on Wednesday, March 1 at 12pm EST/ 9 am PT for the next edition of our IHC Deep Dives Series, as Eric Mack, Shareholder, and David Fitzpatrick, Associate, of Littler Mendelson, will explore what kind of incentives employers have started to offer to encourage employees to return to the office.
Eric and David will discuss:
–  What kind of incentives employers have started to offer to encourage employees to return to the office.
–  How employers may decide to value whether they should pay their employees differently if they work remotely as compared to working in person, and
–  What additional factors employers should consider in offering more compensation or other incentives to those who work in-person.
If you partner with HR on employment related policies, you do not want to miss this timely program.
Who Should Attend
This program is designed for both experienced and new in-house counsel who handle or manage remote work and/or employment law or policies for their organization and want to learn more about incentivizing in-person policies.
CLE Information
This program is approved for CLE credit in the following states: NY, PA, CA, IL
This program is pending CLE credit in the following states:  TN, TX, OH, MN, NC, WA, GA, IN, KY, MO, CO
This program is pending CPD credit by the Law Societies of British Columbia and Ontario. For Alberta lawyers, consider including this course as a CPD learning activity in your annual Continuing Professional Development Plan.
This program is pending CLE credit for self-application by the attorney or for reciprocal CLE credit in the following states: AZ, CT, FL, ME, MT, NJ, & ND.
This program is appropriate for newly admitted attorneys and experienced attorneys.
There is NO COST to attend this program!
This program is FREE thanks to our gracious sponsor, Littler Mendelson!
Wednesday, March 1, 2023, via Live Zoom Video Conference
12:00 pm – 1:30 pm ET: Live Presentation followed by Audience Q&A