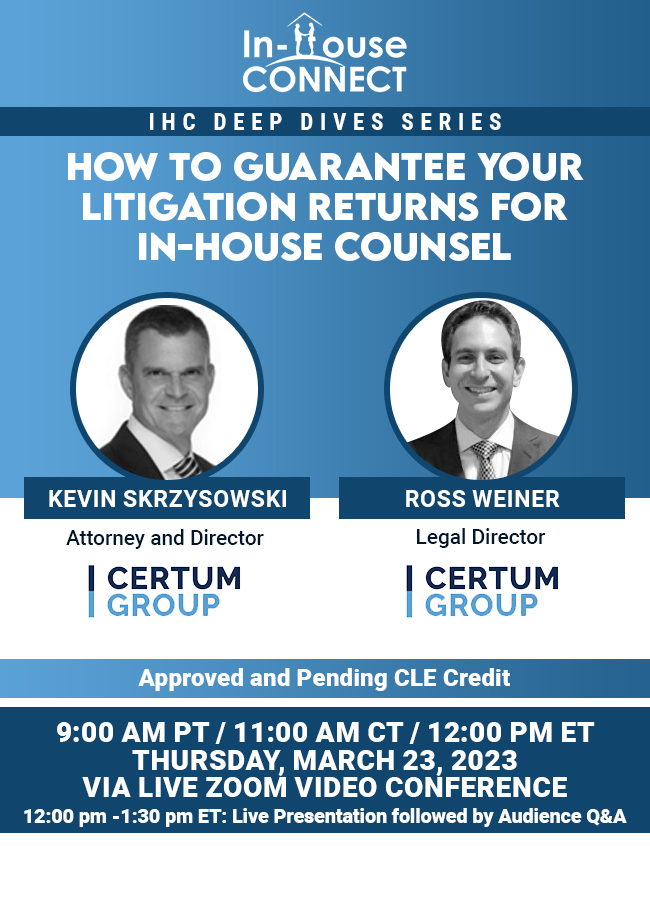 Speaker Bio

Sponsored by:

CLE Details
Ross Weiner
Ross Weiner is Legal Director at Risk Settlements, where he helps evaluate new business, assess legal and financial risk, and create optimal settlement designs and risk transfer options.
Prior to joining Risk Settlements, Ross spent 9 years as a litigator at Kirkland & Ellis LLP, where he focused on, among other things, class action disputes. During that time, Ross came to understand the importance of providing clients with creative approaches to settling disputes. At Risk Settlements, Ross is able to provide companies with these insights.
Ross graduated summa cum laude from Colgate University in 2004, and in 2009 he received his J.D. from The George Washington University Law School, where he graduated Order of the Coif and was a member of The George Washington Law Review. Ross was a New York Super Lawyers Rising Star for the years 2015 through 2018.
Kevin Skrzysowski
Kevin Skrzysowski is the National Director of Business Development and Marketing at Risk Settlements. Using Risk Settlements' proprietary quantitative and qualitative analyses and more than 20 years of legal and business expertise, Kevin assists companies and their counsel in designing optimal settlement structures to mitigate financial risk arising out of class action settlements.
Prior to joining Risk Settlements, Kevin has worked with law firms to design customized business solutions while working at Bloomberg's Legal Division, Thompson Reuters and Lexis Nexis. Kevin earned his Bachelor of Arts degree in political science from Ohio University and his J.D. from Marshall College of Law in Cleveland, Ohio.
CLE Information
This program is approved for CLE credit in the following states: NY, PA, CA, IL
This program is pending CLE credit in the following states:  TN, TX, OH, MN, NC, WA, GA, IN, KY, MO, CO
This program is pending CLE credit for self-application by the attorney or for reciprocal CLE credit in the following states: AZ, CT, FL, ME, MT, NJ, & ND.
This program is appropriate for newly admitted attorneys and experienced attorneys.
How To Guarantee Your Litigation Returns For In-House Counsel: The Benefits of Monetizing Litigation Assets, Leveraging Litigation Funding, Contingent Fee Insurance, and Judgment Preservation Insurance
Litigation has a tendency to interfere with companies' operational plans, often forcing parties to settle winnable cases so that they can put the litigation behind them and get on with business. Settlement on suboptimal terms may once have been the only option for lawyers and clients when they could not get a case dismissed or otherwise prevail within a reasonable time frame, but, now, insurance can provide a more effective way to neutralize these litigation-related risks.
The last year has seen a significant uptick in the fast-developing but still under-the-radar litigation risk insurance marketplace, driven by increasing use of litigation risk insurance by both litigators and in-house counsel.
Join us at 12pm ET / 9am PT on Thursday, March 23 for the next edition of our IHC Deep Dives Series, as Kevin Skrzysowski and Ross Weiner of Certum Group will take a deep dive into several innovative insurance solutions that provide coverage for plaintiffs and their counsel in the event the litigation they are pursuing is unsuccessful or if a judgment obtained at trial is threatened on appeal.
Kevin and Ross will also discuss:
non-recourse litigation funding,
the benefits of leveraging insurance before funding, and
how capital protection wrappers can ensure that an entire group of cases will prevail making monetization or funding possible.
Who Should Attend
This program is designed for in-house counsel who manage or oversee litigation and are interested in finding innovative ways to mitigate and cap litigation risk and exposure.
There is NO COST to attend this program!
This program, including any CLE credit, is FREE thanks to our fantastic sponsor, Certum Group – Providing certainty in the uncertain world of litigation!
Thursday, March 23, 2023, via Live Zoom Video Conference
12:00 pm – 1:30 pm ET: Live Presentation followed by Audience Q&A