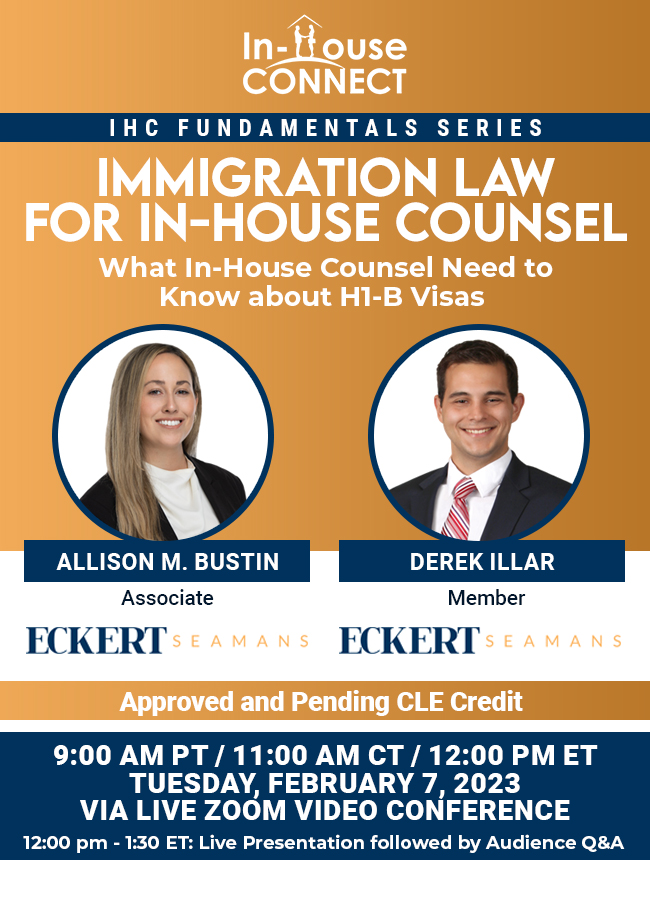 Speaker Bio

Sponsored by:

CLE Details
Immigration Law For In-House Counsel: What In-House Counsel need to know about H1-B Visas
H-1B lottery season will be here before we know it. Stay ahead of the process, and improve your chances of registrant-selection with the United States Citizenship and Immigration Service (USCIS), with an in-depth review of the timelines, regulations, and procedures in-house counsel are likely to be called-upon to interpret and navigate.
Join us on Tuesday, February 7 at 12pm EST/ 9 am PT for the next edition of our IHC Fundamentals Series, as Derek Illar, Member, and Allison Bustin, Associate, of Eckert Seamans, will cover the who, what, when, and how from lottery registration through visa stamping.
As an experienced immigration law team, Derek and Allison will provide regulatory background, action steps, and best practices to synthesize the H-1B process for your organization.
You'll learn how to:
Determine who you can and should submit for the lottery;
Manage H-1B lottery registration, selection, and stay ahead of the timeline;
Navigate H-1B regulations in a more global and remote mobilized workforce;
Protect your employer's investment in an H-1B employee through sponsorship agreements and other safety valves;
Prepare for filing, requests for evidence, appeals and USCIS agency error.
If you are contemplating entering a registrant for the H-1B lottery for the first time, want to better protect your business investment in a foreign national employee, or you have been unsuccessful with USCIS in the past, you do not want to miss this timely program.
Who Should Attend
This program is designed for both experienced and new in-house counsel who handle or manage immigration law issues for their organization and want to learn more about the H-1B lottery.
CLE Information
This program is approved for CLE credit in the following states: NY, PA, CA, IL
This program is pending CLE credit in the following states:  TN, TX, OH, MN, NC, WA, GA, IN, KY, MO, CO
This program is pending CPD credit by the Law Societies of British Columbia and Ontario. For Alberta lawyers, consider including this course as a CPD learning activity in your annual Continuing Professional Development Plan.
This program is pending CLE credit for self-application by the attorney or for reciprocal CLE credit in the following states: AZ, CT, FL, ME, MT, NJ, & ND.
This program is appropriate for newly admitted attorneys and experienced attorneys.
There is NO COST to attend this program!
This program is FREE thanks to our gracious sponsor, Eckert Seamans!
Recording
This event will be recorded and posted within 10 days after the event, along with the presentation slides. Note, the recording is NOT CLE eligible.
Tuesday, February 7, 2023, via Live Zoom Video Conference
12:00 pm – 1:30 pm ET: Live Presentation followed by Audience Q&A