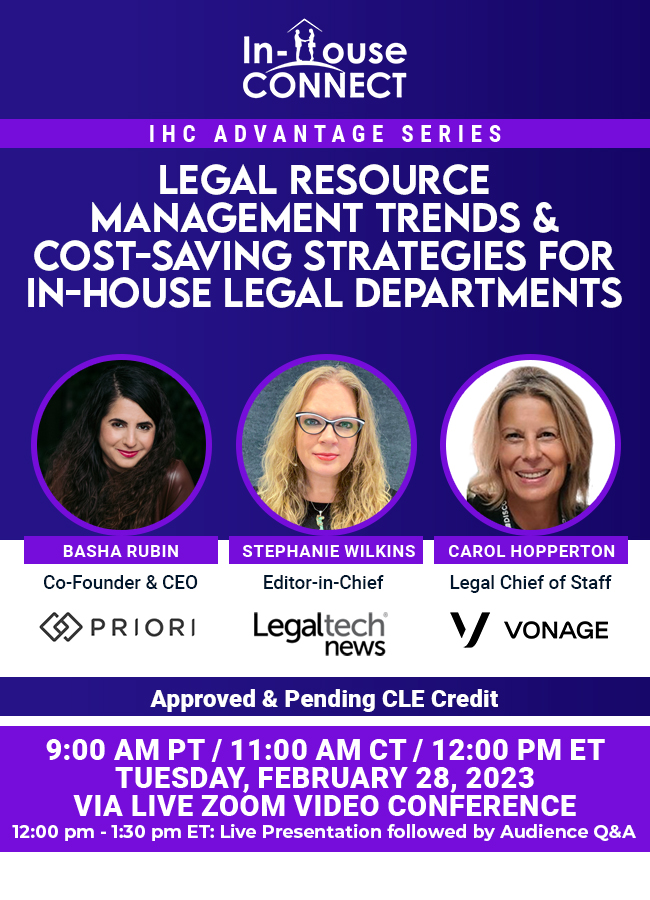 Speaker Bio

Sponsored by:

CLE Details
Basha Rubin
Basha Rubin is the CEO and Co-Founder of Priori. Priori revolutionizes how legal teams find and engage outside counsel. Ranked a Chambers Tier 1 Global LawTech company and a Financial Times Intelligent Business, Priori's cutting-edge technology powers two products: Scout, which surfaces insights about trusted outside counsel relationships to drive informed hiring decisions and D&I initiatives; and Marketplace, which connects legal teams with new talent from Priori's vetted, global network of attorneys at firms of all sizes.
Basha writes and speaks extensively on how technology is changing and will change the marketplace for legal services. Her work has been featured in Forbes, Techcrunch, Entrepreneur and Corporate Counsel, and she has spoken at ABA Techshow, Women in Legal Technology Conference, Clio Cloud Conference, SXSW, Reinvent Law, SOLID Conference and Legal Geek. Basha has been named an ABA Journal Legal Rebel, Financial Times Top 10 Legal Business Technologist, LTRC Woman of LegalTech, Fastcase 50 award winner and is part of Baylor Law School's "The Braintrust." She holds a JD and BA from Yale University and is a member of the New York Bar.
Stephanie Wilkins
Stephanie Wilkins is the Editor-in-Chief of Legaltech News at ALM. She has spent the better part of the past decade following the evolution of legal tech and learning how it can help in-house counsel, law firms and others in the legal industry. As a former practicing litigator, she is particularly interested in how legal tech can and should be used in real-life practice and the valuable differences it can make. Stephanie is also keenly interested in shining a light on the ways legal tech is being used to help the greater good.
Carol Hopperton
Carol Hopperton is Legal Chief of Staff for Vonage and has spent her career building legal support teams for fast growing technology companies. She focuses on the right blend of legal support, including employees, contractor resource, external counsel and Legal technology solutions to best enable scale and flexibility with improved quality of service. Carol is an enthusiastic supporter of new technologies and service offerings which are driving positive change within the legal services industry. She lived and worked in the UK until 2015 when she moved to the US.
Legal Resource Management Trends & Cost-Saving Strategies for In-House Legal Departments
Are you looking for ways to optimize your legal spend this year? For legal departments across the globe, rethinking resourcing and saving on costs are top priorities heading into 2023. Innovative staffing decisions and dynamic responses to the uncertain economic climate will be necessary for legal teams who want to achieve their goals.
Join us on Tuesday, February 28, 2023 at 12pm ET /9am PT, for the next edition of our IHC Advantage Series as Basha Rubin, Co-Founder and CEO at Priori, Stephanie Wilkins, Editor-in-Chief at Legaltech News, and Carol Hopperton, Legal Chief of Staff at Vonage, provide an outlook on legal staffing trends and cover resourcing strategies that can save costs and improve efficiency.
You'll learn about:
Legal outside counsel and resourcing trends and predictions for 2023
The impact of market conditions on in-house hiring and external resourcing
Cost savings strategies for legal departments
How legal departments are using Big Law alternatives to reduce costs
Who Should Attend
This program is designed for all levels of in-house counsel and legal operations professionals who are interested in learning about legal resourcing trends.
CLE Information
This program is approved for CLE credit in the following states: NY, PA, CA, IL
This program is pending CLE credit in the following states:  TN, TX, OH, MN, NC, WA, GA, IN, KY, MO, CO
This program is pending CPD credit by the Law Societies of British Columbia and Ontario. For Alberta lawyers, consider including this course as a CPD learning activity in your annual Continuing Professional Development Plan.
There is NO COST to attend this program!
This program is FREE thanks to Priori – Outside Counsel, Reimagined – Priori's global legal marketplace helps hundreds of in-house teams find the right legal provider for their next project!
Tuesday, February 28, 2023, via Live Zoom Video Conference
12:00 pm – 1:30 pm ET: Live Presentation followed by Audience Q&A