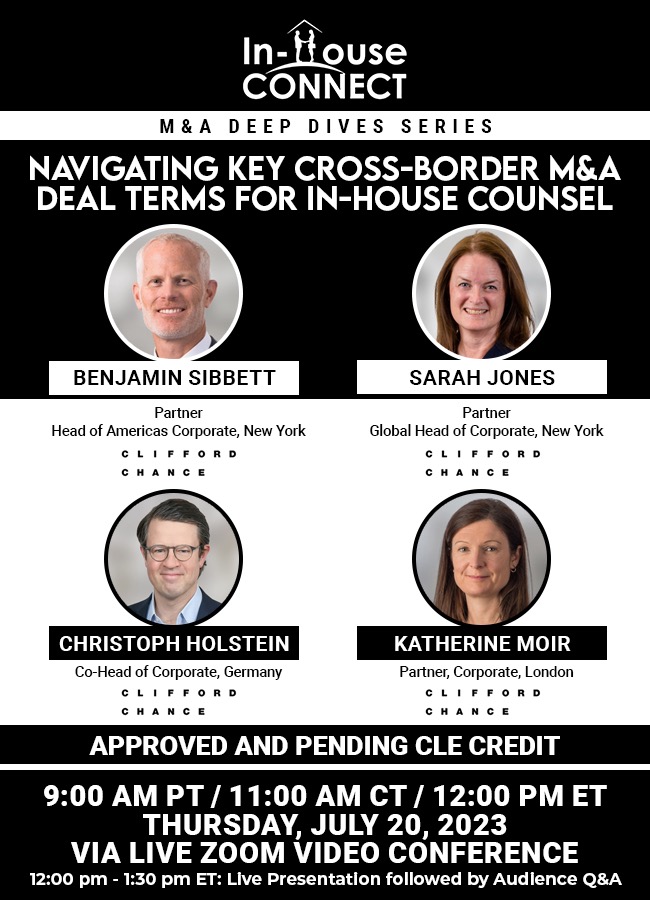 Speaker Bio

Sponsored by:

CLE Details
Benjamin Sibbett's practice encompasses a broad range of domestic and cross-border M&A transactions for a "roster of top corporate clients." He has particular expertise leading multi-jurisdictional and multi-practice teams supporting non-US corporate clients that are investing in the United States. He has been independently recognized in Chambers USA (Corporate/M&A), IFLR1000, The Legal 500 US (Corporate/M&A) and The Legal 500 Latin America (Corporate/M&A), with sources saying that he "has a standout client base," is "smart, responsive and practical" and is "always a pleasure to work with."
Ben is Co-Head of the Americas Corporate practice and a member of the firm's Americas Management Committee and Global Corporate Leadership Group. He is an appointed member of the firm's global Audit & Risk Committee and served as an elected member of the firm's global Partnership Council.
Sarah Jones is Global Head of Corporate. She is also Co-Head of the Americas Corporate practice and Head of our global Consumer Goods group. She has extensive experience in advising multinational corporations on high profile, complex, cross-border M&A and joint ventures across a wide variety of industries
Sarah has been a partner with the firm since 2001 and has been based in its New York office since 2006. She is admitted as a solicitor in England & Wales and to the New York Bar.
Christoph Holstein advises clients with respect to M&A transactions and corporate law matters. He has comprehensive experience in complex cross-border work and global reorganisations.
Christoph heads our global Industrial Sector Group and is a member of the Sector Groups "Healthcare, Life Sciences & Chemicals" and "Consumer Goods & Retail".
Katherine Moir specialises in advising clients on public takeovers, private acquisitions and disposals, and other general corporate matters.
Katherine was featured in The Lawyer's Hot 100 Dealmakers of 2018, which celebrates the UK's top lawyers. She was also named by Legal Business as a rising star in their 'Women Deal Stars' feature in 2018, and as a Next Generation Lawyer by Legal 500.
This program is approved for CLE credit in the following states: NY, PA, CA, IL, TX
This program is pending CLE credit in the following states:  TN, OH, MN, NC, WA, GA, IN, KY, MO, CO, SC. This program is pending CLE credit for self-application by the attorney or for reciprocal CLE credit in the following states: AZ, CT, FL, ME, MT, NJ, & ND.
Navigating Key Cross-Border M&A Deal Terms for In-House Counsel
Cross-border M&A is complex and represents a growing percentage of the global M&A deal market. Just like the businesses in which they invest, strategic and financial acquirors are no longer limited by artificial jurisdictional boundaries and are instead looking for returns all around the world.
Buyers who are investing outside of their home markets, and sellers and other stakeholders involved in those investments, are required to navigate competing laws, market norms and regulatory regimes, not to mention language, culture and time zones.  Having competent advisors is critical.
Join us on Thursday, July 20, 2023 at 12pm ET/9am PT for the next edition of our M&A Deep Dives Series, as Clifford Chance's M&A Partners Benjamin Sibbett, Sarah Jones, Christoph Holstein, and Katherine Moir, will provide a comparative overview of key deal terms across private M&A markets in each region.
Discussion topics include:
Material adverse change clauses
Drafting Reps and Warranties Clauses

Financing Conditions,

Non-Competes, and more!
Who Should Attend
This program is designed for both experienced and new in-house counsel who regularly negotiate or are interested in learning more about cross-border M&A deal terms.
There is NO COST to attend this LIVE program!
This LIVE program is FREE thanks to our gracious sponsor, Clifford Chance! If you can't make it to the live program, the recording will only be available for viewing via our paid CLE library, In-House Connect On-Demand!