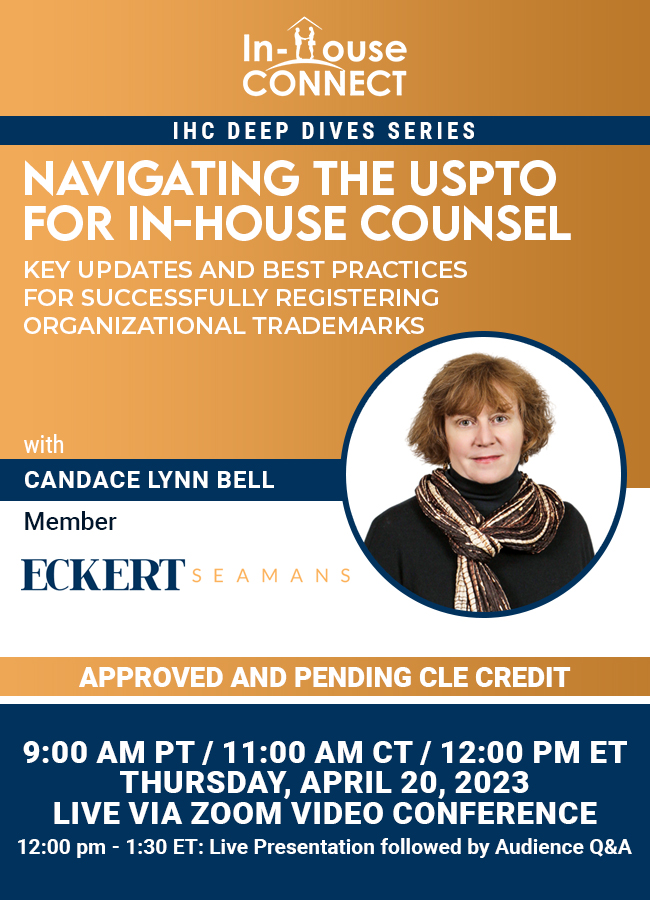 Speaker Bio

Sponsored by:

CLE Details
Candace Lynn Bell focuses her practice on intellectual property matters for United States-based companies and individuals as well as foreign-based individuals and companies doing business in the United States. She has more than 20 years of experience in working with clients to develop and manage trademark and domain name portfolios on a national and international basis, including developing brands, policing marks, and portfolio and registration management. She advises clients in a broad range of industries including software, insurance, entertainment, food service, bakeries, consulting, aviation, construction, precious metal refining, and retail. Candace also has an active trademark litigation practice representing clients in front of the Trademark Trial and Appeal Board of the United States Patent and Trademark Office and in federal courts.
She has served as lead counsel for her clients in jurisdictions around the globe directing local counsel in connection with trademark disputes. Based in Buffalo, New York, Candace has more than 25 years of experience counseling Canadian businesses expanding into the United States on  intellectual property cross-border legal issues, including U.S. customs and corporation matters.
This program is approved for CLE credit in the following states: NY, PA, CA, IL, TX
This program is pending CLE credit in the following states:  TN, OH, MN, NC, WA, GA, IN, KY, MO, CO, VA.
This program is pending CLE credit for self-application by the attorney or for reciprocal CLE credit in the following states: AZ, CT, FL, ME, MT, NJ, & ND.
This program is appropriate for newly admitted attorneys and experienced attorneys.
Navigating the USPTO for In-House Counsel: Key updates and Best Practices for Successfully Registering Organizational Trademarks
With the proliferation of advertising on the Internet and social media it is more important than ever for companies to protect their trademarks and other branding campaigns.
Join us on Thursday, April 20 at 9am PT / 12pm ET for the next edition of our IHC Deep Dives Series, as Candace Lynn Bell, Member, Eckert Seamans, will cover the rules and requirements for successfully registering Trademarks.
Discussion topics include:
Specimens Of Use for a Trademark Application and Post-Registration Filings
Signatories for Declarations in Connection with Use of Mark for Applications and Registrations
The new "Proof of Use Post-Registration Proceeding" under the Trademark Modernization Act, and
Recent changes in the "3 Month Response Period for Initial Office Action and Final Office Action Responses"
Who Should Attend
This program is designed for both experienced and new in-house counsel who handle or manage Trademarks or intellectual property for their organization and want to learn more about recent updates at the USPTO.
There is NO COST to attend this program!
This program is FREE thanks to our gracious sponsor, Eckert Seamans!