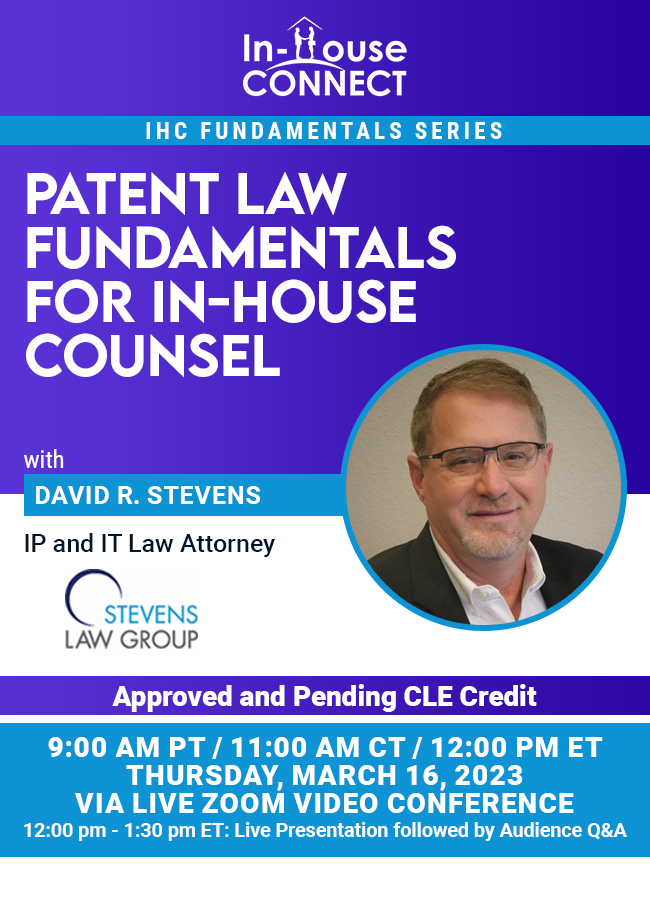 Speaker Bio

Sponsored by:

CLE Details
Dave Stevens
Dave Stevens' IP practice includes patent prosecution, transactions, due diligence work, agreements, opinions (including validity, infringement, patentability, right-to-practice (RTP), and freedom-to-operate (FTO) opinions), counseling, offensive and defensive patent issues, licensing, and litigation. He also serves as an expert witness in technical and intellectual property legal issues and has been called as a fact witness in enforcement actions involving the many patents he has written. He also is an expert in copyright (including software, publications, products and artworks, and other copyrightable forms) and open source issues. He works with foreign IP firms and foreign clients with respect to domestic and international patent prosecution, including Patent Cooperation Treaty (PCT) work.
The technical focus of his practice includes electronics, computer technology, automotive technology, communications, optical systems, green technologies, software, semiconductors, and mechanical devices.
CLE Information
This program is approved for CLE credit in the following states: IL, PA, CA, NY
This program is pending CLE credit in the following states:  TN, TX, OH, MN, NC, WA, GA, IN, KY, MO, CO
This program is pending CPD credit by the Law Sociality of British Columbia. For Alberta lawyers, consider including this course as a CPD learning activity in your annual Continuing Professional Development Plan.
This program is pending CLE credit for self-application by the attorney or for reciprocal CLE credit in the following states: AZ, CT, FL, ME, MT, NJ, & ND.
Patent Law Fundamentals for In-House Counsel
Protecting a company's intellectual property is critical to the success of the business. It is the job of in-house counsel to ensure that the company takes the right steps to protect and create these assets. And in order to do so, in-house counsel must be well versed in all areas of intellectual property, including with respect to all things Patent Law.
Join us on Thursday, March 16, 2023, at 12pm ET/9am PT, for the next edition of our Intellectual Property Fundamental Series, as Dave Stevens, IP and IT lawyer at the Stevens Law Group will provide an overview of Patent Law.
In this live interactive CLE presentation, Dave will explain:
What a Patent is and how do you file for one,
All things Patent law litigation, including defense and prosecution, and
Strategies for unlocking value in your organization's patents, including licensing.
Attendees will learn new approaches to old practices and about strategy plans that can help your organization better leverage its IP assets to drive business strategy.
Who Should Attend
This program is designed for general practitioners/corporate generalists, intellectual property attorneys, legal operations professionals, and in-house counsel who are interested in developing a strong understanding of Patent law and its application to their organizations.
There is NO COST to attend this program!
This program is FREE thanks to our gracious sponsor, Stevens Law Group!
Thursday, March 16, 2023, via Live Zoom Video Conference
12:00 pm – 1:30 pm ET: Live Presentation & Audience Q&A