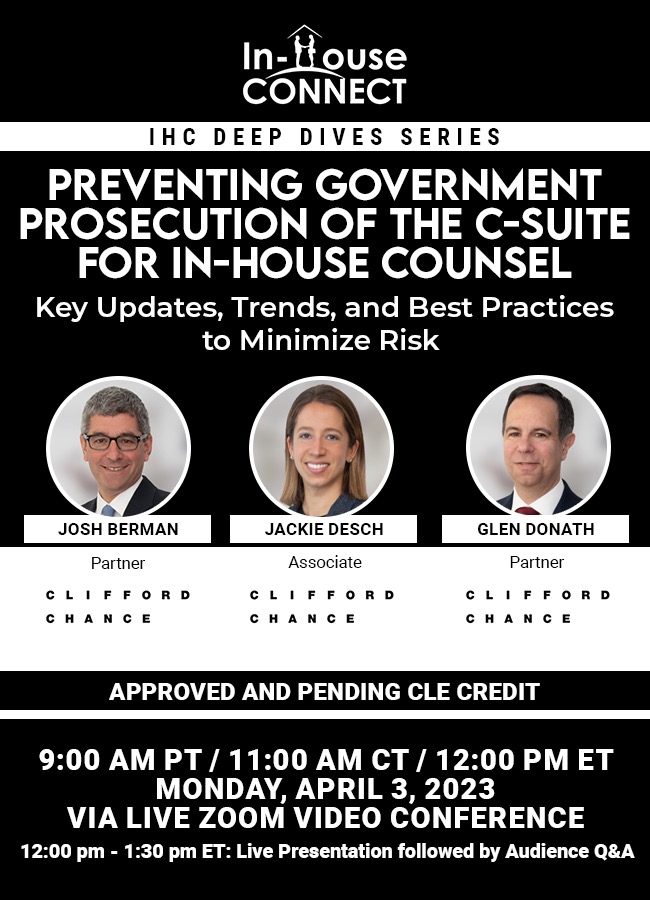 Speaker Bio

Sponsored by:

CLE Details
Josh Berman, Partner
Josh represents and provides counsel to corporate clients, Boards of Directors and individuals in government, Congressional and internal investigations, civil litigation, information security, and securities enforcement proceedings. Josh has expertise in developing global compliance and training programs for companies, and handling due diligence in connection with anti-corruption and other potential fraud matters.  
Glen Donath, Partner
Glen Donath is in the firm's White Collar and Regulatory practice. His practice focuses on white collar criminal defense, governmental enforcement actions, internal investigations, health care fraud and abuse, corporate compliance and complex civil litigation.
Jackie Desch, Associate
Jacquelyn Desch's practice focuses on government and internal investigations, white collar criminal defense, and parallel litigation. She advises domestic and international clients in matters involving compliance with the Foreign Corrupt Practices Act (FCPA), money laundering and the Bank Secrecy Act (BSA), economic sanctions, and fraud and other anticorruption laws.
This program is approved for CLE credit in the following states: NY, PA, CA, IL, TX
This program is pending CLE credit in the following states:  TN, OH, MN, NC, WA, GA, IN, KY, MO, CO, SC. This program is pending CLE credit for self-application by the attorney or for reciprocal CLE credit in the following states: AZ, CT, FL, ME, MT, NJ, & ND.
This program is appropriate for newly admitted attorneys and experienced attorneys.
Preventing Government Prosecution of the C-Suite for In-House Counsel: Key Updates, Trends, and Best Practices to Minimize Risk
The enforcement landscape has transformed. The US DOJ, SEC, Department of Treasury and other agencies have turned their focus on CEOs, other senior C-suite executives, General Counsels, Chief Compliance Officers and members of the Board of Directors. Once unthinkable, regulators have now shifted the enforcement regime away from exclusively extracting financial penalties from corporations and banks and now towards criminal and civil penalties for individuals – including jail time and disbarment.
Join us on April 3 2023 at 12pm ET/9am PT for the next edition of our IHC Deep Dives Series, as Clifford Chance investigation lawyers Joshua Berman, Glen Donath and Jackie Desch will provide a comprehensive update on the Biden Administration's new aggressive focus on investigating and prosecuting individuals.
Who Should Attend
This program is designed for both experienced and new in-house counsel who are responsible or manage corporate compliance or who counsels corporate officers and directors.