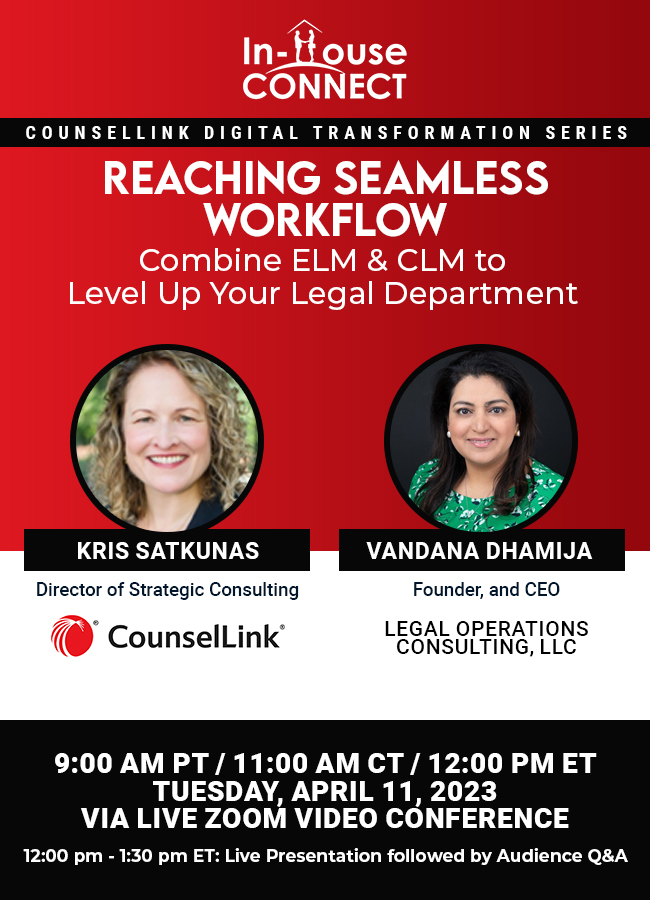 Speaker Bio

Sponsored by:

CLE Details
Kris Satkunas
As Director of Strategic Consulting at LexisNexis, Kris leads the CounselLink team's efforts to advise corporate legal department managers on improving operations with data driven decisions. Kris has over 20 years of consulting experience in the legal industry. Areas of expertise include benchmarking, practice area metrics and scorecards, matter pricing, and cost management.
Vandana Dhamija
Vandana Dhamija is Founder, and CEO of consulting practice Legal Operations Consulting, LLC. She has won two awards one for Change Management and Innovation for her Contract Mangement project and second for Process Improvement for her Global Rate Program.
She brings over 20 years of project management and operational experience to her corporate legal department and law firm clients, encouraging an atmosphere of understanding and collaboration between both. Her expertise spans diverse in-house legal and compliance roles at multi-billion dollar organizations such as – Viacom, BlackRock, and JPMorgan Chase. Her solution-driven practice provides real-world, long and short-term tailor-made strategic solutions.
She is a speaker and a published author with Bloomberg Law, and was a guest lecturer at Columbia Law School.
This program is NOT CLE eligible
Reaching Seamless Workflow: Combine ELM & CLM to Level Up Your Legal Department
From decisions spanning a breadth of strategic growth and scalability goals and delivering on customer-facing service and alignment initiatives, to improving profitability on a global scale (whether during a pandemic or impending recession), the role of corporate legal teams is ever more complex.
To manage efficiently, how can legal teams address company-wide business functions without benefit of advanced software solutions? Regardless of the size of a company, navigating ever-changing, complex environments puts the legal department into consistent reactionary mode when technology solutions are not firmly in place.
Join us 12 p.m. ET/9 a.m. PT on Tuesday, April 11, 2023, for the next edition of the CounselLink Digital Transformations Series. Kris Satkunas, Director of Strategic Consulting at LexisNexis CounselLink, and Vandana Dhamija, CEO of Legal Operations Consulting, explain how Enterprise Legal Management seamlessly integrated with Contract Lifecycle Management provide intrinsic value to you and your legal teams.
Who Should Attend
This program is designed for any corporate counsel and/or legal operations professionals who manage legal or contracts. Those interested in learning how to better optimize ELM and CLM to improve enterprise success, workflow, productivity, financials, vendor management, and internal collaboration should join.