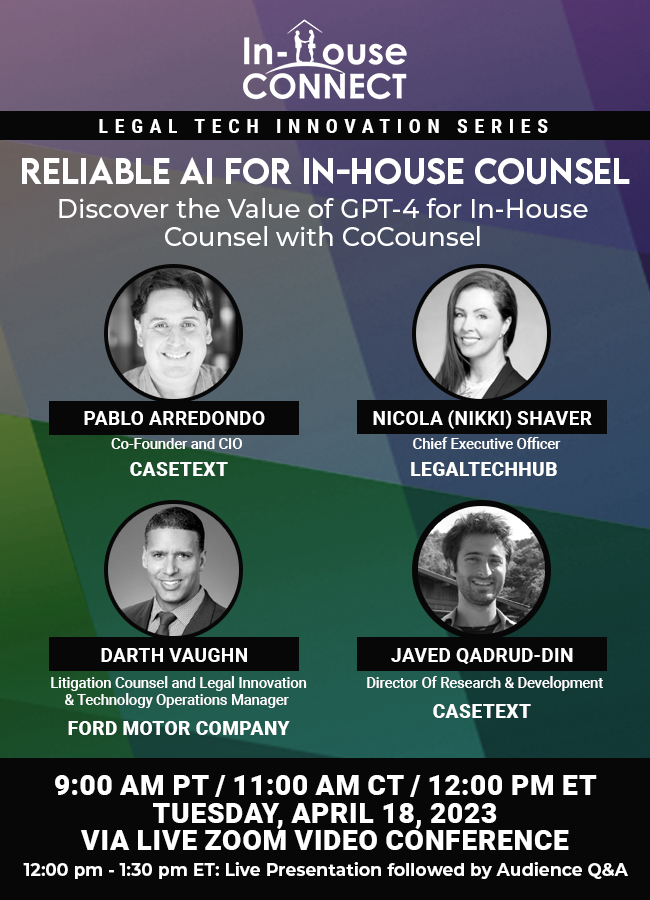 Speaker Bio

Sponsored by:

CLE Details
Pablo Arredondo
Pablo's innovations have been recognized by the World Economic Forum, the American Association of Law Libraries, and the American Bar Association. 
Prior to co-founding Casetext, Pablo represented leading technology companies as a patent litigator at Kirkland & Ellis and Quinn Emanuel. He trained at Stanford Law School and is a fellow at the Stanford Center for Legal Informatics.
Nicola (Nikki) Shaver
Over the past 20 years, Nikki has practiced law at large firms and media companies in Australia, led knowledge and innovation teams at firms including Stikeman Elliott in Canada and Paul Hastings in the United States, and advised legaltech companies and corporate legal on legaltech procurement.
In early 2019, running yet another fruitless Google search for use case functionality, it occurred to Nikki that there must be a better way to track innovative solutions in the market. Recognition of this gap sparked the initial idea for Legaltech Hub.
Darth Vaughn
Prior to joining Ford, Darth was a trial attorney who represented corporations in a wide-range of high-stakes litigation.  As a former business technology consultant with Accenture, Darth has utilized his substantial technical knowledge and expertise to help in-house legal departments implement legal operations and technology platforms to better manage resources and facilitate innovative problem solving. Darth has also assisted in-house legal departments in adopting and deploying artificial intelligence and other emerging technologies to better identify and mitigate legal risk and provide greater actionable business intelligence.
Javed Qadrud-Din

Javed Qadrud-Din has spent his career at the intersection of law and AI. After graduating from Harvard Law School cum laude in 2011, Javed spent two years practicing law at Fenwick & West. From there, he transitioned into the technology industry, where he held various roles in machine learning engineering and management at IBM Watson, Meta, and Casetext. Today, Javed serves as the Director of Research & Development at Casetext, where he continues to apply his unique blend of legal and technical expertise.
CLE Information (for Tab)
This program is NOT eligible for CLE credit.
Reliable AI for In-House Counsel: Discover the Value of GPT4 for In-House Counsel with CoCounsel
Casetext recently launched CoCounsel, the first AI legal assistant that can be trusted with substantive legal tasks, powered by OpenAI's new GPT-4 large language model. The result of a months-long beta program with 40+ law firms, legal departments, and legal aid organizations, and 4,000+ hours of testing with 30,000+ questions, CoCounsel has skills in-house attorneys use in their daily work.
Join us on Tuesday, April 18, 2023 at 12 pm ET / 9 am PT for a special discussion of the value of this breakthrough AI technology from Casetext with Pablo Arredondo, Co-Founder and CIO and Javed Qadrud-Din, Director Of Research & Development of Casetext, Darth Vaughn, Litigation Counsel and Legal Innovation & Technology Operations Manager, at Ford Motor Company, and Nicola (Nikki) Shaver, Chief Executive Officer at LegalTechHub!
Discussion topics include:
A brief, recent history of AI legal technology
Exactly what is different about GPT-4 and CoCounsel
The impact of CoCounsel for in-house lawyers and their teams
Real, practical in-house use cases for AI
Dedicated time to answer your specific questions
Who should attend
This program is designed for in-house lawyers and legal professionals interested in cutting through AI hype and learning exactly how today's leading technology will make you much more efficient with common, daily tasks.
There is NO COST to attend this program
This program is FREE thanks to our gracious sponsor, Casetext, which recently launched CoCounsel, the world's first AI legal assistant!