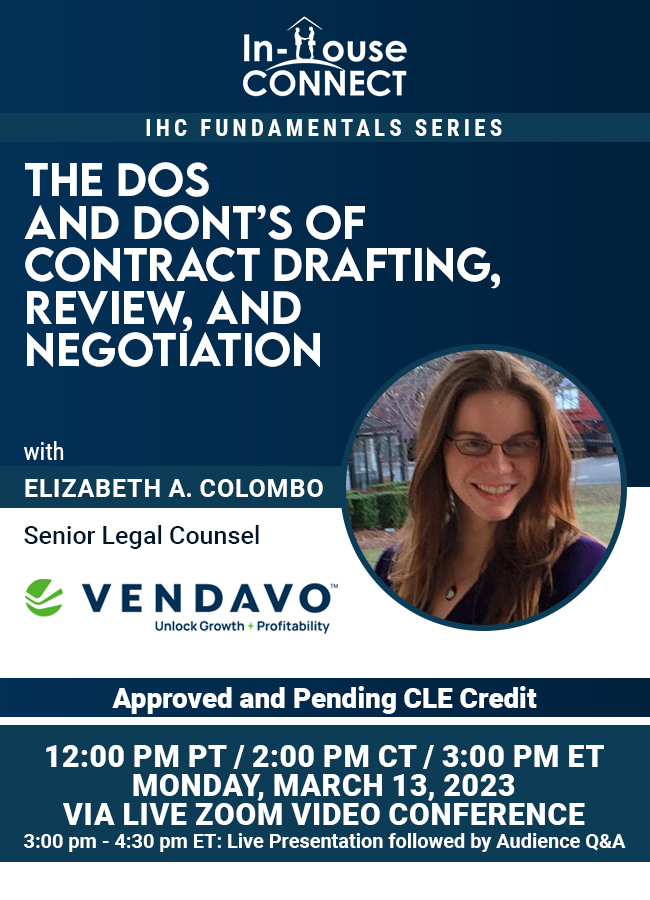 Speaker Bio

Sponsored by:

CLE Details
Elizabeth Colombo
In her role as senior legal counsel with Vendavo, Inc., Beth works cross-functionally with the relevant business teams and stakeholders, providing legal advice on a broad range of topics and guiding the business on legal compliance with a particular focus on drafting, managing, and negotiating client and vendor contracts of moderate-to-high complexity from the bid phase through contract execution, including software licensing and SaaS-specific provisions, as well as matters related to contractual liability and risk-shifting provisions and data privacy.
The Dos and Dont's of Contract Drafting, Review, and Negotiation
As in-house counsel, we each have our own unique style of drafting, reviewing, and negotiating contracts. Even with our distinct approaches, there are best practices we can share and employ, and poor practices we can avoid, to get the best possible results for our organizations.
Join us on Monday, March 13th at 3pm EST / 12pm PT for the next edition of our IHC Fundamentals Series, as Elizabeth A. Colombo, Senior Legal Counsel at Vendavo, Inc., shares her tips on what to do, and what not to do, when drafting, reviewing, and negotiating contracts.
This presentation aims to provide legal counsel, contracts staff, and other professionals who deal with contract negotiations in their day-to-day roles with high level tips and tricks for working with those all-important agreements.
Who Should Attend
This program is designed for both experienced and new in-house counsel, and other contracts professionals, who are eager to elevate their contracts skills.
CLE Information
This program is approved for CLE credit in the following states: NY, PA, CA, IL
This program is pending CLE credit in the following states:  TN, TX, OH, MN, NC, WA, GA, IN, KY, MO, CO
This program is pending CPD credit by the Law Societies of British Columbia and Ontario. For Alberta lawyers, consider including this course as a CPD learning activity in your annual Continuing Professional Development Plan.
This program is pending CLE credit for self-application by the attorney or for reciprocal CLE credit in the following states: AZ, CT, FL, ME, MT, NJ, & ND.
This program is appropriate for newly admitted attorneys and experienced attorneys.
There is NO COST to attend this program!
This program is FREE thanks to In-House Connect On-Demand All Access, on sale now for $199 per year! You can watch all of our amazing-events when it's convenient for you! And you can earn as many CLE credits as you would like within a 12-month period doing so! (Group discounts available!)
Monday, March 13, 2023, via Live Zoom Video Conference
3:00 pm – 4:30 pm ET: Live Presentation followed by Audience Q&A