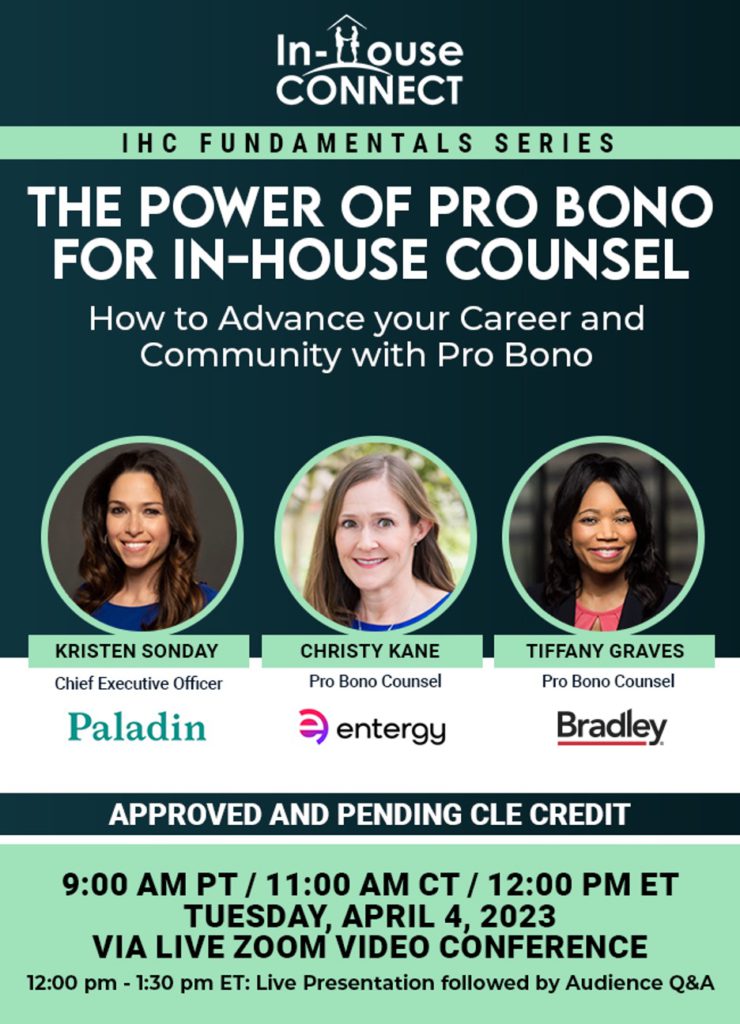 Speaker Bio

Sponsored by:

CLE Details
Kristen Sonday
Kristen is the Co-Founder and CEO at Paladin. As a first generation-college Princeton graduate, Kristen first witnessed how complicated our judicial system is to navigate while at the U.S. Department of Justice conducting international criminal work in Mexico and Central America. As one of the few Latinos on the team, she saw the immense value of having an advocate with you throughout the legal process, which inspired her to want to build something to increase access for those in diverse communities. After DOJ, she joined the Founding Team of YC-backed Grouper, where she learned how to build a startup from the ground up. In addition to Paladin, Kristen Co-Chairs the Legal Services Corporation's Emerging Leaders Council and is a partner at LongJump, investing in overlooked founders in the Chicago area.
Christy Kane
At Entergy, Christy works with our in-house attorneys to find pro bono opportunities and provide support if they need assistance during their representation or participation in a project. Christy helps shape Entergy's pro bono policies and guidelines, with strategic vision, to grow the pro bono practice, so that we can help the community at large.
Tiffany Graves
Tiffany Graves serves as Bradley's first-ever pro bono counsel. In this role, she leads the pro bono program across the firm's 10 offices. She works closely with Bradley's Pro Bono Committee to define the firm's programmatic mission, identify and create new pro bono initiatives, encourage and facilitate pro bono participation throughout the firm, and manage the firm's relationships with legal aid providers and nonprofit organizations. She also develops corporate pro bono projects in collaboration with firm clients and community organizations.
This program is approved for CLE credit in the following states: NY, PA, CA, IL, TX
This program is pending CLE credit in the following states:  TN, OH, MN, NC, WA, GA, IN, KY, MO, CO, SC. This program is pending CLE credit for self-application by the attorney or for reciprocal CLE credit in the following states: AZ, CT, FL, ME, MT, NJ, & ND.
This program is appropriate for newly admitted attorneys and experienced attorneys.
The Power of Pro Bono for In-House Counsel: How to Advance your Career and Community with Pro Bono
Whether you're a seasoned professional or just starting out in your legal career, pro bono work can help you build valuable skills, expand your network, and make a meaningful difference in your community.
Join us on Tuesday, April 4 2023 at 12pm ET/9am PT for the next edition of our IHC Fundamentals Series, as Christy Kane, Pro Bono Counsel, Entergy, Kristen Sonday, CEO, Paladin, and Tiffany Graves, Pro Bono Counsel, Bradley, will provide tips and strategies for in-house counsel and corporate legal departments looking to learn more and engage in Pro Bono work.
Our panel will share best practices for getting a Pro Bono program started, collaborating with outside counsel, and provide tips for maximizing your impact!
Who Should Attend
This program is designed for both experienced and new in-house counsel who are interested in learning more about how to engage and/or get their legal departments engaged in Pro Bono opportunities.