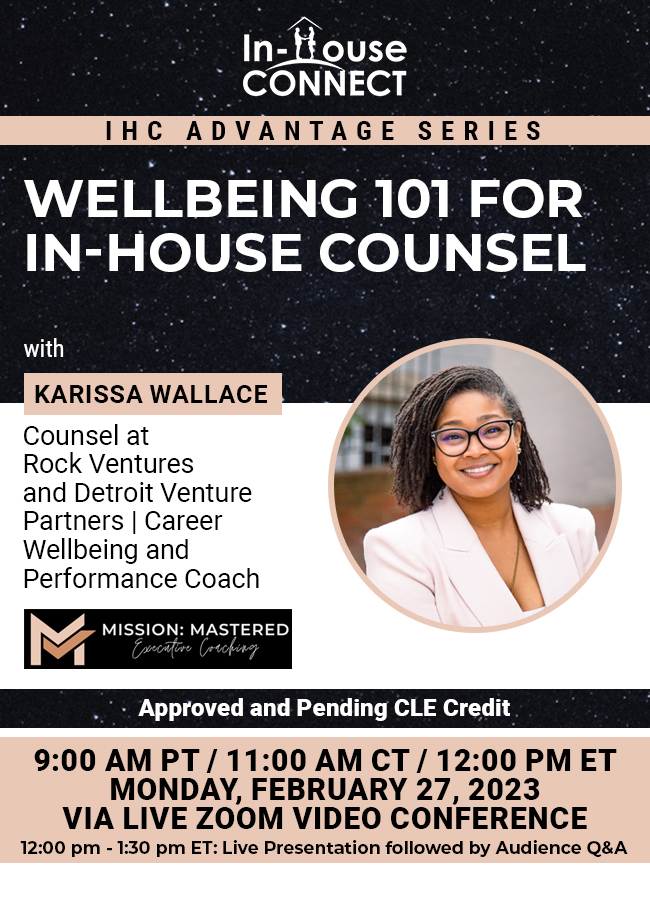 Speaker Bio

Sponsored by:

CLE Details
Karissa Wallace
Karissa Wallace is a certified executive coach and founder of Mission: Mastered, a platform for personal and professional development. Combining her professional experiences and her passion for wellbeing and building community, she shares a unique and inspiring blend of career performance and wellbeing perspectives that deeply resonate with accomplished leaders and professionals. Karissa supports her clients to navigate common high-performance pitfalls and holistically transform their careers, faster and with more ease.  Through coaching, her clients are empowered to banish burnout, curate the environment needed to perform at their best + experience more career satisfaction and fulfillment.
Professionally, Karissa is a corporate attorney practicing in Detroit, Michigan. She has been in-house the majority of her 15 years of practice and is currently Associate General Counsel at Rock Ventures, the family office of Dan Gilbert (founder of Rocket Mortgage and owner of the Cleveland Cavaliers).
Wellbeing 101 for In-House Counsel
As in-house counsel, we often work in environments where the stakes are high and success is determined by small margins under extreme pressure. With changes in the financial markets, we are expected to produce more with fewer resources and work hard just to prove our value. We are hired to shoulder the emotional burdens of our client's problems while interfacing with difficult personalities.  The legal profession is competitive and we must continually grow and develop to remain relevant and advance in our careers. All of these factors create layers of stress. 
Unmanaged chronic stress reduces our ability to perform our jobs and robs us of the capacity to enjoy the lives we are working so hard to build. It often leads to maladaptive coping mechanisms, which push us further from the satisfaction and fulfillment that we need in our careers. Research is clear that lawyers are experiencing anxiety, depression and substance abuse at concerning rates.
Wellbeing is the key to managing career stress – and it doesn't have to be complicated. 
Join us Monday, February 27th at 12pm ET / 9am PST, as Karissa Wallace, In-House Counsel at Rock Ventures and Detroit Venture Partners and Career Wellbeing and Performance Coach will share practical advice on how to better manage stress and teach us how to take control of their. Discussion topics include:
Why practicing law is often stressful.
Why all career-related stress isn't bad (and the type of stress that is helpful for your career).
How and why chronic stress depletes your brain and body.
The critical wellness factors that have the most impact on your performance.
Tactics to implement small changes that lead to big wellness wins.
How to create a wellness booster plan in as little as 30 minutes each day, and.
Perspective shifts that will exponentially increase your follow-through on wellness goals.
Who should attend
High-performing in-house counsel (at all levels) who want to better manage their stress levels and take control of their career experience (even if they've tried and failed in the past).
CLE Information
This program is approved for CLE credit in the following states: NY, PA, CA, IL
This program is pending CLE credit in the following states:  TN, TX, OH, MN, NC, WA, GA, IN, KY, MO, CO
This program is pending CPD credit by the Law Societies of British Columbia and Ontario. For Alberta lawyers, consider including this course as a CPD learning activity in your annual Continuing Professional Development Plan.
This program is pending CLE credit for self-application by the attorney or for reciprocal CLE credit in the following states: AZ, CT, FL, ME, MT, NJ, & ND.
This program is appropriate for newly admitted attorneys and experienced attorneys.
There is NO COST to attend this program!
This program is FREE thanks to In-House Connect and Mission Mastered!
Monday, February 27, 2023, via Live Zoom Video Conference
12:00 pm – 1:30 pm ET: Live Presentation followed by Audience Q&A