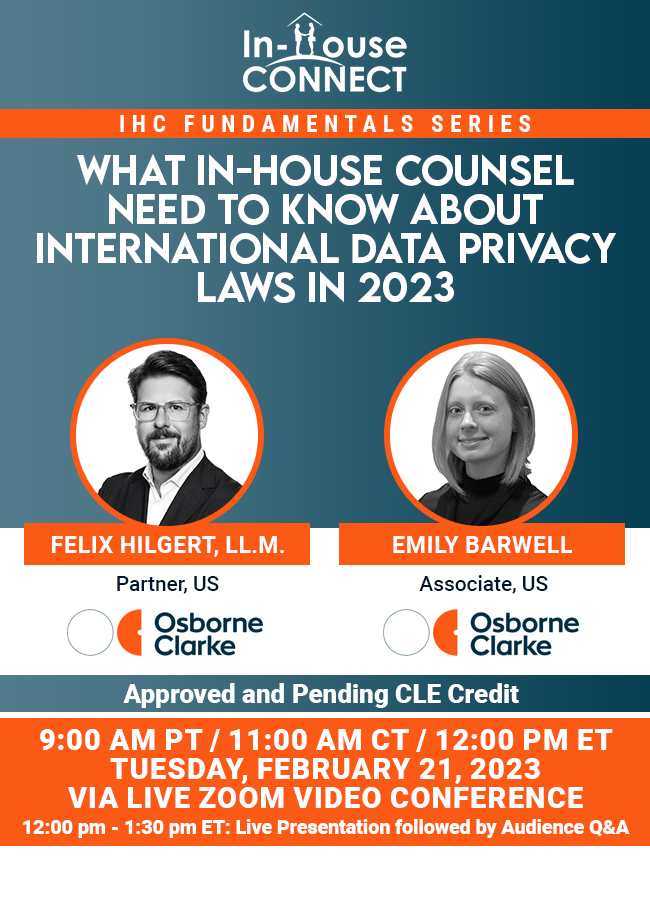 Speaker Bio

Sponsored by:

CLE Details
Felix Hilgert, LL.M.
Felix is a technology and video games lawyer with a focus on helping North American companies expand and succeed abroad. His practice centers on IP/IT agreements, e-commerce, as well as specific issues of the interactive entertainment industry.
Felix advises innovative software and technology companies as well as online retailers and digital platforms on license, development and Software-as-a-Service (SaaS) contracts, AR/VR, as well as standard terms for B2B and B2C transactions, manages international expansion projects and complex contract negotiations, and advises on e-commerce and consumer protection. He is also regularly involved in technology driven transactions.
Clients in the entertainment industry particularly benefit from his industry experience. He provides comprehensive legal advice regarding the content and distribution of entertainment products for the German market.
Felix joined Osborne Clarke' Cologne office as a lawyer in 2011 after studying in Cologne and Paris and training with a German federal youth protection authority, as well as an international law firm in Vancouver. He has also worked at a Toronto law firm specializing in cross-border advice. In 2021, he relocated to Osborne Clarke's San Francisco/Silicon Valley offices
Felix has published on IT, privacy and youth protection law and regularly speaks at legal conferences around the world. He also contributes to the specialized blog www.gameslaw.org.
Emily Barwell
Emily is an associate in the US team who specializes in data protection and technology contracts.
 
Emily originally joined Osborne Clarke as an associate in the commercial team in Bristol in November 2019, but now works as part of our US team providing in-time-zone UK legal support to global and expanding companies. She has previously worked on international projects providing data protection advice and supported a number of IP and corporate transactions.
Emily's experience includes advising a wide range of companies, from international global organizations to SMEs on a range of commercial, intellectual property and data protection issues. She has worked closely with companies in the software, gaming, entertainment, automotive and energy industries.
She also has specialist experience on advising on alternative data sharing arrangements and on legal issues surrounding artificial intelligence. As part of Emily's work on artificial intelligence, she has contributed to the published IEEE Standard for Transparency of Autonomous Systems.
Emily has previously spoken at a number of conferences and webinars including speaking at the Information Law and Policy Centre's annual conference and at the Society for Computers and Law.
What In-House Counsel Need to Know About International Data Privacy Laws in 2023
We can't predict everything that will happen in the international data privacy space in the next 11 months, but we can get you prepared by discussing the pivotal issues of today and how they might impact your organization tomorrow.
In a world where every company is a technology company and data driven business is the norm, data privacy and data use continue to be hot topics. However, as many companies operating internationally know, data privacy laws vary across the globe, with the EU and UK having some of the strictest rules and the toughest consequences. Where your company operates on a global scale, you and your compliance team need to know what these issues are and what's down the road in order to prepare itself for changes and avoid fines and costly regulator actions.
Join us on Tuesday, February 21 at 12pm EST/ 9 am PT for the next edition of our IHC Fundamentals Series, as Felix Hilgert and Emily Barwell of Osborne Clarke, will discuss data privacy rules in the EU and UK and have a look at what's coming up in 2023.
This live, interactive CLE presentation aims to provide legal counsels, compliance staff and other professionals who deal with privacy in their day-to-day role with a view on current international issues and upcoming changes.
The topics covered will include:
Updates to the US – EU Privacy framework.
Updates in the UK, post Brexit
Regulator actions and court decisions – what topics are hot right now, and predictions for 2023
High risk areas for international companies, and how to spot when you need specialist privacy advice.
Who Should Attend
This program is designed for both experienced and new in-house counsel who handle or manage data privacy issues for their organization and want to learn more about international data privacy laws, rules and regulations.
CLE Information
This program is approved for CLE credit in the following states: NY, PA, CA, IL
This program is pending CLE credit in the following states:  TN, TX, OH, MN, NC, WA, GA, IN, KY, MO, CO
This program is pending CPD credit by the Law Societies of British Columbia and Ontario. For Alberta lawyers, consider including this course as a CPD learning activity in your annual Continuing Professional Development Plan.
This program is pending CLE credit for self-application by the attorney or for reciprocal CLE credit in the following states: AZ, CT, FL, ME, MT, NJ, & ND.
This program is appropriate for newly admitted attorneys and experienced attorneys.
There is NO COST to attend this program!
This program is FREE thanks to our gracious sponsor, Osborne Clarke!
Recording
This event will be recorded and posted within 10 days after the event, along with the presentation slides. Note, the recording is NOT CLE eligible.
Tuesday, February 21, 2023, via Live Zoom Video Conference
12:00 pm – 1:30 pm ET: Live Presentation followed by Audience Q&A