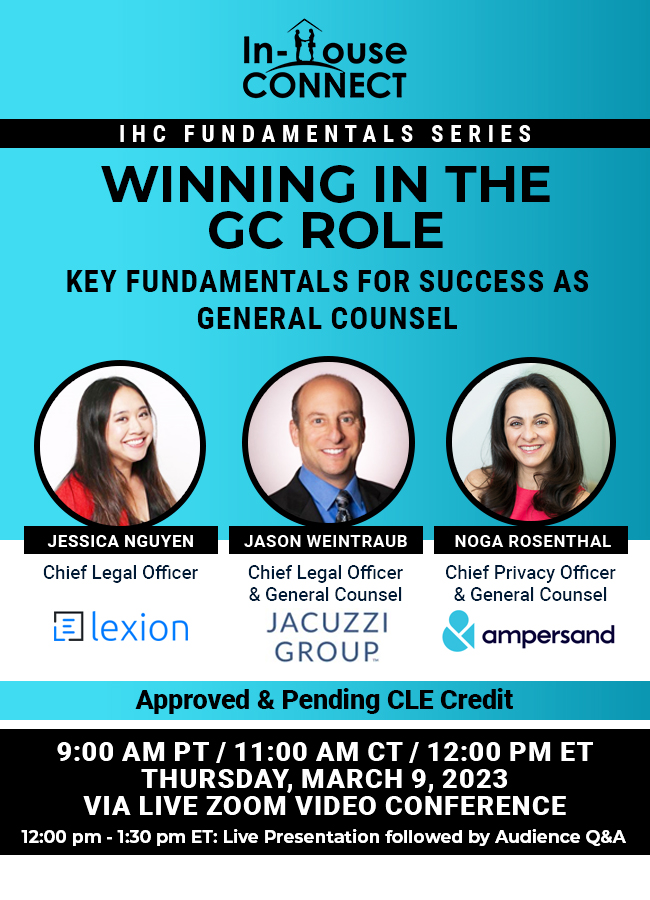 Speaker Bio

Sponsored by:

CLE Details
Jessica Nguyen
Jessica Nguyen is the Chief Legal Officer of Lexion, the simple legal ticketing system and AI powered contract management. Jessica has an extensive and broad in-house legal career at companies of various sizes and stages in the technology space. Prior to Lexion, she was the General Counsel of PayScale, a Microsoft attorney supporting Outlook email, and the first in house attorney at Avalara. Jessica has been recognized as the 2020 "Startup GC of the Year" by Corporate Counsel magazine, a 2019 Top 100 Legal Influencers by The Business Journals, Best Under 40 by the National Asian Pacific American Bar Association, and a 2018 Puget Sound Business Journal 40 Under 40.
Noga Rosenthal 
As Ampersand's Chief Privacy Officer and General Counsel, Noga Rosenthal Is responsible for guiding the company's privacy and legal initiatives; she holds deep expertise in the development, implementation, and ongoing monitoring of comprehensive privacy programs.
Noga previously served as Chief Privacy Officer at Epsilon where she led the company's worldwide privacy, compliance and regulatory activities. Prior to Epsilon, she served as General Counsel and Vice President for Compliance and Policy for the Network Advertising Initiative (NAI), helping craft industry standards around the responsible collection and use of data for digital advertising industry. She also managed its compliance program to help ensure that its over 100 member companies delivered on the promise of self-regulation for interest-based advertising. Previous to the NAI, she led the global legal affairs for WPP's Xaxis, a pioneering programmatic digital media business with a global footprint, as SVP and General Counsel.
Jason Weintraub
Jason Weintraub is Chief Legal Officer &General Counsel of Jacuzzi Group, a global, private equity-owned consumer products manufacturer with over 5,000 employees. Mr. Weintraub manages Jacuzzi Group's legal, compliance, risk management and real estate functions. His responsibilities include protecting the company's iconic, globally famous Jacuzzi® trademark and other intellectual property, leading M&A activity and managing the company's global real estate portfolio, litigation matters, major transactions, and insurance procurement and claims. Mr. Weintraub also leads Jacuzzi Group's regulatory and corporate compliance program and supports the company's ESG efforts.
Prior to joining Jacuzzi Group, Mr. Weintraub served as Chief Legal Officer of El Pollo Loco, Inc., a publicly traded restaurant company with nearly 500 locations and over 5,000 employees. Mr. Weintraub led El Pollo Loco's Legal, Compliance and Risk Management Functions. He maintained responsibility for litigation matters, as well as transactions, intellectual property procurement and licensing, franchising matters, enterprise risk management, regulatory and corporate compliance, employment counseling, marketing and advertising support, and insurance procurement and loss prevention.
Winning in the GC Role: Key Fundamentals for Success as General Counsel
Being a GC is hard. As GC, you'll likely have to address issues you've never addressed before – even if you've been practicing law for many years. You're going to need to expand your expertise to find answers in ambiguous areas with which you're barely familiar. You may also become responsible for managing outside counsel, setting department KPIs, and building your legal department from scratch. Who should be your first hire? It sounds intimidating, but this can be fun!
Whether you're an experienced GC, new GC, or aspiring GC, join us on Thursday, March 9th, at 12pm ET / 9am PST, as Jessica Nguyen, Chief Legal Officer at Lexion, Jason Weintraub, Chief Legal Officer at Jacuzzi Group, and Noga Rosenthal, General Counsel and Chief Privacy Officer at Ampersand, share practical advice from their first-hand experiences as in-house counsel to the general counsel positions they hold today, including:
A framework for your 90-day plan;
Key early priorities;
Specific advice on how to earn trust and build credibility with the Business; and
Real life stories of wins and lessons learned (so you won't have to learn the hard way!)
Attendees will come away from the program with key tips, tricks, insights and strategies for succeeding as GC!
Who Should Attend
This program is designed for both experienced and new in-house counsel who are eager to learn how to succeed as General Counsel – whether you're an experienced GC, new GC, or aspiring GC!
CLE Information
This program is approved for CLE credit in the following states: NY, PA, CA, IL
This program is pending CLE credit in the following states:  TN, TX, OH, MN, NC, WA, GA, IN, KY, MO, CO
This program is pending CPD credit by the Law Societies of British Columbia and Ontario. For Alberta lawyers, consider including this course as a CPD learning activity in your annual Continuing Professional Development Plan.
This program is pending CLE credit for self-application by the attorney or for reciprocal CLE credit in the following states: AZ, CT, FL, ME, MT, NJ, & ND.
This program is appropriate for newly admitted attorneys and experienced attorneys.
There is NO COST to attend this program!
This program is FREE thanks to our gracious sponsor, Lexion – The Fastest Way To
Thursday, March 9, 2023, via Live Zoom Video Conference
12:00 pm – 1:30 pm ET: Live Presentation followed by Audience Q&A