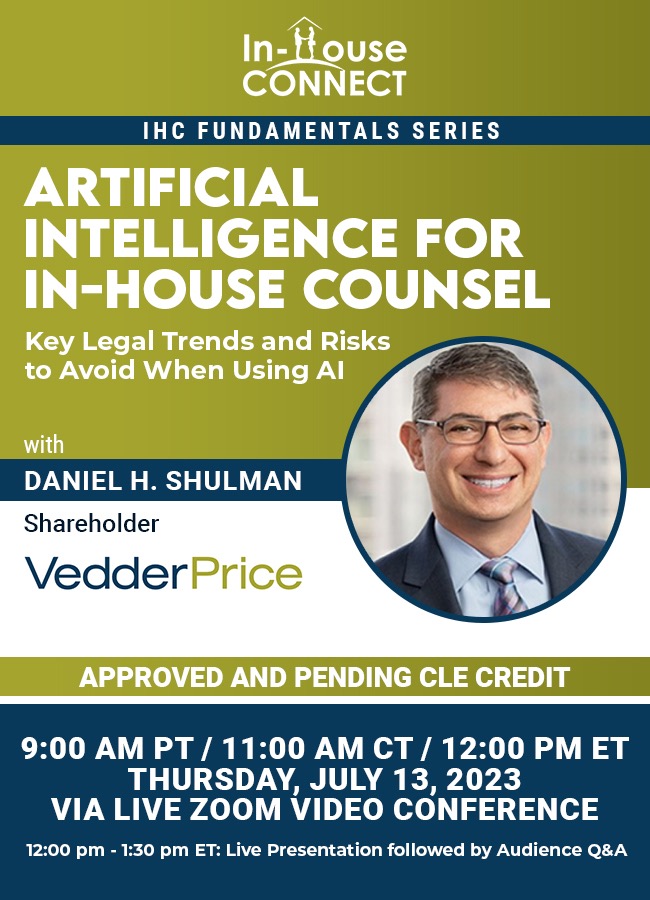 Speaker Bio

Sponsored by:

CLE Details
Daniel Shulman is a Shareholder at Vedder Price and a member of the firm's Intellectual Property group in the Chicago office.
Mr. Shulman's practice focuses on all aspects of intellectual property acquisition, monetization, and enforcement, including complex patent litigation, trademark litigation, copyright litigation, trade secret litigation and all aspects of patent and trademark prosecution and portfolio management. Mr. Shulman also focuses on complex commercial matters, advertising disputes before courts and the National Advertising Division of the Better Business Bureau, product liability, antitrust matters, and enforcement of restrictive covenants. He has experience managing all aspects of domestic patent prosecution and litigation relating to consumer packaged goods, electronic exchanges, insurance industry, telecommunications, financial products, mechanical and electrical devices, and prosecuting patent applications before the U.S. Patent and Trademark Office. He also advises clients on intellectual property transactions including technology development agreements, confidentiality and joint development agreements, licensing, and mergers and acquisitions.
Mr. Shulman brings over 12 years of experience as Chief IP Counsel for multibillion-dollar Companies holding thousands of worldwide patents and trademarks. While in-house, Mr. Shulman developed licensing strategies for the licensing in and out of next-generation technologies, managed due diligence processes for the acquisition and disposition of patents, and advised on litigation and defensive strategy relating to litigations. He managed an entire global patent and trademark portfolio for the North American operations of consumer products companies having over $12 billion in annual revenue while developing strategic technology areas to drive company innovation, directing innovation and patent filing, and protecting their global patent portfolio through strategic interaction with foreign patent counsel. As an in-house attorney, Mr. Shulman developed a keen insight into the challenges businesses face, what constitutes quality service from outside counsel, and how to meet or exceed a client's budget expectations.
Mr. Shulman was named one of the Top Forty Lawyers Under 40 in Illinois in 2013 by the Law Bulletin, Managing IP Top In-House IP Star every year from 2015 through 2018, and received the First Chair Award Top In-House Intellectual Property Counsel in 2015, 2016 and 2018.
This program is approved for CLE credit in the following states: NY, PA, CA, IL, TX
This program is pending CLE credit in the following states:  TN, OH, MN, NC, WA, GA, IN, KY, MO, CO, SC.
This program is pending CLE credit for self-application by the attorney or for reciprocal CLE credit in the following states: AZ, CT, FL, ME, MT, NJ, & ND.
Artificial Intelligence for In-House Counsel: Key Legal Trends and Risks to Avoid When Using AI
As the realm of Artificial Intelligence (AI) expands, in-house counsels are called upon to be trusted advisors as businesses navigate integrating AI into business operations. The use of AI implicates numerous legal issues, and in-house counsel must be fully informed about various risks when leveraging AI.
Join us on Thursday, July 13, 2023 at 12pm ET/9am PT for the next edition of our IHC Fundamentals Series, as Dan Shuman, Shareholder at Vedder Price, will provide an overview of AI and the key legal trends and risks to avoid when leveraging AI.
Discussion topics include:
An Overview of AI Applications and they work
Potential Sources of Risk, including:

Copyright,
Privacy,
Regulatory, and

Ways to Minimize Risk when Leveraging AI
Who Should Attend
This program is designed for both experienced and new in-house counsel who are interested in learning more about the legal issues involving AI and how to minimize risk.
There is NO COST to attend this LIVE program!
This LIVE program is FREE thanks to our gracious sponsor, Vedder Price! If you can't attend the live program, the recording will only be available for viewing via our paid CLE library, In-House Connect On-Demand!