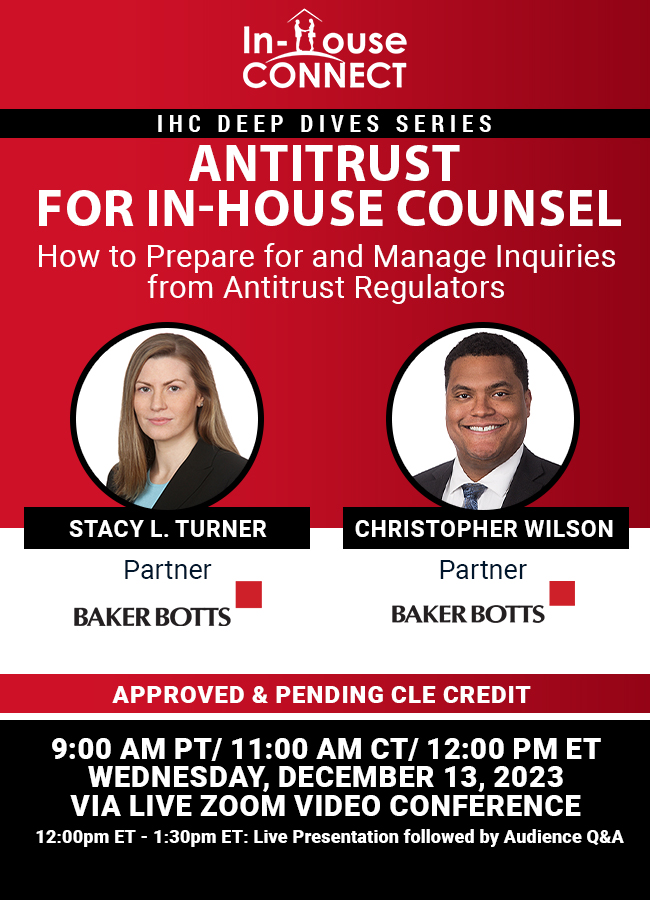 Speaker Bio

Sponsored by:

CLE Details
Stacy Turner
Stacy is a partner in Baker Botts' Antitrust and Competition Practice, is experienced in multinational merger reviews and criminal and civil antitrust investigations. She has counseled clients through all stages of the merger review process, including representing parties before the antitrust agencies, complying with government information requests and coordinating antitrust filings in numerous foreign jurisdictions. She has defended U.S. and foreign corporations and individuals in grand jury investigations involving allegations of price fixing, bid rigging, and market allocation. In criminal investigations, she has assisted both corporate and individual clients with a range of cartel defense strategies, including leniency status and designation as a cooperating witness.
Christopher Wilson
Christopher is a partner in Baker Botts' Antitrust and Competition Practice group. His practice focuses on civil antitrust, intellectual property, and other complex commercial actions. Mr. Wilson has extensive experience representing both defendants and plaintiffs in federal and state courts from complaint filing through trial, as well as in advising corporate clients on a variety of antitrust and compliance matters. He has represented and advised clients across a range of industries, including but not limited to industrial manufacturing, telecommunications, pharmaceuticals, retail, and healthcare manufacturing.
Mr. Wilson leads legal teams for Fortune 500 clients that are defending against and asserting Sherman Act claims in class action and other civil litigation. He also has extensive experience defending pharmaceutical companies in patent infringement and antitrust actions, as well as representing generic pharmaceutical manufacturers in Hatch-Waxman Act litigation.
Mr. Wilson has served as co-chair of the ABA Section of Litigation's Antitrust Litigation and Consumer Litigation Committees. He currently serves as a member of the External Advisory Board for the Schreyer Honors College at Penn State University.
This program is approved for CLE credit in the following states: NY, TX, PA, CA, IL, AR, NV.
This program is pending CLE credit in the following states: TN, OH, MN, NC, WA, GA, IN, KY, MO, CO.
This program is pending CLE credit for self-application by the attorney or for reciprocal CLE credit in the following states: AZ, CT, FL, ME, MT, NJ, & ND.
This program is appropriate for newly admitted attorneys and experienced attorneys.
Antitrust Litigation for In-House Counsel: Navigating Regulator Inquiries and Resulting Litigation
Receiving a subpoena or Civil Investigative Demand from the Federal Trade Commission, Department of Justice's Antitrust Division, or state antitrust agencies can present fraught situations for companies and in-house counsel.  They can precipitate costly, time-intensive, and often high-stakes negotiations, internal investigations, and document and data productions; under certain circumstances, they can also result in litigation, be it with the government or with private actors who tracked the investigation and asserted claims based on harm caused by alleged anticompetitive conduct.
Join us on December 13 at 12pm ET/9am PT as Christopher Wilson and Stacy Turner, antitrust partners at Baker Botts LLP in Washington, DC, discuss how in-house counsel can be prepared to manage inquiries from antitrust regulators.
Discussion topics will include:
How to implement antitrust compliance programs that can help identify and forestall potential antitrust issues within your company;
Best practices for internal investigations if you identify conduct that may give rise to potential antitrust liability;
What to expect, and what to do, if you receive a subpoena or CID from state or federal antitrust investigators; and
How to handle potential or actual follow-on litigation against the government and/or private actors.
Who Should Attend
This program is designed for in-house compliance and litigation counsel, but all in-house counsel are invited to attend.
There is NO COST to attend this LIVE program!
This program is FREE thanks to our gracious sponsor, Baker Botts! If you can't make it to the live program, the recording will only be available for viewing via our paid CLE library, In-House Connect On-Demand!