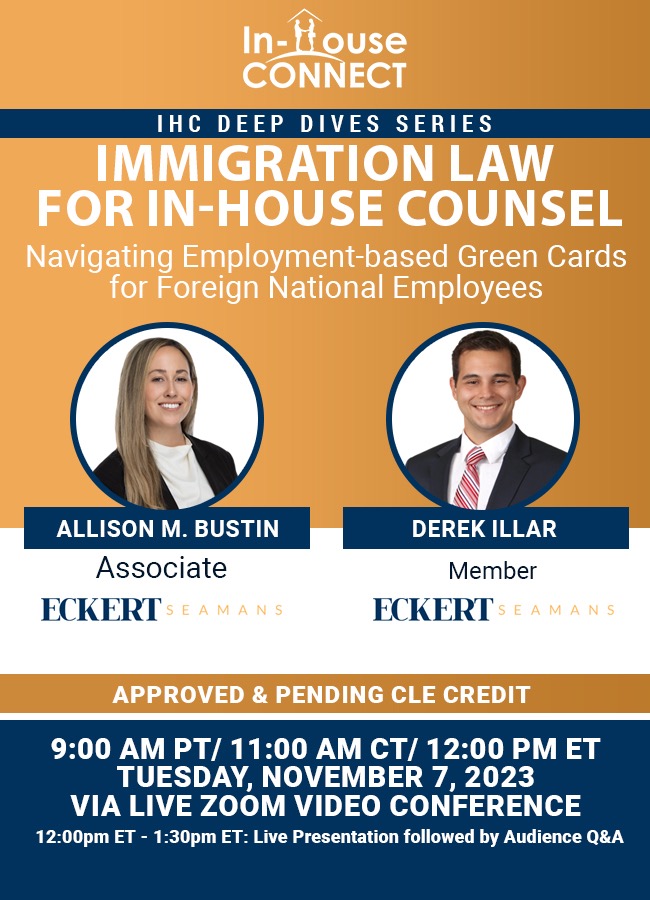 Speaker Bio

Sponsored by:

CLE Details
Allison Bustin
Allison focuses her practice on a broad range of estates and trusts matters. She counsels clients to ensure their personal and professional goals are appropriately represented and protected during their lifetimes and into the future. She works to ensure a solid balance between individual preferences and requests and compliance with federal, state, and local laws. Prior to entering law school, Allison served as a volunteer in the Peace Corps Costa Rica for 27 months, where she taught English, worked with the Ministry of Education, and wrote grants on behalf of her assigned community to fund, organize, and teach annual intensive English camps and coordinate other community activities. She also completed a year of domestic public service as an AmeriCorps VISTA with Habitat for Humanity of Greater Pittsburgh. She has worked as a development consultant in Bolivia, interned with a USAID Property Rights program in Kosovo and facilitated programming with the U.S. Department of Commerce's Commercial Law Development Program in Bosnia. Such international experiences only enhance her legal practice and abilities to counsel clients from diverse backgrounds.
Derek Illar
Derek focuses his practice on labor and employment and business matters.  He has significant experience representing clients in court proceedings and before administrative agencies, such as the Equal Employment Opportunity Commission (EEOC), the Pennsylvania Human Relations Commission (PHRC), the Department of Labor (DOL), the Department of Labor and Industry (DLI), and the Unemployment Compensation Board of Review (UCBR). He also complements his practice by representing employers with respect to a variety of employment authorization matters and obtaining various employment-based visas, such as H-1Bs, Ls, Os, and Ps. He also serves as a private mediator and as an Instructor in the Professional Studies Department at California University of Pennsylvania.
This program is approved for CLE credit in the following states: NY, PA, CA, IL, TX, AR, NV.
This program is pending CLE credit in the following states:  TN, OH, MN, NC, WA, GA, IN, KY, MO, CO.
This program is pending CLE credit for self-application by the attorney or for reciprocal CLE credit in the following states: AZ, CT, FL, ME, MT, NJ, & ND.
Immigration Law for In-House Counsel: Navigating Employment-based Green Cards for Foreign National Employees
Navigating the complexities of the U.S. employment-based green card system can be challenging for businesses seeking international talent. Dive into the details of the EB-1, EB-2, and EB-3 green card categories, and discover how various federal agencies interact during the process and familiarize yourself with the timelines, rules, and steps that in-house counsel may need to interpret and manage when hiring or retaining overseas professionals.
Join us at 12pm ET / 9am PT on Tuesday, November 7, 2023 for the next edition of our Deep Dives Seriesas Derek Illar, Member, and Allison Bustin, Associate, of Eckert Seamans, at Eckert Seamans, discuss employment-based immigrant visas (aka green cards) and cover the differences and advantages of these three employment-based visa categories.
You'll learn how to:
Determine who is eligible for which immigrant visa category and why;
Navigate the multi-part and multi-agency process;
Manage Department of Labor  ("DOL") regulatory requirements and stay ahead of the timeline;
Prepare for the preliminary filing components with the DOL and establishing the necessary record;
Identify necessary supporting documentation;
File with the United States Citizenship and Immigration Service ("USCIS") and consider different petitions that can be filed concurrently;
Interpret priority dates and complete the Adjustment of Status process; and
Protect your employer's investment through sponsorship agreements.
As an experienced immigration law team, Derek and Allison will provide regulatory background, action steps, and best practices to synthesize these options for your organization.
If you are contemplating the green card process, or an employee has inquired about the possibility of such through your company, or the process seems overwhelming, you do not want to miss this session.
Who Should Attend
This program is designed for both experienced and new in-house counsel who handle or manage immigration law issues for their organization and want to learn more about employment-based immigrant visas (aka green cards).
There is NO COST to attend this program!
This program is FREE thanks to our gracious sponsor, Eckert Seamans! If you can't make it to the live program, the recording will be available for viewing via our paid CLE library, In-House Connect On-Demand!