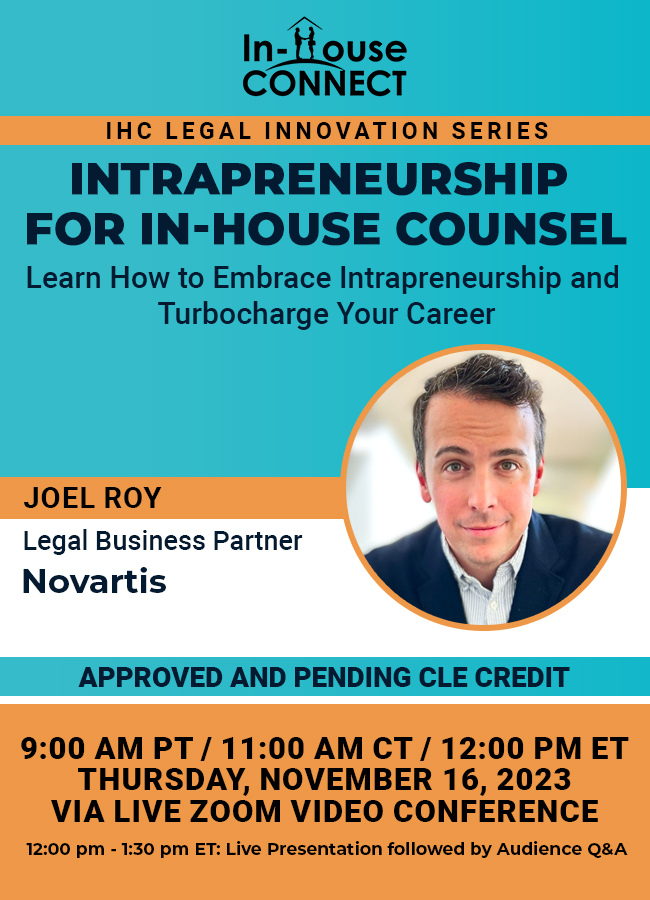 Speaker Bio

Sponsored by:

CLE Details
Joel Roy
Joel is a multi-award-winning Legal Business Partner at Novartis Canada, where he supports multiple functions of the business from the oncology business unit, R&D, litigation management, medical affairs, managed access and sell-side public contracting. He also created the legal operations function in the Canadian operation which he currently leads. Joel was also recently appointed by Novartis Global to co-lead a team of 18 senior legal team members across the world in order to implement three distinct innovative workstreams aimed at bettering Novartis' contracting practices across all functions in 140+ countries. Joel's expertise lies at the intersection of law, ethics, and innovation in biotech, with a particular interest in the global business aspects of the pharmaceutical world.
This program is approved for CLE credit in the following states: NY, TX, PA, CA, IL, AR, NV.
This program is pending CLE credit in the following states: TN, OH, MN, NC, WA, GA, IN, KY, MO, CO.
This program is pending CLE credit for self-application by the attorney or for reciprocal CLE credit in the following states: AZ, CT, FL, ME, MT, NJ, & ND.
This program is appropriate for newly admitted attorneys and experienced attorneys.
Intrapreneurship for In-House Counsel: Learn how to Embrace Intrapreneurship at your Organization and Turbocharge Your Career
As in-house counsel, our roles are evolving beyond traditional legal advisory functions. Today, we can become legal intrapreneurs, driving innovation and growth within our organizations. Research indicates that embracing intrapreneurship can transform our careers and propel our organizations to new heights. Like visionary entrepreneurs, driven in-house counsel can lead the charge for the change we know we need – all from within.
Join us at 12pm ET / 9 am PT on Thursday, November 16, as we dive into the world of Intrapreneurship for In-House Counsel with Joel Roy, a multi-award-winning in-house counsel and trailblazer in legal innovation.
In this dynamic webinar, you will:
Find Your Thing: Explore how to identify your key strengths to expand and redefine your own role to become a catalyst for innovation. Learn to harness and advocate for your special gifts to drive positive change and growth within your organization while negotiating the freedom necessary to realize your full potential.
Identify Opportunities: Learn how to spot and seize opportunities for legal innovation, whether it's improving processes, identifying untapped value vectors for the organization, or fostering a culture of creativity among your colleagues.
Collaborate Effectively: Discover strategies for collaborating with cross-functional teams, aligning legal and business goals, building momentum, and effectively communicating your ideas to diverse stakeholders.
Global Perspectives: Gain insights into successful intrapreneurship practices and endeavors from the international legal community along with examples from Joel's particular experiences in the pharmaceutical and biotech industry.
Building Your Intrapreneurial Toolkit: Acquire practical tools, resources, strategies and real-world inspiration to empower you to embark on your intrapreneurial journey.
Technical skills get you the job you have. Intrapreneurship gets you the job you want – whether it exists already or not. Learn how embracing intrapreneurship can revolutionize your role as an in-house counsel to make you a change-maker within your organization, driving innovation and fostering a culture of continuous improvement.
Who Should Attend
This program is designed for all levels of in-house counsel interested in becoming a change maker within their organization.
There is NO COST to attend this program!
This LIVE program is FREE thanks to our gracious sponsor, In-House Connect On-Demand! If you can't make it to the live program, the recording will only be available for viewing via our paid CLE library, In-House Connect On-Demand!