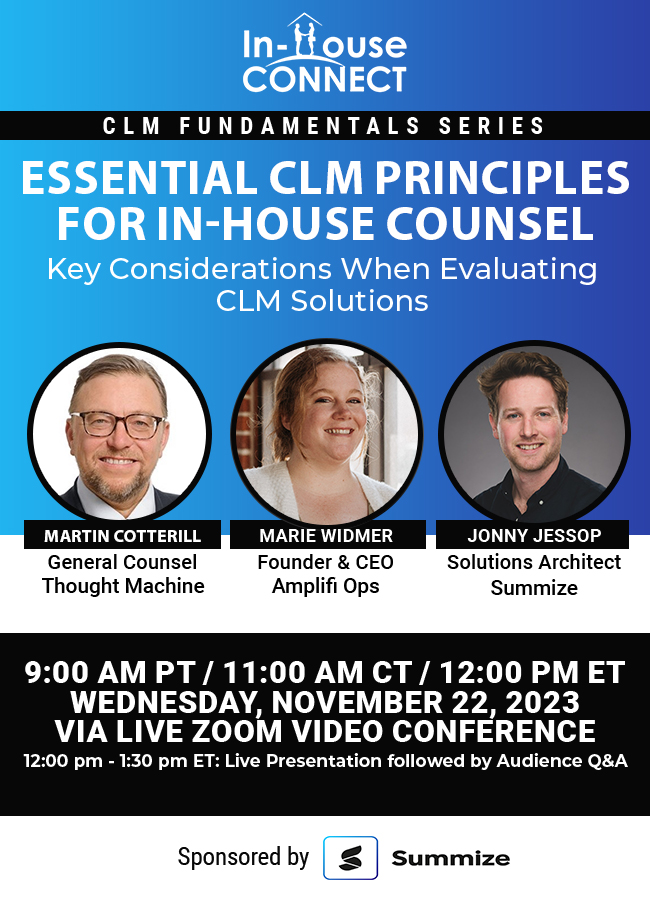 Speaker Bio

Sponsored by:

CLE Details
Martin Cotterill
Martin is a commercially focused lawyer with over twenty years' experience who is leading and expanding Thought Machine's global legal team and corporate secretariat function. Prior to joining Thought Machine as General Counsel, Martin was a senior partner at the commercial technology legal practices of both Taylor Wessing and Latham & Watkins. Martin specialises in the financial services sector and has advised many of the world's top-tier investment, commercial and retail banks in the UK, Europe and the USA.
Jonny Jessop
Jonny Jessop is a Solutions Architect at Summize and has spent most of his career working in software with global clients. He works closely with Summize customers to ensure that the product meets all of their requirements, setting them on the path to CLM success.
Marie Widmer
Marie Widmer has 10 years of experience in the legal industry. She's held roles in BioTech, FinTech, and Web3, building out internal processes and launching tooling and programs for legal, including CLM, eBilling, Ticketing, and Privacy. Her love for Legal Operations is driven by the people in this industry; she founded Legal Ops Uncensored to build a global, inclusive Legal Tech community. She also founded Amplifi Ops, an AI platform designed to make tech implementations suck less.
THIS WEBINAR IS NOT CLE-ELIGIBLE.
Essential CLM Principles for In-House Counsel: Key Considerations When Evaluating CLM Solutions
In today's fast-paced and complex business landscape, selecting the right CLM solution is critical for maximizing efficiency, reducing risks, and optimizing contract management processes. It's also crucial that any software is helpful for the legal team and can be applied and adopted by the wider business. However, it can feel overwhelming to know where to begin, especially if there's already another solution in place or don't have time for long implementation periods.
Join us on Wednesday, November 22nd as industry experts, Jonny Jessop (Solutions Architect at Summize), Martin Cotterill (General Counsel at Thought Machine) and Marie Widmer (Founder & CEO at Amplifi Ops) will delve into the key considerations and factors that should guide your decision-making process when evaluating CLM software options, sharing insights from their own personal experiences.
Discussion topics include:
Gain an understanding of CLM Software: Gain a comprehensive overview of CLM software, its benefits, and its impact on your organization's contract management processes. Explore how CLM software (or a replacement of your current solution) can streamline contract creation, negotiation, execution, and monitoring and how it can benefit the whole business.
Identify Your Business Requirements: Learn the art of conducting a thorough assessment of your organization's unique contract management needs. Uncover the crucial features, functionalities, and integrations that align with your business objectives, compliance requirements, and industry regulations.
Evaluate Vendor Offerings: Navigate the vast landscape of CLM software providers with confidence. Discover effective strategies for shortlisting vendors, evaluating their capabilities, and assessing their reputation, track record, and customer support.
Practical Implementation Considerations: Explore the practical aspects of CLM software implementation, including deployment, system integration, user adoption, and change management. Gain insights into the potential challenges and best practices for successful CLM software integration within your existing technology ecosystem, even if you already have another solution in place.
Case Studies and Success Stories: Hear from organizations that have successfully implemented Summize. Understand their journey, challenges faced, and the positive impact on their contract management processes, efficiency, and overall business outcomes.
Whether you are a mid-sized enterprise or a large corporation, this webinar will provide valuable advice for any team looking to improve their contractual processes. Register now and equip yourself with the tools and insights needed to drive organizational success.
Who Should Attend
This webinar is an excellent fit for in-house counsel, contract managers, paralegals, and any other law department professionals who are interested in bringing in a CLM solution for their legal department.
There is NO COST to attend this LIVE program!
This LIVE program is FREE thanks to our gracious sponsor, Summize – Digital contracting done differently. If you can't make it to the live program, the recording will be available for viewing upon request.