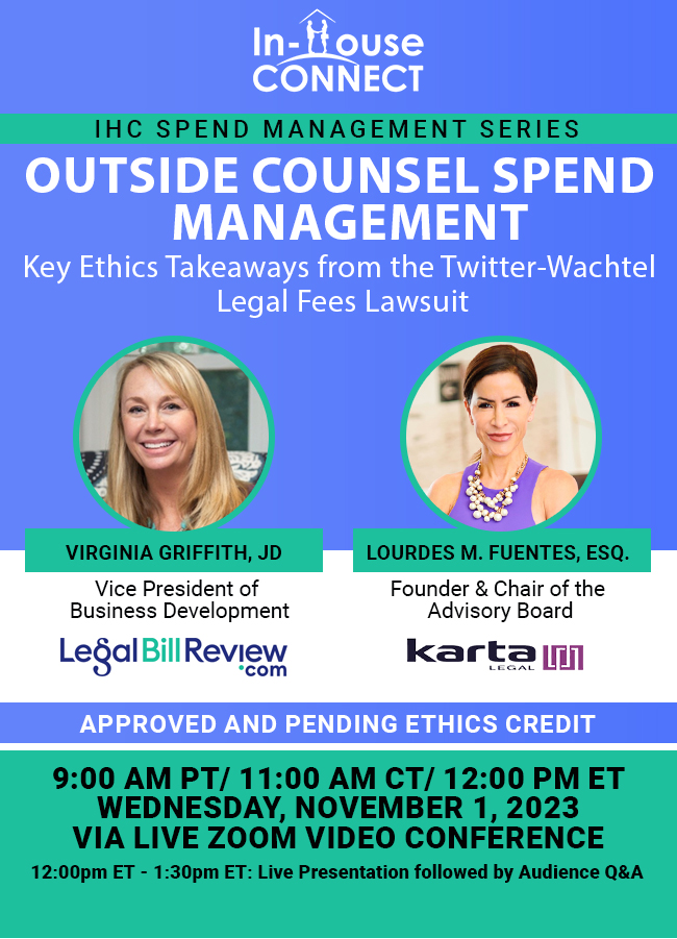 Speaker Bio

Sponsored by:

CLE Details
Lourdes Fuentes
Lourdes is the Founder and CEO of Karta Legal LLC, a consultancy specializing in legal operations and practice management. She is a graduate of the University of Pennsylvania Law School and a Lean Six Sigma Black Belt. She is admitted to practice in NY and DC. Lourdes was recently recognized as a Lawyer of Distinction in the area of generative AI and legal operations. Her background includes key management roles in high-stakes securities cases like the Bernie L. Madoff bankruptcy and RMBS litigation, equipping her with practical insights into legal practice management and operations. In addition, to these roles, Lourdes has served as a law firm's CEO and General Counsel, giving her a solid grasp of the business side of law.
Recognized by the New York Law Journal as a 'Trailblazer,' Lourdes focuses her work at Karta Legal on enhancing legal services delivery by following the path of 1st people, 2nd process, and 3rd technology. Under her leadership, Karta Legal advises, coaches, and educates clients on the optimal technology use, process efficiency, and budget management. Her background and balanced approach makes Karta Legal a trusted resource in the legal industry.
Virginia Griffith is an attorney with 20 years in the legal profession, having previously worked with ALM Media, LLC and Thomson Reuters working closely with corporate legal departments in support of their legal operations and regulatory programs.
This program is approved for CLE credit in the following states: NY, TX, PA, CA, IL, AR, NV.
This program is pending CLE credit in the following states:  TN, OH, MN, NC, WA, GA, IN, KY, MO, CO.
This program is pending CLE credit for self-application by the attorney or for reciprocal CLE credit in the following states: AZ, CT, FL, ME, MT, NJ, & ND.
This program is appropriate for newly admitted attorneys and experienced attorneys.
APPROVED AND PENDING ETHICS CLE CREDIT
Outside Counsel Spend Management: Key Ethics Takeaways from the Twitter-Wachtel Legal Fees Lawsuit
The billing debacle at the center of the Twitter fee case between X Corp. and Wachtell Lipton provides a valuable reminder of the heightened scrutiny in attorney-client relationships due to its fiduciary nature and the rules of professional conduct. A review of the facts of the case will serve as a springboard for discussing the top best practices in-house counsel can deploy to ensure ethical billing and control costs.
Join us on Wednesday, November 1, 2023 at 12pm ET/ 9am PT for the next edition of our IHC Spend Management Series, as LegalBillReview.com's Virginia Griffith, JD, and Karta Legal's Lourdes Fuentes will discuss:
Ethical guidelines for managing and reviewing legal invoices
Practical strategies for immediate cost reduction that align with ethical standards;
Identifying common areas of "low hanging fruit" that can improve efficiencies while adhering to ethical norms;
Ethical considerations when implementing your own outside counsel spend management projects, and more!
APPROVED AND PENDING ETHICS CLE CREDIT
Who Should Attend
This program is designed for both experienced and new in-house counsel and legal operations professionals who manage outside counsel spend.
There is NO COST to attend this program!
This live program is FREE thanks to our gracious sponsor, LegalBillReview.com! LegalBillReview.com eliminates the burden of reviewing bills from in-house legal teams and reduces outside counsel spend. If you can't make it to the live program, the recording will be available for viewing via our paid CLE library, In-House Connect On-Demand!