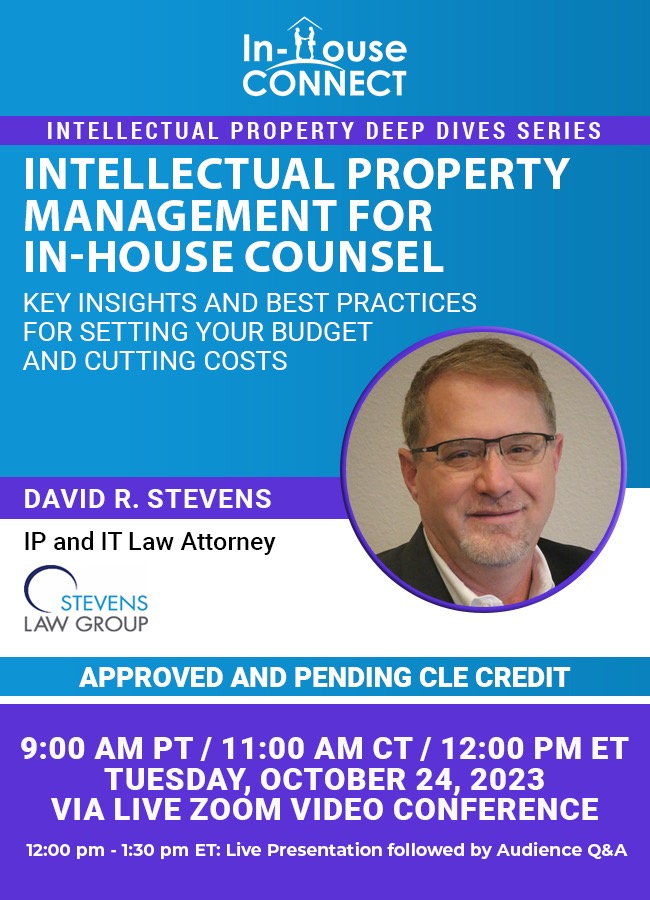 Speaker Bio

Sponsored by:

CLE Details
David R. Stevens
David's IP practice includes patent prosecution, transactions, due diligence work, agreements, opinions (including validity, infringement, patentability, right-to-practice (RTP), and freedom-to-operate (FTO) opinions), counseling, offensive and defensive patent issues, licensing, and litigation. He also serves as an expert witness in technical and intellectual property legal issues and has been called as a fact witness in enforcement actions involving the many patents he has written. He also is an expert in copyright (including software, publications, products and artworks, and other copyrightable forms) and open-source issues. He works with foreign IP firms and foreign clients with respect to domestic and international patent prosecution, including Patent Cooperation Treaty (PCT) work.
This program is approved for CLE credit in the following states: NY, TX, PA, CA, IL, AR, NV.
This program is pending CLE credit in the following states:  TN, OH, MN, NC, WA, GA, IN, KY, MO, CO.
This program is pending CLE credit for self-application by the attorney or for reciprocal CLE credit in the following states: AZ, CT, FL, ME, MT, NJ, & ND.
This program is appropriate for newly admitted attorneys and experienced attorneys.
Intellectual Property Management for In-House Counsel: Key Insights and Best Practices for Setting your Budget and Cutting Costs
Intellectual Property management requires an organization's in-house legal teams to make critical and often risky decisions about how best to use its IP assets to its advantage. An organization's Soft IP and Hard IP portfolio, as well as its IP activities, must be aligned with and integrated into the organization's overall business plan if its IP is to realize its full value. A properly managed IP portfolio can generate significant revenue for an organization by protecting its investments, defending it against competitors, and balancing its asset maintenance costs.
Given this crucial task, In-House Connect is thrilled to feature Dave Stevens, IP and IT Lawyer of the Stevens Law Group. Dave has helped clients save millions of dollars in IP costs, both in cost savings and process efficiencies, and regularly helps in-house legal teams review and rightsize their patent and IP portfolios.
Join us on Tuesday, October 24 at 9:00 am PT / 12:00 pm ET, for the next installment of our Intellectual Property Deep-Dives Series, as Dave will discuss:
How to holistically review your Soft IP and Hard IP portfolio and structure your IP budget to curb costs and optimize your IP assets
How to review and extract additional value from your existing patents
How and when to sell or abandon assets that are no longer valuable
New ways to reduce and tightly control costs of IP legal services and fixed fees, and
Provide working examples and structured cost management processes that you can put into action right away.
Who Should Attend
This program is designed for general practitioners/corporate generalists, intellectual property attorneys, legal operations professionals, and in-house counsel who manage intellectual property for their organizations.
There is NO COST to attend this LIVE program!
This program is FREE thanks to our gracious sponsor, Stevens Law Group!  If you can't make it to the live program, the recording will be available for viewing via our paid CLE library, In-House Connect On-Demand!