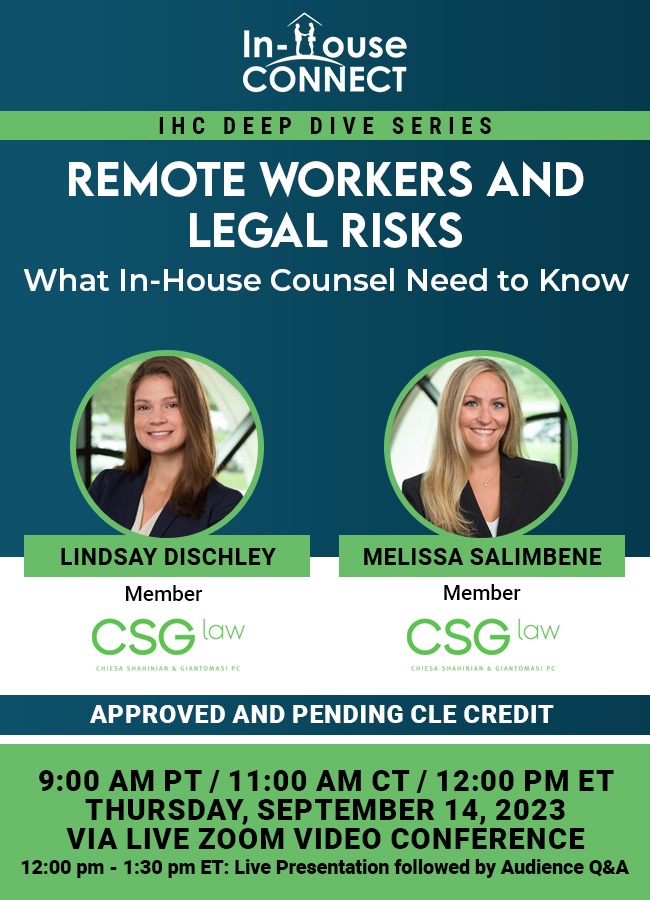 Speaker Bio

Sponsored by:

CLE Details
Melissa Salimbene
Melissa Salimbene is an experienced employment litigator and trusted advisor. For her litigation practice, Melissa regularly represents public and private employers of all sizes and industries before state and federal courts and administrative agencies in all aspects of employment litigation, including defending claims of discrimination, harassment, retaliation, and wage and hour issues. Melissa also brings and defends restrictive covenant claims involving trade secrets, confidentiality agreements, non-compete agreements and other post-employment obligations.
Lindsay Dischley
Lindsay Dischley is an experienced employment attorney. In this capacity, Lindsay represents employers in all aspects of employment litigation, including wrongful discharge, discrimination, harassment, whistleblower, retaliation and wage and hour claims in the state and federal courts of New Jersey and New York and before federal, state, and local administrative agencies, including the EEOC, New Jersey Department of Labor & Workforce Development, New Jersey Division on Civil Rights, New York State Division of Human Rights, and New York City Commission on Human Rights.
This program is approved for CLE credit in the following states: NY, PA, CA, IL, AR, NV.
This program is pending CLE credit in the following states:  TN, TX, OH, MN, NC, WA, GA, IN, KY, MO, CO.
This program is pending CLE credit for self-application by the attorney or for reciprocal CLE credit in the following states: AZ, CT, FL, ME, MT, NJ, & ND.
This program is appropriate for newly admitted attorneys and experienced attorneys.
Remote Workers and Legal Risks: What In-House Counsel Need to Know
In today's rapidly evolving work landscape, remote work has become more prevalent than ever. While it offers flexibility and convenience, it also presents unique legal challenges that every organization must navigate.
Join on Thursday, September 14, at 12pm ET / 9am PT for the next edition of our IHC Deep Dives Series as Lindsay Dischley and Melissa Salimbene of Chiesa Shahinian & Giantomasi PC, will provide an overview of the legal risks associated with remote workers and offering actionable insights to mitigate potential pitfalls.
Key takeaways include:
Employee Handbooks (how to protect your organization from liability due to remote workers)
Wage and Hour Issues (misclassification of exempt/non-exempt, misclassification of independent contractors, and extreme penalties for violations of these laws)
Leave Laws (the interplay of different state, federal and local laws that govern your employees)
Employee Agreements (how to ensure your employment agreements and severance agreements comply with all applicable law and protect your organization); and
Restrictive Covenants (how to make sure confidentiality, non-competition and non-solicitation agreements are lawful and enforceable)
Who Should Attend
This program is designed for all levels of in-house counsel who manage employment law matters or set employment law policies for their organization.
There is NO COST to attend this LIVE program!
This program is FREE thanks to our gracious sponsor, Chiesa Shahinian & Giantomasi PC. If you can't make it to the live program, the recording will be available for viewing via our paid CLE library, In-House Connect On-Demand!