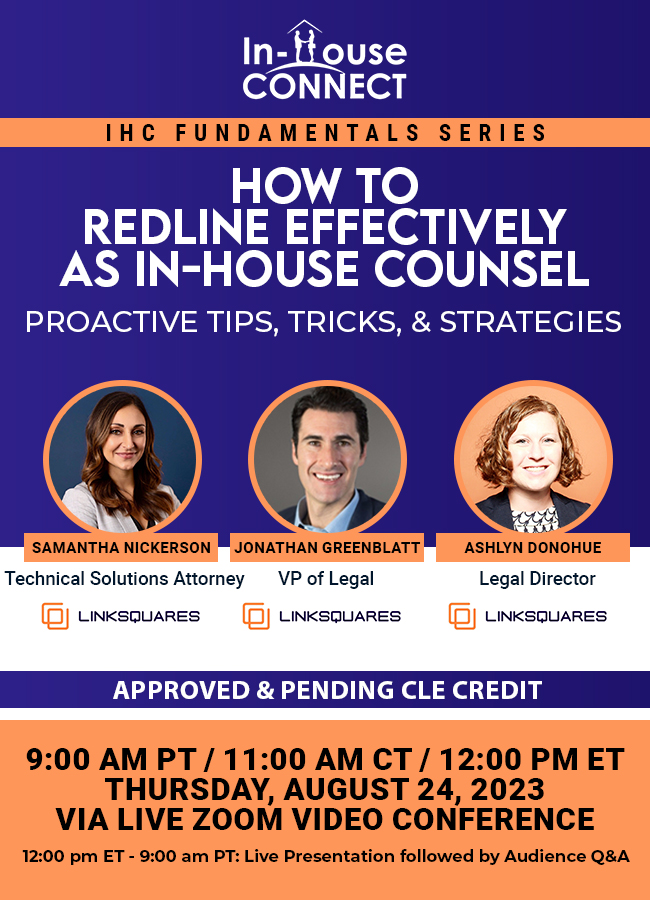 Speaker Bio

Sponsored by:

CLE Details
Ashlyn Donohue, Legal Director at LinkSquares
Ashlyn Donohue is currently a Director, Legal at Boston-based LinkSquares, Inc. Before this role, she was a Manager, Counsel at HubSpot. Ashlyn also has prior experience in operations, with a focus on using data to drive actionable insights to improve operational efficiency and align cross-functional teams. Ashlyn received her Juris Doctor from Northeastern University School of Law.
Jonathan Greenblatt, VP of Legal at LinkSquares
As LinkSquares VP of Legal, Jonathan has responsibility for managing LinkSquares' day-to-day legal operations. In this role, Jonathan oversees the commercial contracts function, handles corporate matters, and advises on privacy matters. Prior to joining LinkSquares, he was Associate General Counsel at a leading cybersecurity company. There he negotiated complex commercial agreements and managed the contracts function while advising on GDPR and other relevant privacy regimes. Jonathan's previous experience includes in-house roles at companies in the Internet of Things and Green Rnergy technology sectors. During law school, Jonathan also worked as a law clerk at Fannie Mae.
Jonathan received his Juris Doctor from George Mason University School of Law and a Bachelor of Arts with distinction from James Madison University. He is CIPP/US certified and a member of the Association for Corporate Counsel. Prior to attending law school, Jonathan served as a Peace Corps volunteer in the former Soviet Union.
Samantha Nickerson, Technical Solutions Attorney at LinkSquares
Sam Nickerson is a Team Lead for Technical Solutions Attorneys (TSA) at LinkSquares. Prior to joining LinkSquares, Sam was an attorney at Wellesley- based law firm, The Law Offices of Sonja Selam where she practiced BLANK law. As a TSA, Sam leads demos of LinkSquares products, troubleshoots client needs, and helps teams improve their contract management processes.
Sam received her undergraduate and J.D. from Liberty University.
This program is approved for CLE credit in the following states: NY, PA, CA, IL, AR
This program is pending CLE credit in the following states:  TN, TX, OH, MN, NC, WA, GA, IN, KY, MO, CO
This program is pending CLE credit for self-application by the attorney or for reciprocal CLE credit in the following states: AZ, CT, FL, ME, MT, NJ, & ND.
This program is appropriate for newly admitted attorneys and experienced attorneys.
How to Redline During Difficult Negotiations: Proactive Tips, Tricks, & Strategies for In-House Counsel
As in-house counsel, when negotiating contracts, there's inevitably some back and forth during the negotiation process. Each side represents their organization's interests, and clashes and disagreements inevitably occur. Unfortunately, despite the best of intentions, congenial exchanges and productive edits can easily and often escalate into a full-on battle.
Join us on Thursday, August 24, 2023 at 12pm ET/9am PT for the next edition of our IHC Fundamentals Series as Samantha Nickerson, Jonathan Greenblatt and Ashlyn Donohue, lead an informative and engaging session on how to redline and negotiate contracts during difficult negotiations.
In this webinar, you'll learn:
How to stay calm during a tough negotiation
Ways to navigate contract negotiation horror stories
Tabletop exercises for contract redlining comparisons, and more!
Who Should Attend
This program is designed for contract professionals and new and experienced in-house counsel who redline and negotiate contracts and are eager to elevate their skills.
There is NO COST to attend this LIVE program!
This program is FREE thanks to Linksquares – Legal tech for humans, powered by AI. If you can't make it to the live program, the recording will be available for viewing via our paid CLE library, In-House Connect On-Demand!