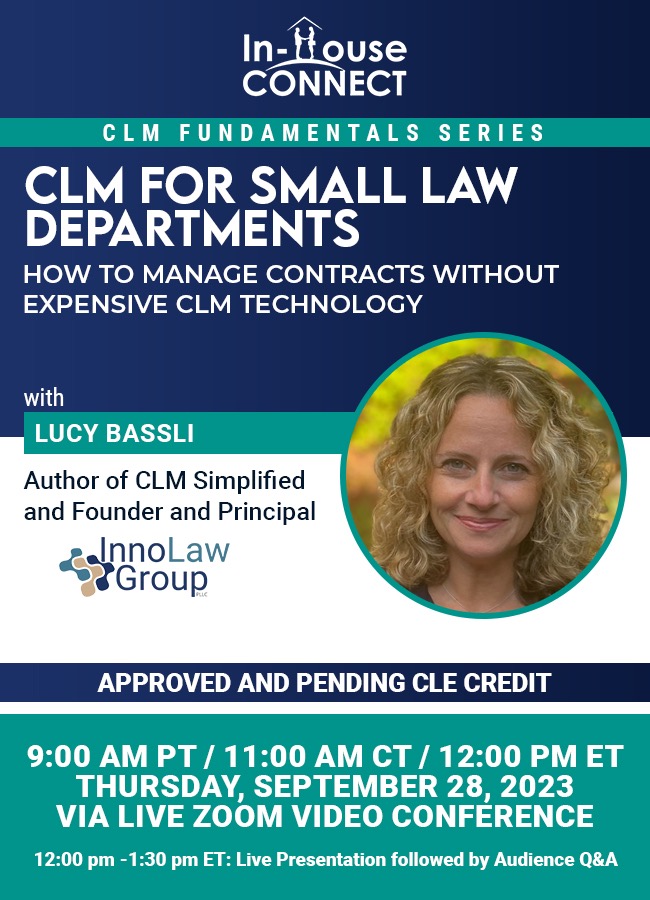 Speaker Bio

Sponsored by:

CLE Details
Lucy Bassli is an attorney, author of The Simple Guide to Legal Innovation, and the Founder and Principal of InnoLaw Group, PLLC. As a former Assistant General Counsel of Legal Operations and Contracting at Microsoft, she redefined how legal work is done and created one of the first managed service engagements with a law firm. In 2015, she was named to the National Law Journal list of Outstanding Women Lawyers, and an ACC Value Champion in 2016. Before joining Microsoft, Lucy was an associate at Davis Wright Tremaine in Seattle in commercial bankruptcy and business transactions practices. Lucy is a highly sought-after legal industry expert working with corporate legal departments and law firms on modernizing legal service delivery, automation, smart risk-taking and alternative resourcing models. Lucy is a frequent writer, often contributing to industry books; and a speaker on legal services innovation, legal technology and legal process outsourcing. She recently developed her own courseware, Modernizing Your Legal Practice, a three-part series designed to help law firm lawyers to turn ideas into actionable business practices.
This program is approved for CLE credit in the following states: NY, PA, CA, IL, AR, NV.
This program is pending CLE credit in the following states:  TN, TX, OH, MN, NC, WA, GA, IN, KY, MO, CO.
This program is pending CLE credit for self-application by the attorney or for reciprocal CLE credit in the following states: AZ, CT, FL, ME, MT, NJ, & ND.
This program is appropriate for newly admitted attorneys and experienced attorneys.
CLM for Small Law Departments: How to Manage Contracts Without Expensive CLM Technology
Small in-house teams often have different needs and different resources than legal departments of large multinationals. While many CLM tech providers are targeting big customers, legal leaders inside smaller companies are struggling to handle the increasing volumes and complexities of their commercial contracts while feeling left out the CLM tech revolution happening all around them.
Join us on Thursday, September 28 at 12pm EST/ 9 am PT for the next edition of our CLM Fundamentals Series, as Lucy Bassli, author of CLM Simplified and the Founder and Principal of InnoLaw Group, PLLC, will provide tips and tricks for small in-house teams to manage their contracts without expensive CLM technology.
Lucy will explain how to:
Define a smart risk-tolerant contracting policy
Empower the business and enable resources outside of Legal to pick up the contracting slack; and
Automate with a basic CLM system or use the technology you already have access to TODAY!
Who Should Attend
This program is designed for all levels of in-house counsel who manage contracts and are interested in learning how to increase efficiencies in order to better collaborate on contracts with business stakeholders.
There is NO COST to attend this program!
This LIVE program is FREE thanks to our gracious sponsor, In-House Connect On-Demand! If you can't make it to the live program, the recording will only be available for viewing via our paid CLE library, In-House Connect On-Demand!