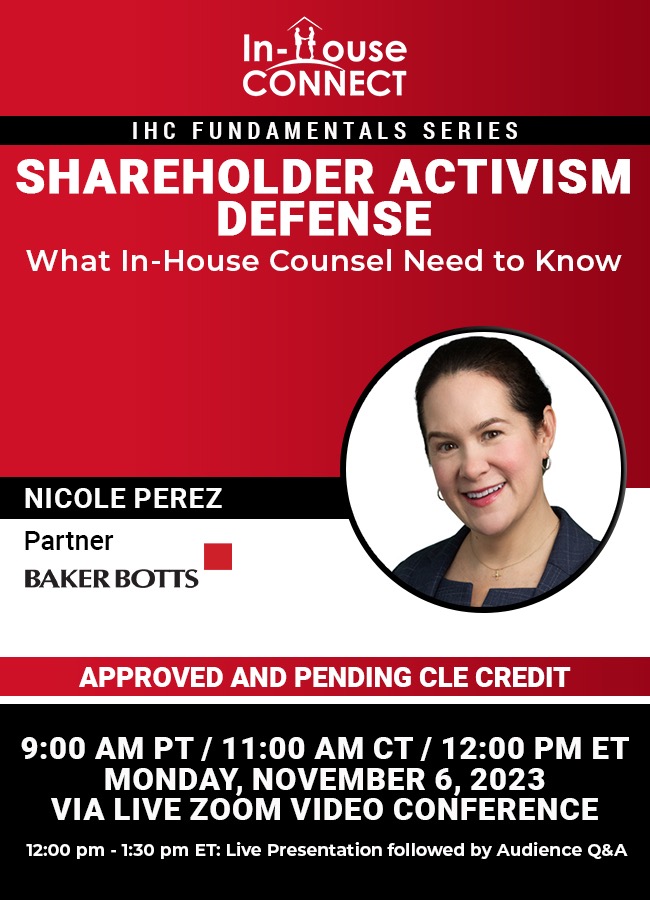 Speaker Bio

Sponsored by:

CLE Details
Nicole Perez
Nicolefocuses her practice on complex public and private mergers and acquisitions in the TMT and private equity sectors, both cross-border and domestic. In addition to mergers and acquisitions, Nicole also concentrates on complex joint ventures and strategic alliances, commercial contract negotiations, securities offerings, and corporate governance matters. Nicole represents public and private acquirers and targets, private equity and other investment firms, investment banks, and lenders.
This program is approved for CLE credit in the following states: NY, TX, PA, CA, IL, AR, NV.
This program is pending CLE credit in the following states:  TN, OH, MN, NC, WA, GA, IN, KY, MO, CO.
This program is pending CLE credit for self-application by the attorney or for reciprocal CLE credit in the following states: AZ, CT, FL, ME, MT, NJ, & ND.
This program is appropriate for newly admitted attorneys and experienced attorneys.
Shareholder Activism Defense: What In-House Counsel Need to Know
Activist engagement with a company can range from something as unobtrusive as a request for a private meeting with management/the board to something as extreme as a full-blown proxy contest to replace all or part of the company's board.  An activist can—and often does—strike without warning.  Companies – and the in-house counsel that guide them – need to be prepared.
Join us on Monday, November 6 at 12pm ET/9am PT for the next edition of our IHC Fundamentals Series as Nicole Perez, Partner at Baker Botts LLP discusses the key issues and trends in shareholder activism, and how boards and management can prepare for and defend against activist attacks.
The session will cover:
An overview of shareholder activism
Tactics commonly used by activists
Factors that attract activists to particular companies
How to assemble a team for activist defense
How management and the board can respond to and defend against an activist
Activism in M&A transactions
Key board decisions when faced by an activist and indicative timelines
The effect that the ESG movement has had on activist activity
The effect of the universal proxy rules
Who Should Attend
This program is designed for in-house counsel from public companies who manage shareholder disputes and boards of directors.
There is NO COST to attend this LIVE program!
This program is FREE thanks to our gracious sponsor, Baker Botts! If you can't make it to the live program, the recording will only be available for viewing via our paid CLE library, In-House Connect On-Demand!