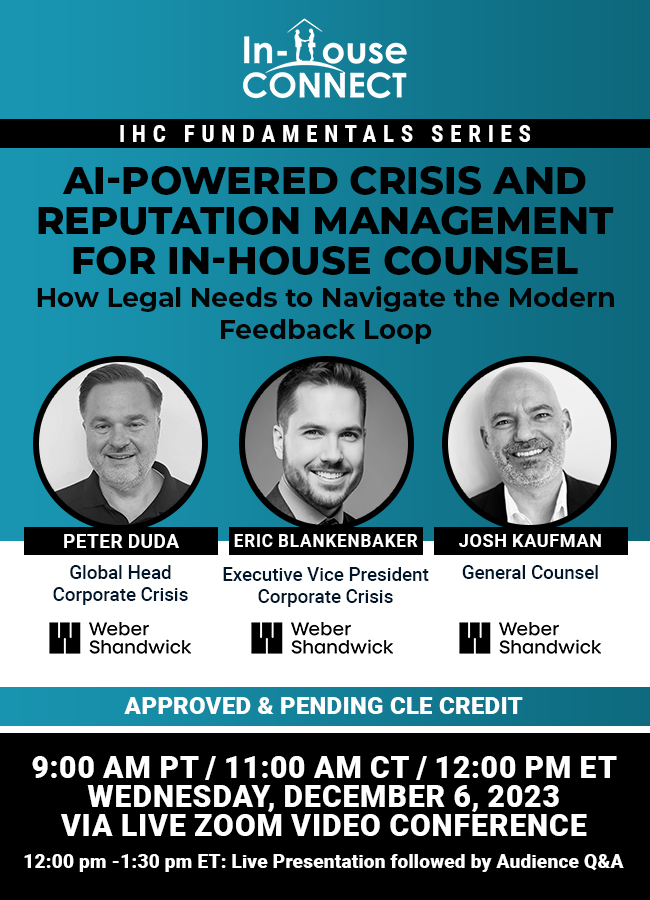 Speaker Bio

Sponsored by:

CLE Details
Peter Duda

Peter Duda is President of the agency's global crisis and issues team and is based in New York. He has counseled clients in a wide variety of industries on media and communications strategies relating to such complex and sensitive issues as cyber security incidents, high-profile litigation, government investigations, regulatory enforcement, corporate reorganizations and restructurings, M&A transactions, hostile takeovers, labor relations, trade disputes, product liability, management transitions, corporate positioning and corporate reputation management.  In the area of cyber security, Peter has helped clients manage through a wide-range of situations, including ransomware and state-actor attacks.
An expert media trainer, Peter has prepared senior executives in the U.S., Europe and Latin America to effectively communicate with the media.
Peter has provided strategic communications advice to domestic and international clients in numerous industries: financial services (TIAA, AXA, Cerberus Capital, Prudential Financial, Mass Mutual, MasterCard, CIT); healthcare (Abbott, Novartis, Pfizer); food/beverage (The Coca-Cola Company, Unilever, AB InBev, Mondelēz, YUM!, Campbell, Nestle, Papa John's, Chobani); energy (ExxonMobil, Shell); infrastructure/manufacturing (GE, Honeywell, Ingersoll-Rand, SPX); technology (Qualcomm, Verizon); and consumer products and services (Shutterfly, Electrolux, Mattel, Kenneth Cole).
Before joining Weber Shandwick, Peter practiced law in Chicago, Illinois. He holds a J.D. from Loyola University Chicago, where he was an editor of the Law Journal. He also received an M.B.A. with distinction from DePaul University and a B.S. in Foreign Service from Georgetown University.
Eric Blankenbaker

As an Executive Vice President at Weber Shandwick, Eric Blankenbaker plays a key role in leading the firm's global corporate crisis and issues practice. With a proven track record of success in managing a wide range of complex special situations, reputation issues, and live crises, he has become a trusted advisor to many of the world's leading companies, institutions, and multi-national firms. His areas of expertise include litigation communications, media relations, stakeholder management, and public affairs campaigns. ​
​
Recent engagements include:​
Helping guide the largest U.S. nursing home chain through multiple lawsuits, state- and Federal-level investigations, and numerous investigative media inquiries.​
Steering a U.S. rail company through unprecedented public, legislative and regulatory scrutiny of their operations following a high-profile environmental accident. ​
Mitigating the impact of legislative and media investigations into claims spanning decades against a prominent national youth-service organization. ​
Preparing a congressional-chartered community development organization for the release of a highly critical audit report by the U.S. Government Accountability Office.​
Protecting a beloved children's toy and entertainment company as it continues to face increased oversight by the U.S. Consumer Product Safety Commission and consumer advocacy media. ​
Previously, he led crisis communications for Planned Parenthood Federation of America and its 61 local health clinic groups across the country. In this role, he also managed communications efforts in Louisiana, Mississippi, and Alabama as the organizations faced increased legislative and regulatory restrictions and oversight when it sought to expand its footprint. ​
Eric began his career as a journalist for Newsday and The New York Daily News and served as a spokesperson for the New York Senate Democrats, U.S. Senator Joseph Lieberman, and former Congressman Tom Suozzi. He holds a master's degree in international affairs from The New School and a bachelor's degree in print journalism from Hofstra University. ​
Josh Kaufman
Josh Kaufman is SVP, Associate General Counsel at The Interpublic Group, and General Counsel Specialized Communications, where he is responsible for the worldwide legal affairs of IPG's public relations, event marketing, and sports marketing agencies.  Josh works closely with agency leadership to implement best practices with respect to social media, privacy, intellectual property, risk management, and all day-to-day matters.  He provides guidance to agency leadership on critical issues including investigations and matters affecting reputation.  Josh oversees a global team responsible for negotiating all agreements entered into by the agencies within IPG DXTRA, including agreements with clients, third-party partners, talent, and influencers. Josh joined IPG DXTRA in 2004.  Previously, he was an associate at several national law firms, including Davis & Gilbert LLP, a leader in marketing communications law.  Josh holds a B.A. from Bard College and a J.D. from New York University School of Law.
​
This program is approved for CLE credit in the following states: NY, TX, PA, CA, IL, AR, NV.
This program is pending CLE credit in the following states: TN, OH, MN, NC, WA, GA, IN, KY, MO, CO.
This program is pending CLE credit for self-application by the attorney or for reciprocal CLE credit in the following states: AZ, CT, FL, ME, MT, NJ, & ND.
This program is appropriate for newly admitted attorneys and experienced attorneys.
AI-Powered Crisis and Reputation Management for In-House Counsel: How Legal Needs to Navigate the Modern Feedback Loop
General counsel – and other legal leaders tasked with reputation management – need a better understanding of the modern feedback loop and how opposition narratives propagate. Artificial intelligence helps make that possible.
In the last year alone, the spread of false narratives has had an incredible impact on corporate behemoths — market manipulation, executive attacks, retail disruption, ESG backlash, and more. Combatting misinformation has become more challenging than ever before.
Join us on Wednesday, December 6 at 12pm ET. With Peter Duda, Eric Blankenbaker, and Josh Kaufman, from Weber Shandwick will discuss how legal leaders can be best prepared for the continued evolution of crisis communications in a world of radical complexity.
Discussion topics include:
Understanding the Modern Feedback Loop
Online Tactics and Provocateurs
The Impact of False Narratives
Challenges in Combatting Misinformation
Collaboration Between Legal and Communications Teams
Leveraging AI for Crisis Communication
Case Studies and Success Stories
Weber Shandwick has helped numerous general counsels and other legal leaders partner with corporate communicators to steer their companies through these risks by leveraging Artificial Intelligence to analyze the instigators, anticipate their demands, and test-drive whether a company's response will resonate.
Who Should Attend
This program is designed for in-house counsel managing or handling crisis or corporate communications for their organizations.
There is NO COST to attend this LIVE program!
This program is FREE thanks to Weber Shandwick. If you can't make it to the live program, the recording will be available for viewing via our paid CLE library, In-House Connect On-Demand!