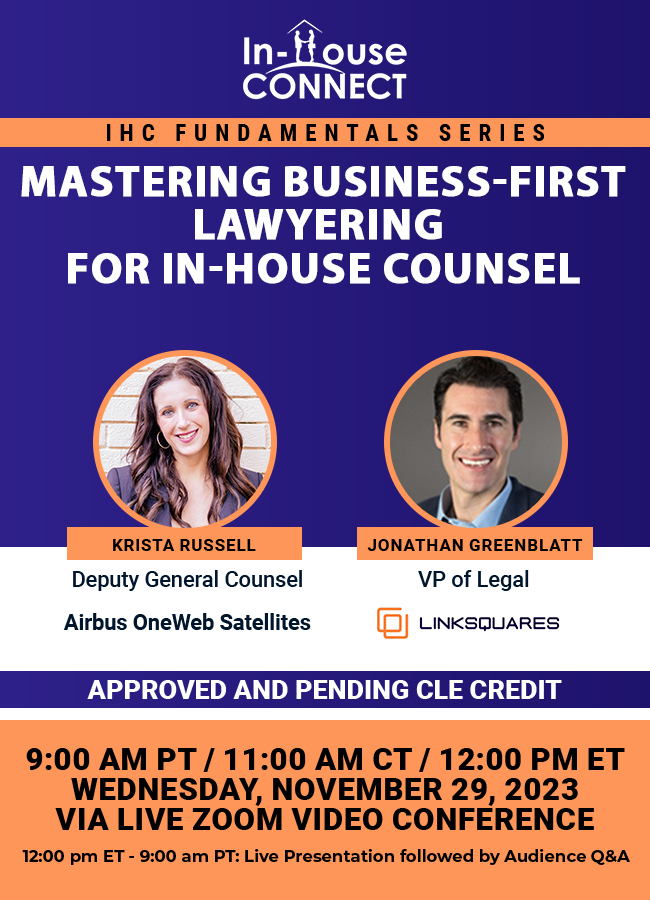 Speaker Bio

Sponsored by:

CLE Details
Jonathan Greenblatt, VP of Legal at LinkSquares
As LinkSquares VP of Legal, Jonathan has responsibility for managing LinkSquares' day-to-day legal operations. In this role, Jonathan oversees the commercial contracts function, handles corporate matters, and advises on privacy matters. Prior to joining LinkSquares, he was Associate General Counsel at a leading cybersecurity company. There he negotiated complex commercial agreements and managed the contracts function while advising on GDPR and other relevant privacy regimes. Jonathan's previous experience includes in-house roles at companies in the Internet of Things and Green Rnergy technology sectors. During law school, Jonathan also worked as a law clerk at Fannie Mae.
Jonathan received his Juris Doctor from George Mason University School of Law and a Bachelor of Arts with distinction from James Madison University. He is CIPP/US certified and a member of the Association for Corporate Counsel. Prior to attending law school, Jonathan served as a Peace Corps volunteer in the former Soviet Union.
Krista L. Russell, Deputy General Counsel, Airbus OneWeb Satellites 
Krista L. Russell is Deputy General Counsel for Airbus OneWeb Satellites on the Space Coast of Florida and Adjunct Professor of Law at University of Miami School of Law, where she teaches Transactional Skills. She is also the creator and founder of General Counsel U – a private coaching community for law students, private practice attorneys desiring to move in-house, or current in-house counsel looking to level up their careers. Krista is a two-time graduate from the University of Central Florida and earned her JD from Seton Hall University School of Law. She has practiced in-house for her entire 15 year career, and is passionate about the area where business and law intersect. Krista is a recipient of the Orlando Business Journal 40 Under 40 Award (2021), the FedEx Five Star Award (2016) and Ambassador's Club Award (2019), and the Pittsburgh Business Journal BusinessWomen First Award (2016). She is exceedingly joyful to be the mom of Nico, Gabriella, and Milana, married to her husband Jamie, and bonus mom to his four children.
This program is approved for CLE credit in the following states: NY, PA, CA, IL, TX, AR, NV.
This program is pending CLE credit in the following states:  TN, OH, MN, NC, WA, GA, IN, KY, MO, CO.
This program is pending CLE credit for self-application by the attorney or for reciprocal CLE credit in the following states: AZ, CT, FL, ME, MT, NJ, & ND.
Mastering Business-First Lawyering for In-House Counsel
In today's rapidly evolving corporate landscape, in-house counsel are not merely legal advisors; they are strategic partners driving business success. As strategic partners in the business sphere, the role of in-house counsel calls for a comprehensive understanding of the business and strategy.
Join us on Wednesday, November 29, 2023 at 12pm ET/9am PT for the next edition of our IHC Fundamentals Series as Jonathan Greenblatt and Krista Russell delve into the role of in-house counsel.
Jonathan and Krista will explore practical ways to get to know your business and where to start. They'll explore the importance of clear, precise legal language and how to avoid misunderstandings through the use of plain language and meticulous drafting.
Discussion topics include:
Why every issue is a business issue
Ethical challenges an IHC will face
The evolving role of an IHC
And more!
Jonathan and Krista will equip you with the communication tools to not only provide top-notch legal advice but also become an invaluable strategic partner within your organization. Embrace the opportunity to bind your legal department's value tightly to the corporate world.
Who should attend?
All levels of in-house counsel who want to become more business-minded.
There is NO COST to attend this LIVE program!
This program is FREE thanks to Linksquares – Legal tech for humans, powered by AI. If you can't make it to the live program, the recording will be available for viewing via our paid CLE library, In-House Connect On-Demand!