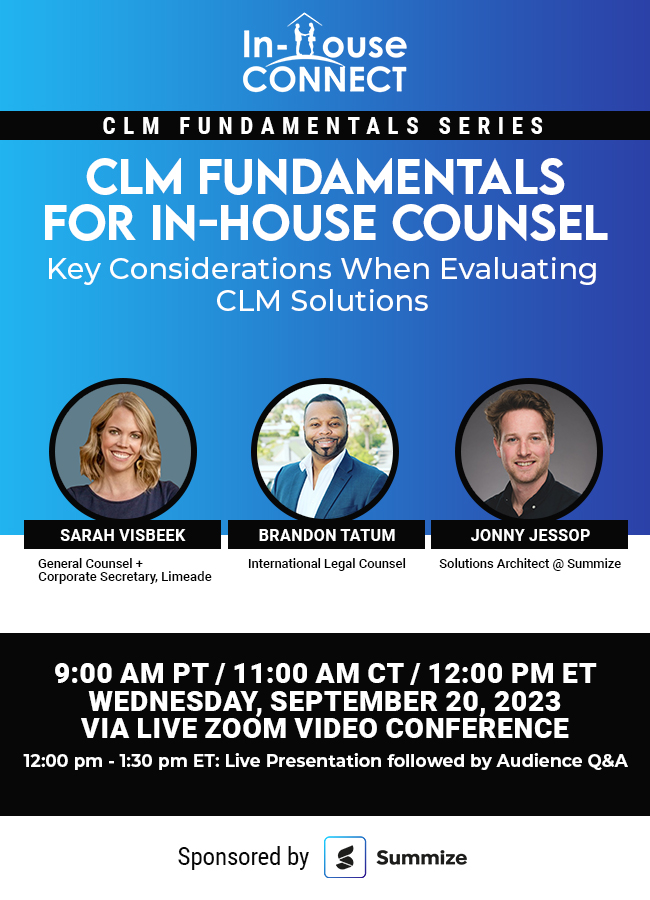 Speaker Bio

Sponsored by:

CLE Details
Tom Dunlop
Tom Dunlop is the CEO and Co-Founder of Summize, a Manchester based high-growth digital contracting business founded in 2018. Having previously worked as an accomplished commercial and technology lawyer, including working as a Global Legal Director for several fast growth technology companies, Tom's experience with reviewing contracts was the catalyst that led to Summize. Having identified the pressing need to digitalise and modernise the contract lifecycle, Summize makes it easier and faster to review, create and manage contracts.
Brandon Tatum, Esq.
Brandon Tatum, Esq. a is multi-hyphenate lawyer, entrepreneur, and public speaker with a career marked by documented achievements, a winning mentality, and substantial multi-cultural international experience leading cross-functional teams, counselling C-Level executives, conducting global business development, and bridging cultural differences. His expertise spans commercial and technology transactions, entertainment transactions, IP licensing, digital media law, and data privacy.
Brandon was recently selected for Billboard's prestigious 2023 Top Music Lawyers list for his cutting-edge work in the Web3 music and fashion space plus his international work representing major K-Pop artists. He also consults large organizations and SMEs at the convergence of entertainment, technology, and culture, and he frequently speaks at conferences and private symposiums domestically and internationally on these topics and their intersection with Web3 technologies.
Brandon spent 5 years living in Tokyo, Japan between 2013 and 2019 during which time he completed his M.B.A. at GLOBIS University (Japan's largest graduate business school), worked heavily in the J-Pop and K-Pop music industries, and served as a foreign lawyer at "Big 4" Japanese law firm Anderson Mori & Tomotsune where he handled international commercial and technology transactions. He has led high-value domestic and cross-border deals with some of the biggest names in the music, gaming, film/TV and technology industries.
Brandon is California-qualified attorney who also holds a J.D. from the University of Southern California Law School and an LL.M. in International Intellectual Property Law from the London School of Economics & Political Science. He has dedicated his life and career to breaking through glass ceilings in business for Black people internationally and pushing forward DEIA initiatives. Brandon firmly believes that the sincere valuing of diversity in business will be a key catalyst for the exponential advancement of society.
THIS WEBINAR IS NOT CLE-ELIGIBLE
CLM Fundamentals for In-House Counsel: Key Considerations When Evaluating CLM Solutions
In today's fast-paced and complex business landscape, selecting the right CLM solution is critical for maximizing efficiency, reducing risks, and optimizing contract management processes. It's also crucial that any software is not just useful for the legal team but can be applied and adopted by the wider business. But it can be difficult to know where to begin.
Join us on Wednesday, September 20th, at 12:00 pm ET, 9:00am PT as Sarah Visbeek, Brandon Tatum, and Jonny Jessop will delve into the key considerations and factors that should guide your decision-making process when evaluating CLM software options.
Our panel will:
Provide an overview of CLM Software: Gain a comprehensive overview of CLM software, its benefits, and its impact on your organization's contract management processes.
Explore how CLM software can streamline contract creation, negotiation, execution, and monitoring, and how it can benefit the whole business.
Teach you how to conduct a thorough assessment of your organization's unique contract management needs and how to uncover the crucial features, functionalities, and integrations that align with your business objectives, compliance requirements, and industry regulations.
Help you navigate the vast landscape of CLM software providers with confidence. Discover effective strategies for shortlisting vendors, evaluating their capabilities, and assessing their reputation, track record, and customer support; and
Explore the practical aspects of CLM software implementation, including deployment, system integration, user adoption, and change management. Gain insights into the potential challenges and best practices for successful CLM software integration within your existing technology ecosystem.
Who Should Attend
This webinar is an excellent fit for in-house counsel, contract managers, paralegals, and any other law department professionals who are interested in bringing in a CLM solution for their legal department.
There is NO COST to attend this LIVE program!
This LIVE program is FREE thanks to our gracious sponsor, Summize – Digital contracting done differently. If you can't make it to the live program, the recording will be available for viewing upon request.
THIS WEBINAR IS NOT CLE-ELIGIBLE