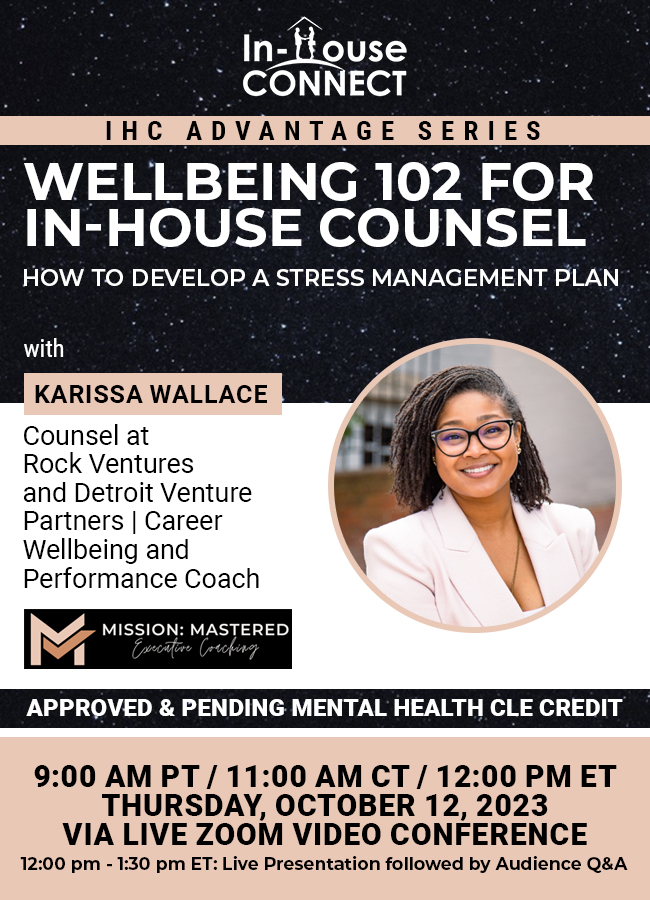 Speaker Bio

Sponsored by:

CLE Details
Karissa Wallace
is a certified executive coach and founder of Mission: Mastered, a platform for personal and professional development. Combining her professional experiences and her passion for wellbeing and building community, she shares a unique and inspiring blend of career performance and wellbeing perspectives that deeply resonate with accomplished leaders and professionals. Karissa supports her clients to navigate common high-performance pitfalls and holistically transform their careers, faster and with more ease.  Through coaching, her clients are empowered to banish burnout, curate the environment needed to perform at their best + experience more career satisfaction and fulfillment.     Professionally, Karissa is a corporate attorney practicing in Detroit, Michigan. She has been in-house the majority of her 15 years of practice and is currently Associate General Counsel at Rock Ventures, the family office of Dan Gilbert (founder of Rocket Mortgage and owner of the Cleveland Cavaliers).
This program is approved for CLE credit in the following states: NY, PA, CA, IL, TX, AR, NV.
This program is pending CLE credit in the following states:  TN, OH, MN, NC, WA, GA, IN, KY, MO, CO.
This program is pending CLE credit for self-application by the attorney or for reciprocal CLE credit in the following states: AZ, CT, FL, ME, MT, NJ, & ND.
Wellbeing 102 for In-House Counsel: How to Develop a Stress Management Plan
As in-house counsel, our role often requires us to manage stressful situations under stressful circumstances. Research shows that constant stress and overwhelm decreases our capacity to perform and impedes our career goals. Just like an elite athlete, what separates a good in-house counsel from a great one isn't just their technical ability, but rather their ability to master the game. Stress is a part of the game, so it's critical for in-house counsel to have an effective stress management plan.
Join us Thursday, October 12, 2023 at 12pm ET / 9am PST, as Karissa Wallace, In-House Counsel at Rock Ventures and Detroit Venture Partners and Career Wellbeing and Performance Coach, shares practical advice to manage stress and take control of our careers.
In this workshop you will learn:
How to identify the stress that is bad (and good) for your career.
The role of sleep in preventing and recovering from stress + how to get more quality sleep.
The typical automatic responses to stress, how those impede performance and what you can do about it.
The role of time and attention management in controlling stress + tools to increase your capacity to focus.
How goal setting can increase or decrease stress + the mindfulness techniques that will help you stay aligned with your goals.
A key stress management ingredient that many in-house counsel are missing (spoiler alert: it has nothing to do with your job!).
It's possible to thrive in your career without burning out and compromising your values, but it requires that you create a sustainable pathway to your version of success. This workshop will give you a jump start to create that path forward.
Attendees will receive a special IHC-only offer to join Karissa in her upcoming signature accelerator course and curate a unique career alignment plan.
This program is approved and pending Mental Health CLE Credit!