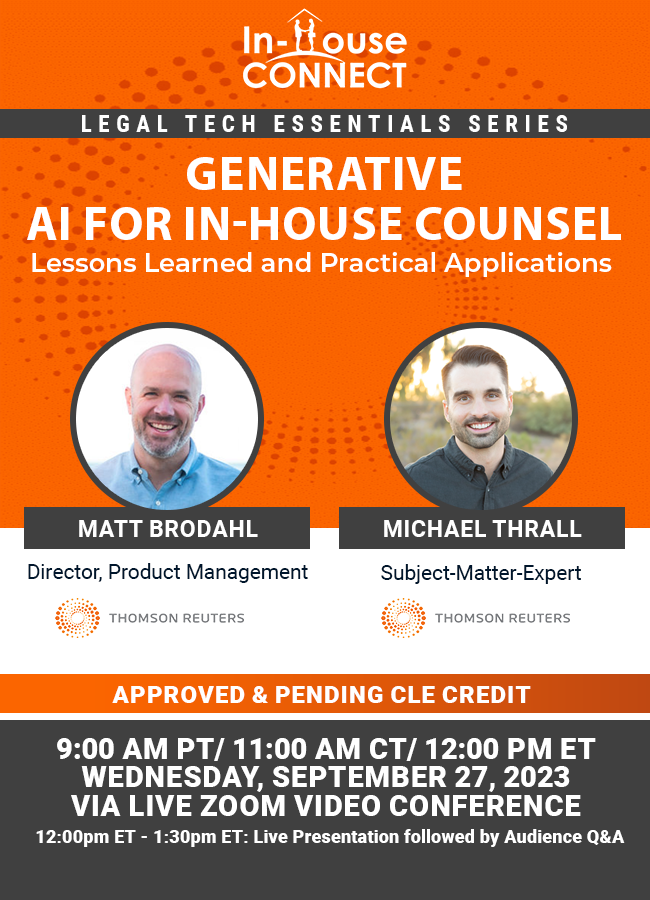 Speaker Bio

Sponsored by:

CLE Details
Matt Brodhal
Matt is the Director of Product Management for Document Intelligence and focuses on ML/NLP model development capabilities and product-market fit for those models. Prior to Thomson Reuters, Matt worked with ThoughtTrace as a Subject Matter Expert and a Product Manager for the Data Science and Machine Learning Operations team.  He has lived in Denver, CO for the last 12 years and enjoys doing all the cliche Colorado things with his wife and two daughters.
Michael Thrall
Prior to joining Document Intelligence and the Thomson Reuters team, Michael worked as a litigator and business attorney.  Alongside his litigation workload, he served as outside general counsel for several businesses, including restaurant chains and real estate brokerages and investment groups.  At Document Intelligence, he works as a subject matter expert to train AI models and develop contract ontologies.  He lives in Denver and loves exploring the Rocky Mountains with his wife, two kids, and dog.
This program is approved for CLE credit in the following states: NY, PA, CA, IL, AR, NV.
This program is pending CLE credit in the following states:  TN, TX, OH, MN, NC, WA, GA, IN, KY, MO, CO.
This program is pending CLE credit for self-application by the attorney or for reciprocal CLE credit in the following states: AZ, CT, FL, ME, MT, NJ, & ND.
This program is appropriate for newly admitted attorneys and experienced attorneys.
Generative AI for In-House Counsel: Lessons Learned and Practical Applications
AI is the latest buzz phrase – but what does it mean for legal departments? Fortunately, recent advances in Artificial Intelligence (AI) offer legal an unprecedented opportunity to streamline their workflow, effectively manage obligations, and reach ideal terms in less time… but how exactly?
How can we learn from departments that have incorporated recent advancements in AI for legal successfully? What does the data and recent case law tell us about who is using the latest craze – GPT-4 – for their legal matters?
Join us at 12pm ET / 9am PT on Wednesday, September 27, for the next edition of our Legal Tech Essentials Series, as Matt Brodhal and Michael Thrall of Thomson Reuters discuss all of this and the data to help us explore the 30,000-foot view into departmental strategies that only Thomson Reuters can bring you.
Practical examples and use cases of different types of AI at work include:
Eliminate the headache of document data management with expertly trained models and advanced search (Machine Learning / NLP)
Expedite locating, reading, redlining, & extracting pertinent contract terms (Machine Learning / NLP)
Accelerate negotiation, drafting, intelligent research & advisory with a chat-based experience (LLM, e.g. GPT-4)
Who Should Attend
This program is designed for in-house counsel who are interested in learning how GenAI can improve their legal practice.
There is NO COST to attend this LIVE program!
This program is FREE thanks to our gracious sponsor,Thomson Reuters. If you can't make it to the live program, the recording will be available for viewing via our paid CLE library, In-House Connect On-Demand!