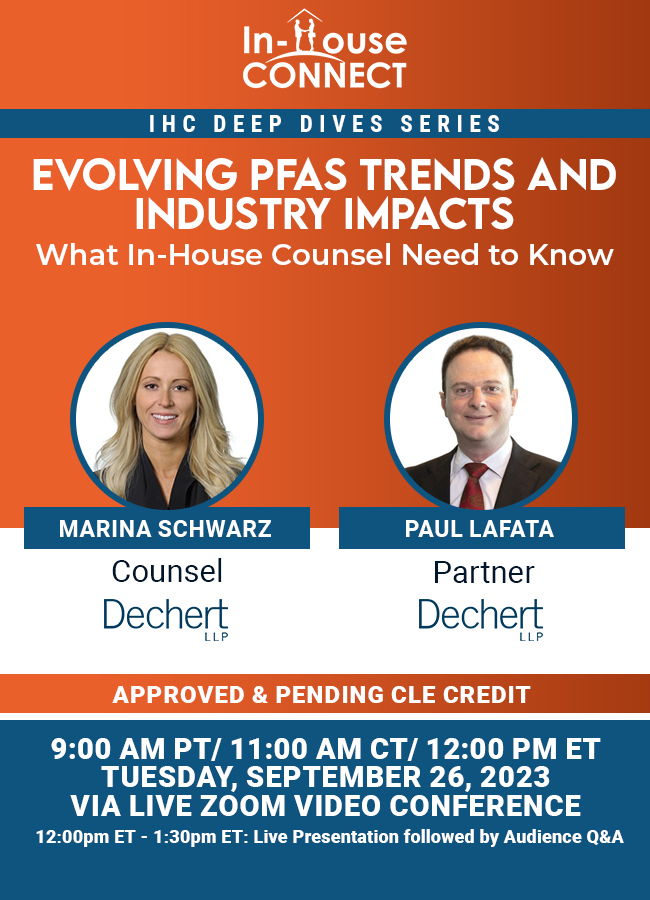 Speaker Bio

Sponsored by:

CLE Details
Marina Schwarz
Marina Schwarz practices in the area of mass torts and products liability litigation, regularly representing corporations on issues arising across a broad spectrum of industries, including pharmaceuticals, chemicals, energy and environmental.
Ms. Schwarz advises clients throughout the United States on complex disputes and litigates high-stakes trial and appellate matters in federal and state courts and before arbitral tribunals. She has appeared in courts handling a wide variety of multi-district litigation matters, including mass torts, class actions, centralized management, fraud, false advertising, negligence, and wrongful death claims.
Ms. Schwarz has presented on mass torts and products liability and authored articles on a variety of topics, including climate change and class action litigation, which have been published by The National Forum for Environmental and Toxic Tort Issues (FETTI) and DRI for the Defense.
Ms. Schwarz was honored by The Legal Aid Society at the Pro Bono Publico Awards in 2018.
Prior to joining Dechert, Ms. Schwarz served as a litigation associate in Quinn Emanuel Urquhart & Sullivan's  New York office.
Paul LaFata
Paul A. LaFata is an accomplished attorney who focuses his practice on complex product liability and mass tort litigation. Mr. LaFata has served as national counsel in high-profile MDL and class-action proceedings, requiring the development and implementation of national defense strategies and coordination of cross-firm and inter-disciplinary teams in the United States and in Canada, Australia, and other foreign jurisdictions. Mr. LaFata has litigated cases from inception through trial and appeals in state and federal courts nationwide, including on trial teams for bellwether pharmaceutical trials, arguing motions, taking and defending depositions, managing discovery and experts, and drafting extensive briefing. In addition to receiving client award recognition for outstanding service, Mr. LaFata has also advised clients and their legal departments in federal and state regulatory matters and negotiations, policy, compliance, litigation defense planning and commercial contract disputes. Representative industries include pharmaceuticals, healthcare, consumer products, chemicals, plastics, energy, heavy machinery, oil and gas, insurance, nonprofit, and municipal government.
Mr. LaFata volunteers with mock trial organizations to write trial and appellate problems, mentor and coach competitors, and judge mock trial tournaments.
Prior to joining Dechert, Mr. LaFata was an attorney in the complex mass tort practices at Quinn Emanuel Urquhart & Sullivan and Skadden, Arps, Slate, Meagher & Flom
This program is approved for CLE credit in the following states: NY, PA, CA, IL, AR, NV.
This program is pending CLE credit in the following states:  TN, TX, OH, MN, NC, WA, GA, IN, KY, MO, CO.
This program is pending CLE credit for self-application by the attorney or for reciprocal CLE credit in the following states: AZ, CT, FL, ME, MT, NJ, & ND.
This program is appropriate for newly admitted attorneys and experienced attorneys.
Evolving PFAS Trends and Industry Impacts: What In-House Counsel Need to Know
PFAS continue to draw scrutiny at all levels, including from regulators, litigators, legislatures, and the media.
Join us at 12 pm ET on Tuesday, September 26, for the next edition of our IHC Deep Dives Series, as Marina Schwarzand Paul LaFata of Dechert, LLP will cover:
1) PFAS Regulatory Trends,
2) PFAS Litigation: Past, Present and Future, and
3) Future PFAS landscape and Risk Mitigation Strategies
Stakeholders from all industries potentially impacted by PFAS are encouraged to attend and learn about key developments in this ever-evolving area.
Who Should Attend
This program is designed for in-house counsel who are responsible for managing or engaging in litigation and are interested in better understanding PFAS regulation and litigation trends.
There is NO COST to attend this LIVE program!
This program is FREE thanks to our gracious sponsor, Dechert! If you can't make it to the live program, the recording will be available for viewing via our paid CLE library, In-House Connect On-Demand!