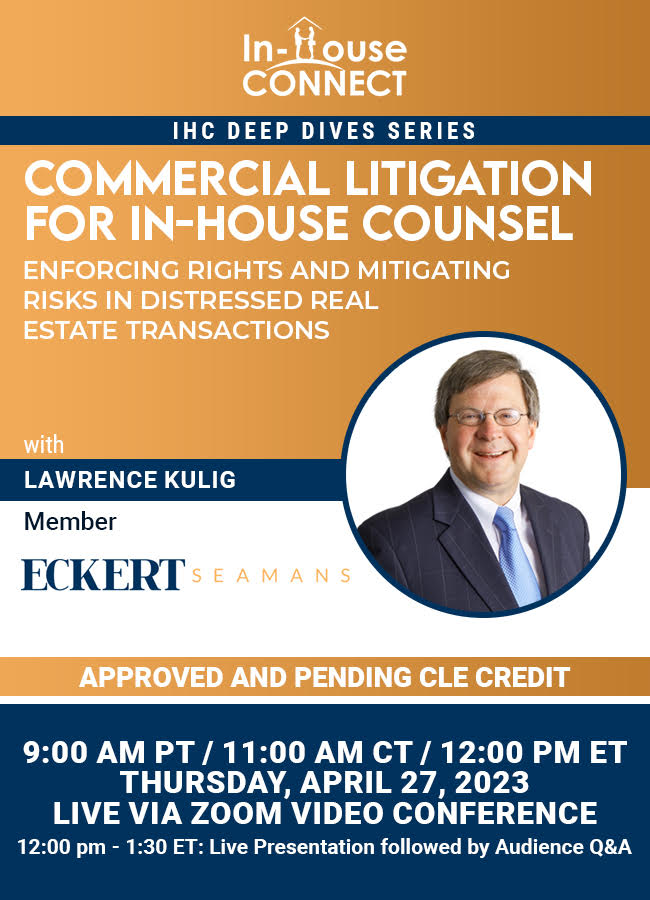 Speaker Bio

Sponsored by:

CLE Details
Larry Kulig
Larry Kulig has over 25 years of broad commercial litigation experience with a particular focus on disputes involving partnerships and closely held businesses, breach of contract, fiduciary duty claims, and defense of defamation/discrimination suits. A large part of Larry's practice also includes lender/borrower disputes, particularly those involving multifamily, Low-Income Housing Tax Credits (LIHTC), and equity deals. He also has significant experience in shareholder litigation as well as real estate, corporate, and trademark-related litigation, including claims involving First Amendment and intellectual property rights on the Internet. In addition, Larry is a professionally accredited arbitrator, affiliated with the American Arbitration Association, to handle commercial and business disputes.
He has significant jury and bench trial experience and approximately 20 reported decisions on Westlaw and has argued before the Massachusetts Appeals Court, Supreme Judicial Court, and appellate courts in other states. Larry is also experienced in alternative dispute resolution as an arbitrator and mediator. In 2017, Larry was retained as an arbitrator in a high profile AAA dispute involving multiple affordable housing projects across New York City, which he helped settle.
Larry's representative clients include software companies, local, and national financial institutions, real estate partnerships, insurance carriers, and one of the nation's largest nonprofit providers of social services. Most recently, Larry has also been representing court-appointed receivers assisting the Massachusetts Attorney General's Office of Abandoned Housing Initiative. He was also recognized with the 2017 Villanova Law School alumni award for public service for his decades of work ranging from support of affordable housing initiatives to inner city schools and student-athletes to civics oriented programs and veterans groups.
This program is approved for CLE credit in the following states: NY, PA, CA, IL, TX
This program is pending CLE credit in the following states:  TN, OH, MN, NC, WA, GA, IN, KY, MO, CO, VA.
This program is pending CLE credit for self-application by the attorney or for reciprocal CLE credit in the following states: AZ, CT, FL, ME, MT, NJ, & ND.
This program is appropriate for newly admitted attorneys and experienced attorneys.
Commercial Litigation for In-House Counsel: Enforcing Rights and Mitigating Risks In Distressed Real Estate Transactions
Given the current high interest rate environment, many are beginning to wonder about the $20 trillion market for commercial real estate- and the underlying mortgages. As an in-house counsel, it is important to understand the key legal issues and risks associated with distressed commercial & multifamily real estate transactions (including the risk of "lender liability").
Join us on Thursday, April 27 at 12pm EST/ 9 am PT for the next edition of our IHC Deep Dives Series, as Larry Kulig Member, Eckert Seamans, will provide key strategies and best practices to mitigate legal risks and successfully navigate the complex landscape of distressed real estate transactions.
Presentation topics include:
An overview of distressed real estate and why many observers predict a wave of defaults, workouts and risks
Potential reemergence of "lender liability" claims by borrowers and increased litigation
Strategies for mitigating risks and enforcing rights and remedies; and
How to manage and minimize legal disputes
By staying up-to-date on the latest legal developments and best practices, in-house counsel can help protect their company's interests, mitigate legal risks, and navigate the complex landscape of distressed real estate transactions.
Who Should Attend
This program is designed for both experienced and new in-house counsel who handle or manage commercial property or real estate matters for their organization and want to learn more about managing distressed real estate transactions.
There is NO COST to attend this program!
This program is FREE thanks to our gracious sponsor, Eckert Seamans!