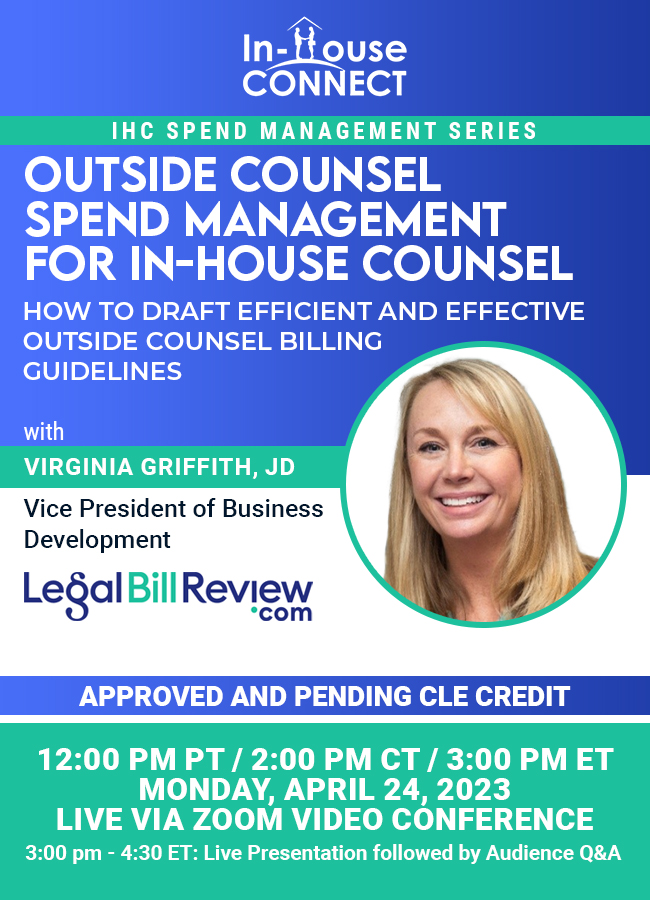 Speaker Bio

Sponsored by:

CLE Details
Virginia Griffith is an attorney with 20 years in the legal profession, having previously worked with ALM Media, LLC and Thomson Reuters working closely with corporate legal departments in support of their legal operations and regulatory programs.
This program is approved for CLE credit in the following states: NY, PA, CA, IL, TX
This program is pending CLE credit in the following states:  TN, OH, MN, NC, WA, GA, IN, KY, MO, CO, SC. This program is pending CLE credit for self-application by the attorney or for reciprocal CLE credit in the following states: AZ, CT, FL, ME, MT, NJ, & ND.
This program is appropriate for newly admitted attorneys and experienced attorneys.
Outside Counsel Spend Management for In-House Counsel: How to Draft Efficient and Effective Outside Counsel Billing Guidelines
Despite having more choices than ever for legal services, spending on outside counsel is at an all-time high, projecting to increase throughout 2023. What can general counsel and legal operations teams do to control rising costs?
Join us on Monday, April 24 2023 at 3pm ET/12pm PT for the next edition of our IHC Spend Management Series, as LegalBillReview.com's Virginia Griffith, JD, will dive into the effectiveness of eBilling solutions, legal invoice review, and provide best practices and process controls to help reduce outside counsel spend.
Key takeaways from this presentation will include:
Practical and proven strategies to immediately reduce outside counsel spend;
Common areas of "low hanging fruit" which can help improve efficiencies over the next 6 months;
Insights and tips for implementing your own outside counsel spend management projects, and more!
Who Should Attend
This program is designed for both experienced and new in-house counsel and legal operations professionals who manage outside counsel spend.
There is NO COST to attend this program!
This program is FREE thanks to our gracious sponsor, LegalBillReview.com! LegalBillReview.com eliminates the burden of reviewing bills from in-house legal teams and reduces outside counsel spend.