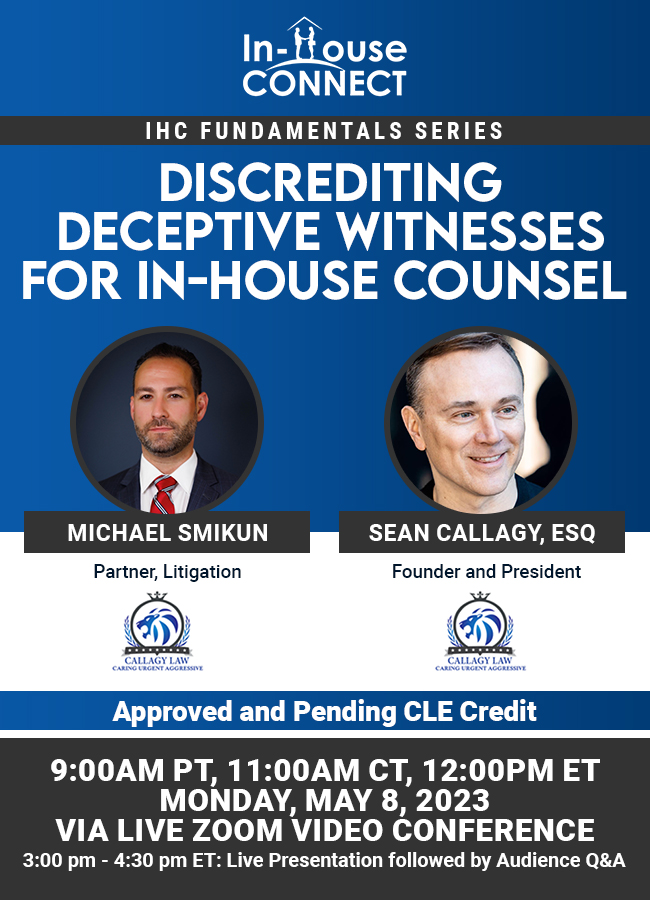 Speaker Bio

Sponsored by:

CLE Details
Michael Smikun
As a litigator and national trial attorney, Michael exposes liars and upholds the truth.
Michael was an indispensable leader in successfully obtaining two of the top 100 jury verdicts in the country, including the largest jury verdict in the State of Arizona in 2016 ($27.6m) and the fourth largest in the State of New Jersey in 2014 ($33.4m).
Michael has successfully argued and won cases in courts across the country including the United States Court of Appeals for the 2nd, 3rd, 5th, and 9th Circuits; State Trial and Appellate Courts; the New Jersey Supreme Court; and has been admitted to the United States Supreme Court.
As a business and corporate lawyer, Michael confronts challenges, reveals unspoken objections, and brings absolute certainty to make sure your deal gets done.
Although proud of his achievements in the courtroom and the boardroom, Michael is most proud of his ability to quickly and efficiently resolve disputes and create agreements with a single telephone call and a letter.
Michael attacks every matter with immense caring, unstoppable urgency, and ferocious aggression to achieve the firm's mission: to fundamentally change the way people feel about lawyers, one client at a time.
SEAN R. CALLAGY, ESQ.
Sean Callagy is an entrepreneur, international speaker, philanthropist, one of America's top trial attorneys, online personality, and creator of various peak performance technologies.
Oh, and he's a legally blind warrior and adventurer.
For 25 years, aided by his unique insights, love for people, ability to "see" and create transformational breakthroughs, Sean has achieved and co-created an incredibly diverse variety of unique successes. Sean has been favorably compared to some of the top speakers and influencers in the world.
As a byproduct of his technologies, Mr. Callagy is one of only two attorneys out of 1,220,000 attorneys in America to achieve 2 Top 100 National Jury Verdicts between 2014 and 2016, and the only one who was legally blind. He has also collected more than half a billion dollars on behalf of his healthcare clients, built and sold a 40 person law firm in a little over a year in his twenties when he was only two years out of law school (all which is very rare in the legal world), created the most rapidly successful training, coaching and development program from his coaching school out of anyone who had ever attended the coaching school and certification program at that time, publicly spoke more than 4,000 times to audiences that are consistently shocked to "see what they didn't see" in their lives, careers, and businesses.
Mr. Callagy is the Founder and President of Callagy Law, a more than 100+ team with offices in 5 states, Founder of his own charitable foundation, the Callagy Christian Foundation, which he funded up front with a personal donation of over 7 figures, Founder of the investment company Callagy Enterprises, and Callagy Training and Development, which empowers and co-creates results that fulfill dreams through his unparalleled human breakthrough technologies.
Mr. Callagy is the creator of the Callagy Results Formula, also known as the Unblinded Formula, and hundreds of hours of content on integrity based human influence, which empowers and co-creates results that fulfill dreams through his unparalleled human breakthrough technologies in sales, business and life in going from "Hello" to "Yes" and what to do with that access for success. He is the Founder and Chief Visionary Officer of Unblinded Mastery. The first 1,600 person Unblinded event was filled in under 3 months and went from a startup in 3 months to $250k+ in sales per month, including Jack Canfield being a paid member of the program and promotional partner. (Jack Canfield is co-author of the Chicken Soup for the Soul series, which has more than 250 titles and 500 million copies in print in over 40 languages)
As a speaker, Sean has broken sales records on the largest personal development stages in the world, speaks for T-Mobile, Disney Executives, Bristol Myers Squibb, National News Networks, Legal Associations, and raised 7.4 million dollars for charity on stage during his last four speaking engagements. As an influencer for good in this world, Sean has a standing bet of $250k, for charity, that he cannot be out influenced on a neutral set of facts.
Mr. Callagy's causes include creating unity through truth with empathy, dramatically reducing the virtually unchanged 75% unemployment rate for the blind and leading a "Mastery Movement" that challenges you to "see what you don't see". Perhaps most notably and at the core of his highest level of gratitude, is Mr. Callagy's commitment to his family and life balance. While creating his professional successes, Mr. Callagy regularly hosts and leads holidays and unique experiences for his extended family, and he coached and attended virtually all of his three children's more than 1,000 sporting events and activities over the past 15 years. Creating the life YOU want, with the awareness that contribution and growth truly energize and empower the heart and soul, is at the root of Sean's mission.
Mr. Callagy is now on a mission to influence influencers to merge ecosystems so one plus one equals a trillion relationships that make the world an even greater place.
CLE Information
This program is approved for CLE credit in the following states: NY, PA, CA, IL, TX
This program is pending CLE credit in the following states:  TN, OH, MN, NC, WA, GA, IN, KY, MO, CO
This program is pending CLE credit for self-application by the attorney or for reciprocal CLE credit in the following states: AZ, CT, FL, ME, MT, NJ, & ND.
This program is appropriate for newly admitted attorneys and experienced attorneys.
Discrediting Deceptive Witnesses for In-House Counsel
At some point, every attorney will face a witness who willfully makes sworn statements without a sincere belief in their truth. When this happens, counsel may not know whether or how to confront the witness during the deposition.
Reliable "tells" that a witness is lying do not exist. When encountering false testimony from a witness, counsel must develop a thorough line of attack to expose the lie and the choices, motives, and decisions leading to the creation of the lie. In doing so, counsel can go beyond simply getting the trier of fact to disbelieve the witness but to reject the adversary's case altogether.
Join on May 8, at 12pm ET / 9am PT for the next edition of our IHC Fundamentals Series as Sean Callagy and Michael Smikun of Callagy Law PC, will teach us how to expose the witness who is putting forth half-truths and lies.
Michael will discuss these and other pivotal questions:
What are the signs a witness is not telling the truth?
What are the three stages of a deposition that expose a dishonest witness?
How should attorneys prepare for depositions where false testimony is expected?
Does exposing falsehoods or inconsistency during deposition give opposing counsel time to create a response?
Who Should Attend
This program is designed for all levels of in-house counsel who engage in litigation, investigations, or other fact-finding related matters for their organization.
There is NO COST to attend this program!
This program is FREE thanks to Callagy Law, P.C. – Caring, Urgent, Aggressive