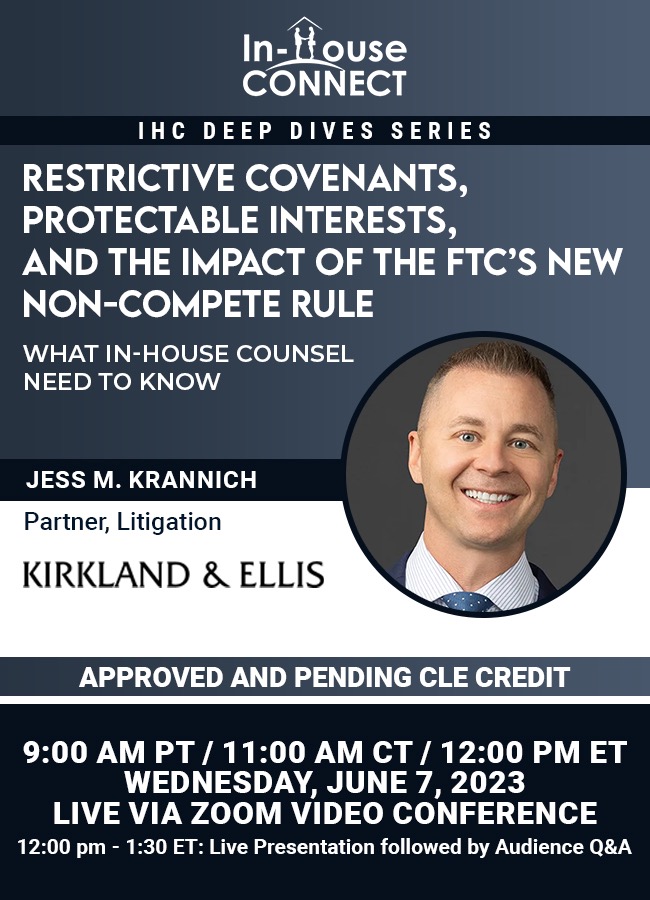 Speaker Bio

Sponsored by:

CLE Details
Jess M. Krannich is a litigation partner in the Salt Lake City office and a member of Kirkland's Commercial Litigation Practice Group. A seasoned trial lawyer, Jess has won nearly twenty jury and bench trials, arbitrations, and injunctive hearings. He also has a strong record of obtaining early wins in large, complex cases through motion practice and strategic case development. Jess has won multiple zero-liability or zero-damages awards on behalf of defendants and has recovered over $500 million on behalf of plaintiffs. Jess is recognized as one of the top 100 lawyers in the Intermountain West and is a go-to litigator for high-stakes and "bet-the-company" cases throughout the United States. His matters often involve the management of acute legal crises and the most significant legal issues his clients face. Clients appreciate Jess's focused, strategic approach to advancing his clients' goals while minimizing the business impact.
Jess's client base is primarily in the high technology field, including in life sciences, medical products and devices, computer sciences, consumer products, and financial services. His clients range from start-ups to public and Fortune 500 companies, and their executives.
Jess's practice spans multiple types of complex commercial litigation but emphasizes competition disputes ranging from trade secret and restrictive covenant litigation to intellectual property disputes, unfair competition, and antitrust litigation. Jess also has extensive experience in tort and product liability litigation and has represented clients in a variety of regulatory actions. Many of his cases involve class actions or consolidated multi-district litigation.
In addition to his litigation practice, Jess is active in the Salt Lake City business and legal community and sits on the Board of Governors of the Salt Lake City Chamber of Commerce.
Representative clients have included British Petroleum, BDO USA, LLP, Route App, Inc., Nexio, and Sotheby's International Realty, among others.
This program is approved for CLE credit in the following states: NY, PA, CA, IL, TX
This program is pending CLE credit in the following states:  TN, OH, MN, NC, WA, GA, IN, KY, MO, CO, VA.
This program is pending CLE credit for self-application by the attorney or for reciprocal CLE credit in the following states: AZ, CT, FL, ME, MT, NJ, & ND.
This program is appropriate for newly admitted attorneys and experienced attorneys.
Restrictive Covenants, Protectable Interests, and the Impact of the FTC's New Non-Compete Rule: What In-House Counsel Need to Know
As businesses strive to protect their valuable assets and maintain a competitive edge, non-compete agreements and other restrictive covenants have become increasingly common. However, recent developments, such as the Federal Trade Commission's new non-compete rule, have raised numerous questions about the enforceability and legality of these agreements.
Join us on Wednesday, June 7th, at 12pm ET / 9am PT, for the next edition of our IHC Deep Dives Series, as Kirkland & Ellis LLP Litigation partner Jess Krannich, will:
address the use of restrictive covenants to protect business interests, including non-competition, non-solicitation, confidentiality, and intellectual property protections including for trade secrets;
provide an update on the FTC's new rule proposing to universally ban non-competition restrictions and discuss the impact of that rule on non-competition restrictions and other restrictive covenants,
provide best practices for using restrictive covenants going forward.
OPEN REGISTRATION FOR IN-HOUSE COUNSEL ONLY
Who Should Attend
This program is designed for new and experienced in-house counsel who draft or negotiate contracts that include restrictive covenants.
There is NO COST to attend this program!
This program is FREE thanks to our gracious sponsor, Kirkland & Ellis LLP!