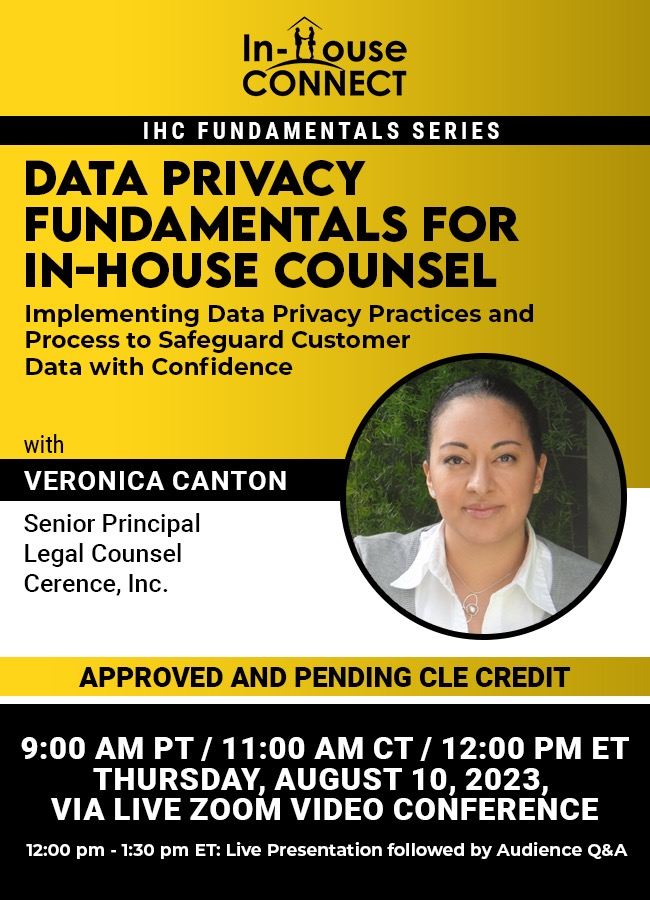 Speaker Bio

Sponsored by:

CLE Details
Veronica Canton
grew up in San Francisco, moved to the Midwest to attend law school, and graduated from Notre Dame Law School where she found her love for data privacy and cybersecurity.  She has worked in small, mid-size, and big law firms where she has counseled small businesses to Fortune 500 companies on areas that include data privacy, providing guidance on multi-jurisdiction and multi-industry compliance, class action litigation, breach, and post-breach response. She is currently the Senior Principal Legal Counsel at Cerence, Inc., the world's leading provider of automotive assistants, creating intelligent, flexible, and intuitive in-car experiences for the world's leading automakers.
This program is approved for CLE credit in the following states: NY, PA, CA, IL, TX, AR
This program is pending CLE credit in the following states:  TN, OH, MN, NC, WA, GA, IN, KY, MO, CO. This program is pending CLE credit for self-application by the attorney or for reciprocal CLE credit in the following states: AZ, CT, FL, ME, MT, NJ, & ND.
Data Privacy Fundamentals for In-House Counsel: Implementing Data Privacy Practices and Process to Safeguard Customer Data with Confidence
In today's digital landscape, protecting customer data is of utmost importance for companies. As in-house counsel, we play a critical role in ensuring that robust practices and processes are in place.
In-house counsel involvement in the development and implementation of practices and processes is key to safeguarding customer data and maintaining customer trust.
This presentation will focus on implementing measures to protect customer data while also providing valuable insights into building a privacy-centric culture, mitigating risks, and complying with relevant regulations.
Join us on Thursday, August 10, 2023 at 12pm ET for the next edition of our IHC Data Privacy Series, as Cerence, Inc.'s Senior Principal Legal Counsel Veronica Canton will provide an overview of key activities and strategies to implement for stronger data privacy processes and procedures.
Discussion topics include:
An Overview of the Legal and Regulatory Landscape
Legal's Integration with Business Units, and how to build a privacy centric culture
Understanding Customer Data and Its Importance, including user (UX) design and experience and data privacy, and data collection and consent
Third Parties – managing vendors and Third-Party Risk, and more!
Who should attend?
All levels of in-house counsel who work on data privacy matters and want to learn how to integrate privacy compliance into the business in a user friendly way while complying with applicable regulatory frameworks.
There is NO COST to attend this LIVE program!
This LIVE program is FREE thanks to our gracious sponsor, In-House Connect On-Demand! If you can't make it to the live program, the recording will only be available for viewing via our paid CLE library, In-House Connect On-Demand!