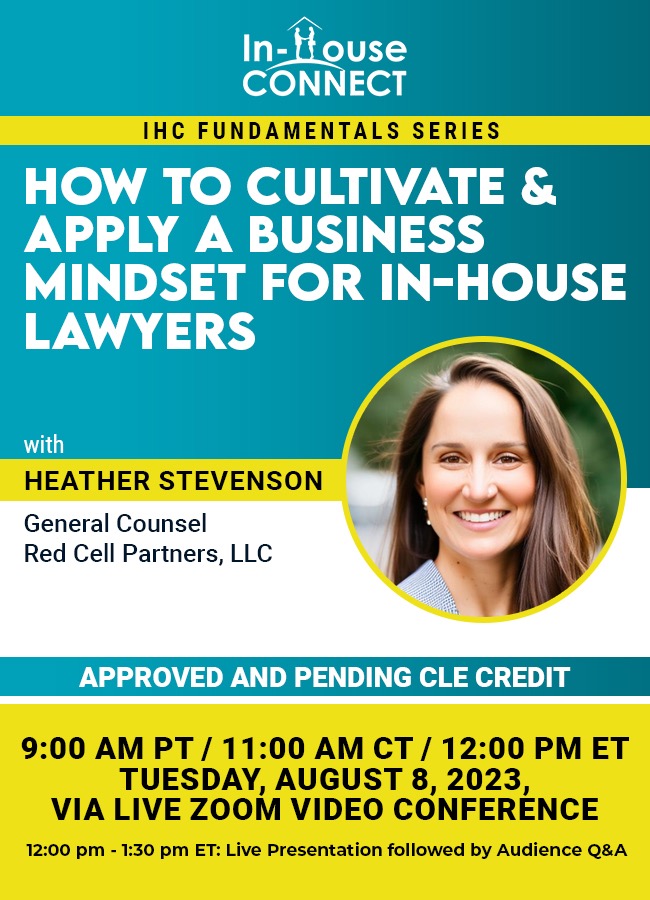 Speaker Bio

Sponsored by:

CLE Details
Heather Stevenson
is General Counsel at Red Cell Partners, LLC ("Red Cell") a venture and incubation firm with focuses in the healthcare and national security industries.  Heather oversees all legal matters for the firm and its incubations. Known for her approachable style and entrepreneurial mindset, Heather recognizes the importance of trust, creativity, and decisiveness in addressing the most complex business and legal challenges.
Prior to joining Red Cell, Heather served as Vice President and Deputy General Counsel at Boston Globe Media Partners, LLC, the publisher of The Boston Globe, Boston.com, and STAT. A strategic partner to the newsroom and C-suite, Heather advised senior business leaders on intellectual property and commercial law matters that arose in the rapidly evolving media industry.
Prior to joining BGMP in 2018, Heather founded Thirst Juice Co., a plant-based juice and smoothie business. Tapping into her deeply rooted interests in wellness, community, and entrepreneurship, Heather successfully opened multiple Boston-area shops, where she managed over 30 employees and served hundreds of thousands of drinks. Heather began her legal career as a litigation associate in Sullivan & Cromwell's New York offices, representing global financial institutions in complex litigation matters.
Heather earned her J.D. from Columbia Law School and holds an LL.M. from the University of Amsterdam. Before law school, Heather joined Teach for America, teaching 6th grade at a public middle school in the Bronx. She received her bachelor's degree in urban studies from Columbia University and a master's degree in childhood education from Bank Street College of Education.
Heather serves on the Board of the Legal Mentor Network and previously served on the Board of the Boston Globe Foundation.  She regularly mentors junior attorneys on navigating non-traditional and in-house legal careers. She is a marathon runner, dedicated vegetarian, and a mom to a spirited five-year-old son.
This program is approved for CLE credit in the following states: NY, PA, CA, IL, TX, AR
This program is pending CLE credit in the following states:  TN, OH, MN, NC, WA, GA, IN, KY, MO, CO. This program is pending CLE credit for self-application by the attorney or for reciprocal CLE credit in the following states: AZ, CT, FL, ME, MT, NJ, & ND.
How to Cultivate & Apply a Business Mindset for In-House Lawyers
Being a great lawyer takes more than knowing the law and applying it to the facts.  To be highly effective contributors, in-house lawyers need to be key business partners, helping to navigate risks and maximize opportunities by providing legal advice tailored to the business's goals.   And to do that well, in-house lawyers need to cultivate a business mindset.
A business mindset means approaching legal tasks from the perspective of a true business partner, rather than someone present only for the purpose of giving legal advice.  It also means knowing enough about business generally and the business you're in to be able to give advice that takes the full context into account.
Join us at 12pm ET/9am PT, on Tuesday, August 8th, for the next installment of our IHC Advantage Series, as Heather Stevenson, General Counsel for Red Cell Partners, helps us cultivate and refine our business mindsets.
Heather will discuss:
What it really means to have a business mindset and the knowledge you need to gain in order to apply the mindset;
Examples of what it looks like to have a business mindset in practice, from the perspectives of a department head and individual contributor;
How to avoid becoming a rubber stamp, in your efforts to "get to yes;"
Why having a business mindset is important and what you risk by not developing one; and
Specific steps you can take to develop a business mindset.
Who should attend?
All levels of in-house counsel who want to become a true partner to the business.
There is NO COST to attend this LIVE program!
This LIVE program is FREE thanks to our gracious sponsor, In-House Connect On-Demand! If you can't make it to the live program, the recording will only be available for viewing via our paid CLE library, In-House Connect On-Demand!