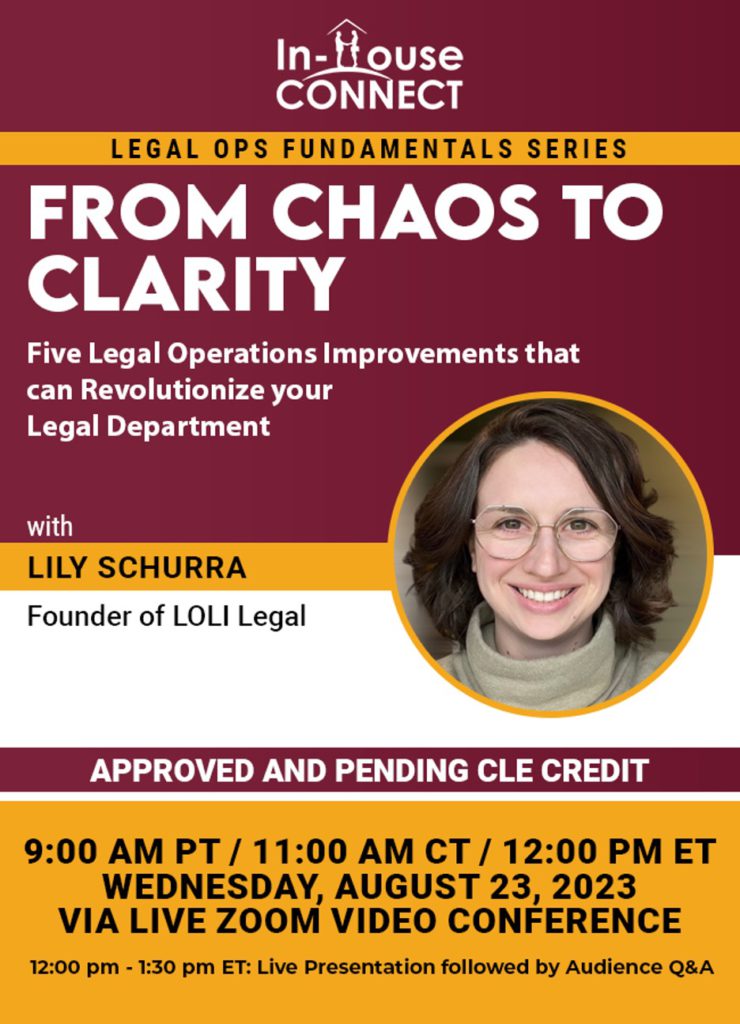 Speaker Bio

Sponsored by:

CLE Details
Lily Schurra
is an experienced commercial attorney and legal operations professional, whose past experience includes working as in-house counsel for a large, multinational corporation and an early-stage startup. She took her legal operations passion and experience to legal tech, where she led the Global Legal Engineering team at ContractPodAi, before starting her own consulting work. Lily now works as a consultant for legal technology companies and an advisor to in-house professionals who are looking to implement legal tech or develop their legal operations function.
This program is approved for CLE credit in the following states: NY, PA, CA, IL, AR
This program is pending CLE credit in the following states:  TN, TX, OH, MN, NC, WA, GA, IN, KY, MO, CO
This program is pending CLE credit for self-application by the attorney or for reciprocal CLE credit in the following states: AZ, CT, FL, ME, MT, NJ, & ND.
This program is appropriate for newly admitted attorneys and experienced attorneys.
From Chaos to Clarity: Five Legal Operations Improvements that can Revolutionize your Legal Department
A legal team with great legal operations knows how Legal spends its time and allocates its resources, where financial and legal risks lie for the organization, and what information its business partners need to make strategic business decisions off the legal team's data and insights.
If this doesn't sound like your team, don't sweat it. You don't need to undergo herculean efforts to improve your legal team's operations. Even small, manual adjustments can mean money and time saved for your team and your organization.
Join us at 12pm ET/9am PT, on Wednesday, August 23rd, for the next edition of our Legal Ops Fundamentals Series as Lily Schurra, attorney, legal operations expert, and founder of LOLI Legal, walks us through five priority focuses that will revolutionize your legal team.
Lily will discuss:
Why the phrase "legal operations" won't be leaving our LinkedIn feeds (and why all the cool kids won't stop talking about it)
Common challenges legal teams face that legal ops strategies can improve
5 key priorities to focus on in your team's legal operations efforts (regardless of whether you have an existing legal ops function or are starting from scratch)
Examples of ways teams in different stages of their legal ops journey can make lasting changes from these priority focuses (whether through manual processes or implementing legal technology)
How to use legal operations to bolster the legal team's image ("strategic business partner" > "cost center"); and
How to get your team on board for a new way of operating
Whether your legal team has an existing legal operations function or you're just trying to get a sense of ways you can improve your own day-to-day work (and set yourself apart in the process), there's something for you in this webinar.
Who should attend
All levels of in-house counsel, legal professionals, and legal operations professionals who want to improve the way their legal team works.
There is NO COST to attend this LIVE program!
This program is FREE thanks to In-House Connect On-Demand! If you can't make it to the live program, the recording will be available for viewing via our paid CLE library, In-House Connect On-Demand!