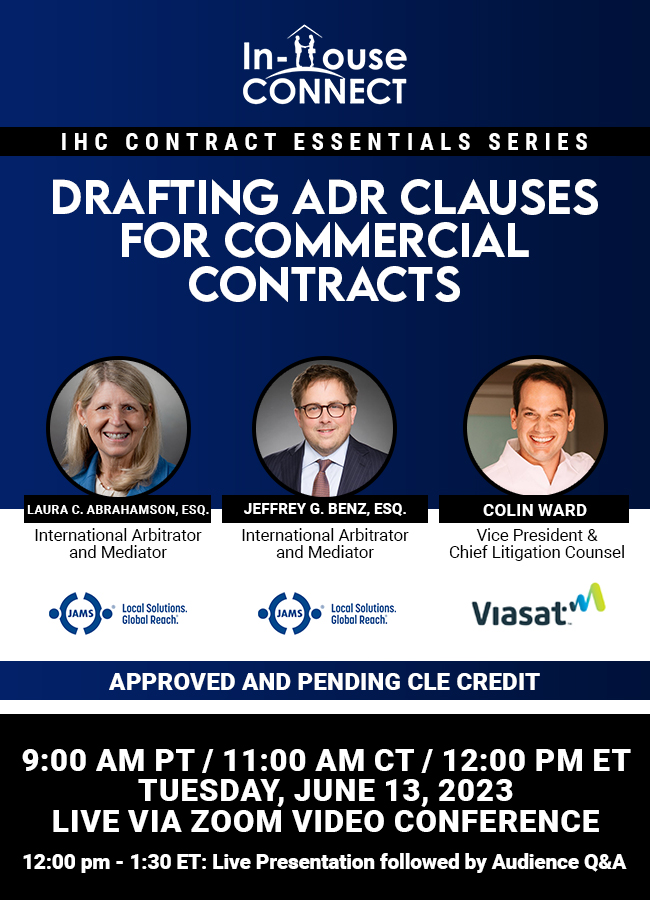 Speaker Bio

Sponsored by:

CLE Details
Laura C. Abrahamson, Esq., joins JAMS with robust ADR experience, following her illustrious legal career in private practice and in-house senior leadership roles at Fortune 500 companies. She brings a unique, well-rounded and pragmatic perspective to her ADR practice, as well as deep national and international experience in the engineering, construction, oil and gas, and chemicals industries.
Ms. Abrahamson has experience as an arbitrator, advocate and client in more than 100 arbitrations and major litigation matters and more than 50 mediations within the U.S. and significant jurisdictions around the world, including matters involving antitrust, complex commercial contracts, energy, engineering and construction, environmental, labor and employment, insurance coverage, intellectual property, securities and sports and entertainment.
Jeffrey Benz, Esq., FCIArb, FCollArb, CEDS, is a dual-qualified US attorney (California, Colorado, Hawaii, New York) and barrister (England & Wales) and sought-after ADR practitioner based in London and Los Angeles. Following a career as a private practice litigator with a large international law firm, Mr. Benz worked in-house at global sports and entertainment and technology organizations, including in executive leadership positions. He brings this well-rounded perspective to his ADR practice.
Mr. Benz has mediated and arbitrated several hundred complex domestic and cross-border disputes under the rules of many major institutions. He has been recognized repeatedly as "Lawyer of the Year" for arbitration in Los Angeles and was recognized as one of the Best Lawyers in America (Best Lawyers, 2021-23). Mr Benz has also developed a sports-focused specialty.
Colin Ward received his bachelor's degree from the London School of Economics, and his law degree from the University of California, Berkeley. After clerking for Judge Smith of the Ninth Circuit, and Judge Chen of the Northern District of California, Colin practiced at Quinn Emanuel, with a focus on intellectual property and appellate litigation. He is currently Vice President, Chief Litigation Counsel at Viasat, where he is responsible for the company's litigation and arbitration matters worldwide. Colin has significant experience with international dispute resolution, and has successfully handled cases in the US, UK, EU, Brazil, Switzerland, Australia, and Israel. He is a member of the Board of Governors of the Association of Business Trial Lawyers and the ICDR's California Advisory Committee. He also serves as a Temporary Judge for the Los Angeles County Superior Court.
This program is approved for CLE credit in the following states: NY, PA, CA, IL, TX
This program is pending CLE credit in the following states:  TN, OH, MN, NC, WA, GA, IN, KY, MO, CO, VA.
This program is pending CLE credit for self-application by the attorney or for reciprocal CLE credit in the following states: AZ, CT, FL, ME, MT, NJ, & ND.
This program is appropriate for newly admitted attorneys and experienced attorneys.
Drafting ADR Clauses for Commercial Contracts
In today's dynamic business landscape, in-house counsel are entrusted with the crucial responsibility of protecting their company's interests and minimizing legal risks. One of the most effective ways to achieve this is by drafting arbitration clauses that address the unique challenges faced by modern businesses.
Join us at 9am PT/ 12pm ET on Tuesday, June 13 for the next edition of our IHC Contract Essentials Series as Laura C. Abrahamson, Esq., and FCIArb, Jeffrey G. Benz, Esq., FCIArb, FCollArb, CEDS of JAMs, and Colin Ward, VP and Chief Litigation Counsel provide guidance on drafting arbitration clauses that account for the unique challenges faced by businesses today.
Through real-life experiences and case studies, our panel will explore how well-drafted arbitration clauses can effectively resolve disputes across a range of legal issues.
Key discussion topics include:
The choice of law provision,
The seat of arbitration, and
The selection of arbitrators.
Attendees will learn best practices for drafting arbitration clauses that can be tailored to your company's specific needs and goals.
Who Should Attend?
This program is designed for both experienced and new in-house counsel who regularly engage in litigation/arbitration and/or who regularly negotiate commercial contract arbitration provisions.
There is NO COST to attend this LIVE program!
This LIVE program is FREE thanks to our gracious sponsor, JAMS ADR! If you can't make it to the live program, the recording will only be available for viewing via our paid CLE library, In-House Connect On-Demand!