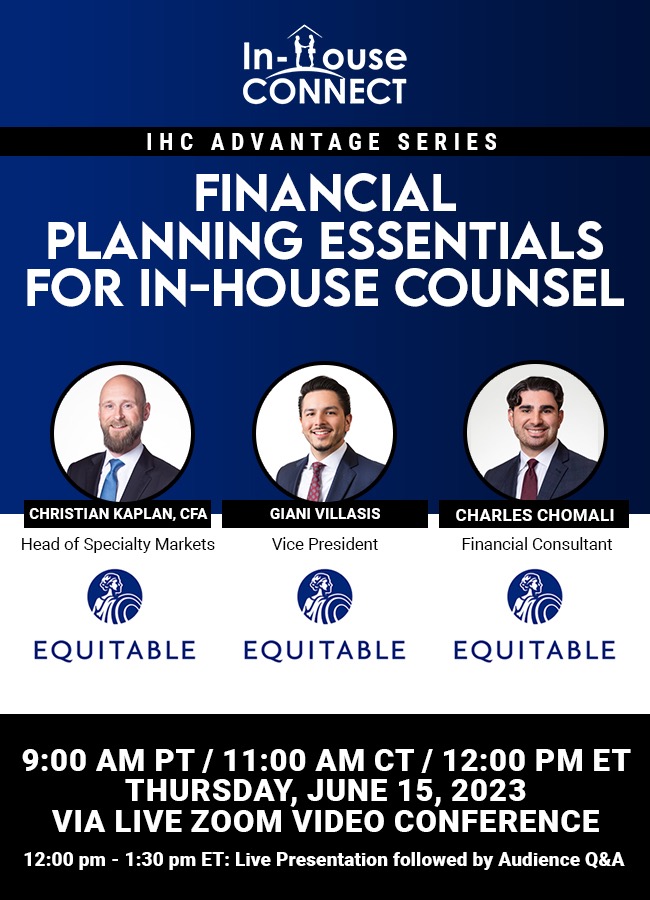 Speaker Bio

Sponsored by:

CLE Details
Chris Kaplan
is a member of the Equitable Life Distribution Management Team as Head of Specialty Markets. As Head of Specialty Markets, Chris is charged with growing and maintaining several complex sales transactions such as COLI, Premium Finance, and Foreign Nationals. Additionally, Chris is tasked with crafting key messaging, training, and positioning of Equitable's life insurance strategy and to align stakeholders across the organization, such as product development, legal, compliance, operations, and distribution clients.
This program is NOT eligible for CLE credi.
Financial Planning Essentials for In-House Counsel
In today's unpredictable and constantly changing economic climate, understanding the financial landscape is essential.
Join us on Thursday, June 15 at 9am PT / 12pm ET for the next edition of our IHC Advantage Series, as Christian Kaplan, CFA, Giani Villasis, and Charles Chomali of Equitable Advisors, will provide strategies and best practices to help you address complex financial challenges, guide Personal Financial Strategy, and ensure financial health for their families & loved ones.
In this session, you'll learn about:
1. Building a Preliminary Financial Plan & Balance Sheet:
Understanding the key components of a financial plan
Creating a balance sheet to assess your current financial standing
Setting realistic financial goals and developing a roadmap to achieve them
2. The Three Buckets of Retirement Assets:
Exploring the three main types of retirement assets
Understanding the benefits and considerations of each type
Developing a comprehensive retirement strategy that leverages all three buckets
3. Staying updated on significant litigation cases impacting the legal landscape:
Understanding upcoming policies and regulations that may affect your role as in-house counsel
Identifying proactive measures to mitigate potential legal risks and ensure compliance
Through case studies, practical examples, & an interactive Q&A, our panel will provide you with the tools and knowledge to enhance your financial planning skills, make informed retirement decisions, and stay ahead of the legal landscape.
Who Should Attend
This seminar is designed for In-House counsel, and Legal professionals at any stage of their career. Whether you are just starting out or seeking to refine your financial strategies, this event will equip you with the necessary insights and resources.
There is NO COST to attend this program!
This program is FREE thanks to our gracious sponsor, Equitable – Providing financial planning for all stages of life!