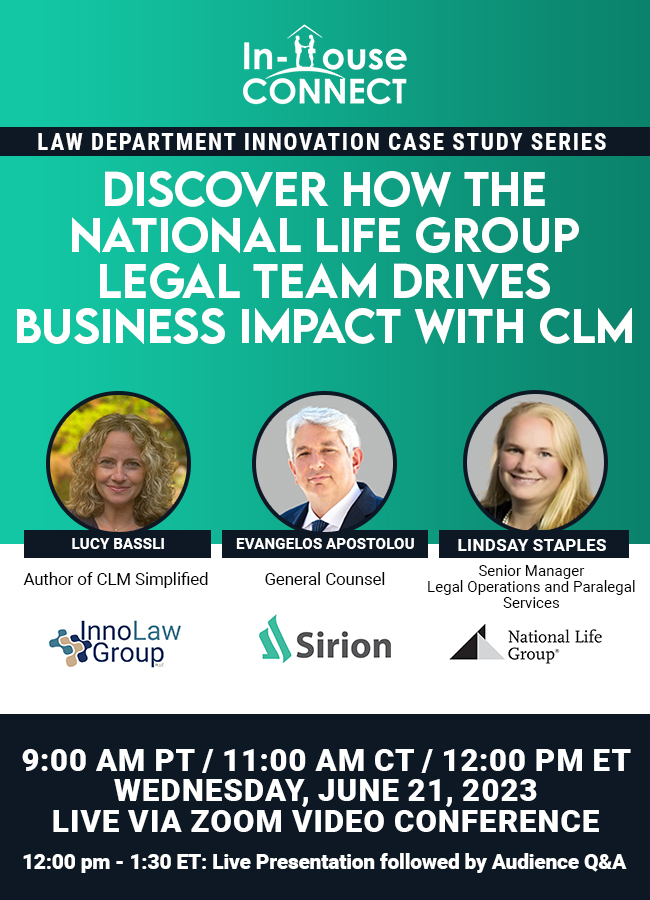 Speaker Bio

Sponsored by:

CLE Details
Lindsay Staples
Lindsay E. Staples is Senior Manager of Legal Operations and Paralegal Services at National Life Group in Montpelier, Vermont. Ms. Staples joined NLGroup in 2007 as Securities Paralegal coming from the Litigation group at WilmerHale in Boston.   For the next 10 years Ms. Staples led transactions and managed the mutual fund Board of Directors eventually as Sr. Securities Paralegal and Assistant Corporate Secretary imploring legal project management principles throughout many of projects and transactions. In 2018, the need to create a Legal Operations Department at NLGroup was becoming apparent to scale legal needs to the fast growing business of the financial service company.  After two years of research, strategy, and planning, in July of 2020 Ms. Staples became the head of the newly formed Legal Operations Team.
Evangelos Apostolou
Evangelos Apostolou is Sirion's General Counsel and has been a part of Sirion since 2016. In addition to the UK where he is qualified as a barrister and a solicitor, Evangelos has lived and worked as a lawyer in the US, India, Singapore, Hong Kong and the Middle East. In recent years he worked for a leading global executive search and advisory firm. He was previously an equity partner and general counsel of Ernst & Young in Asia Pacific and VP, Chief Counsel APAC for British Telecom. Evangelos also served as a principal of an Ernst & Young law practice member firm in SE Asia and has lectured as a professor of law at the National University Singapore and the University of Hong Kong.
Lucy Bassli
Lucy Bassli is an attorney, author of The Simple Guide to Legal Innovation and the Founder and Principal of InnoLaw Group, PLLC. As a former Assistant General Counsel of Legal Operations and Contracting at Microsoft, she redefined how legal work is done and created one of the first managed service engagements with a law firm.  In 2015, she was named to the National Law Journal list of Outstanding Women Lawyers, and an ACC Value Champion in 2016. Before joining Microsoft, Lucy was an associate at Davis Wright Tremaine in Seattle in the commercial bankruptcy and business transactions practices.
This program is NOT CLE eligible.
Discover How the National Life Group Legal Team Drives Business Impact with CLM
The role of the in-house Legal team has evolved in recent years as new technologies have empowered Legal departments to work more closely with the rest of the organization as trusted business partners. Contract lifecycle management (CLM) software has emerged as a major tool in this evolution by not only significantly increasing efficiency in legal operations but also improving collaboration among business teams, helping drive the overall business strategy.
Join us on Wednesday, June 21 at 9am PT / 12 pm ET for the next edition of our Law Department Innovation Case Study Series, as Lucy Bassli, Author of CLM Simplified and Founder of InnoLaw Group, Evangelos Apostolou, General Counsel, Sirion, and Lindsay Staples, Senior Manager, Legal Operations and Paralegal Services at National Life Group, will detail how the Legal team at National Life is leveraging Sirion's AI-powered CLM platform to drive business transformation.
Discussion topics include:
The business needs that led National Life to digitally transform contracting enterprise-wide
The role played by Sirion CLM in this transformation, and 
Learnings, best practices, and benefits realized from using an AI-powered CLM
Who Should Attend
This webinar is an excellent fit for in-house counsel and legal professionals who review, negotiate, manage, or otherwise handle commercial contracts, and those who are interested in bringing in a CLM solution for their legal department.
There is NO COST to attend this LIVE program!
This LIVE program is FREE thanks to our gracious sponsor, Sirion – The Smarter Contracting Platform. If you can't make it to the live program, the recording will be available for viewing.