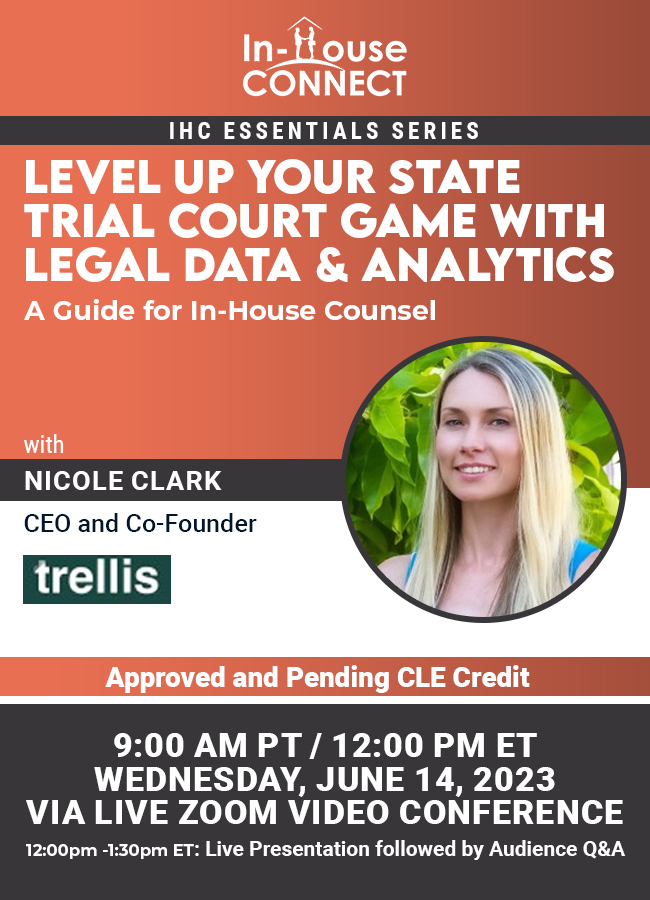 Speaker Bio

Sponsored by:

CLE Details
Nicole Clark
is a business litigation and labor and employment attorney who has handled litigation in both state and federal courts. She's worked at a variety of law firms ranging from mid-size litigation boutiques to large firms, and is licensed to practice law in three states. She has defended corporations and employers in complex class action and wage and hour disputes, as well as individual employment matters ranging from sexual harassment to wrongful termination. Additionally, Nicole is the CEO and co-founder of Trellis Research, a legal analytics platform that uses AI and machine learning to provide litigators with strategic legal intelligence and judicial analytics. Nicole has an intuitive understanding of technology and is deeply committed to helping lawyers leverage technology to gain a competitive advantage and achieve a more favorable outcome for their clients.
This program is approved for CLE credit in the following states: NY, PA, CA, IL, TX
This program is pending CLE credit in the following states:  TN, OH, MN, NC, WA, GA, IN, KY, MO, CO, VA.
This program is pending CLE credit for self-application by the attorney or for reciprocal CLE credit in the following states: AZ, CT, FL, ME, MT, NJ, & ND.
Level Up Your State Trial Court Game with Legal Data & Analytics: A Guide for In-House Counsel
Imagine being able to "google search" state trial court records (dockets, rulings, and filed documents) across counties and states through a single interface, to learn exactly how your judge, party, or opposing counsel has handled similar cases? Now you can.
Join us at 9am PT/ 12pm ET on Wednesday, June 14, for the next edition of our IHC Essentials Series as Nicole Clark of Trellis will teach us how to leverage state trial court – and verdict – data to be more efficient, more proactive, and achieve better results for your organizations.
Discussion topics will include:
Judge Analytics and Ruling History
Strategic State Trial Court Research: UI & API
Court Comparison Analysis Feature
Case Valuation and Verdict Data
Daily Filings Reports + Alerts – Stay Informed
Attendees will learn how to leverage state court trial data and analytics to be more efficient, more proactive, and achieve better results for your litigation matters.
Who Should Attend
This program is designed for all levels of in-house counsel who handle litigation for their organizations and are interested in learning more about how using state trial court research can achieve better results in their litigation matters.
There is NO COST to attend this LIVE program!
This program is FREE thanks to our gracious sponsor, Trellis! If you can't make it to the live program, the recording will only be available for viewing via our paid CLE library, In-House Connect On-Demand!