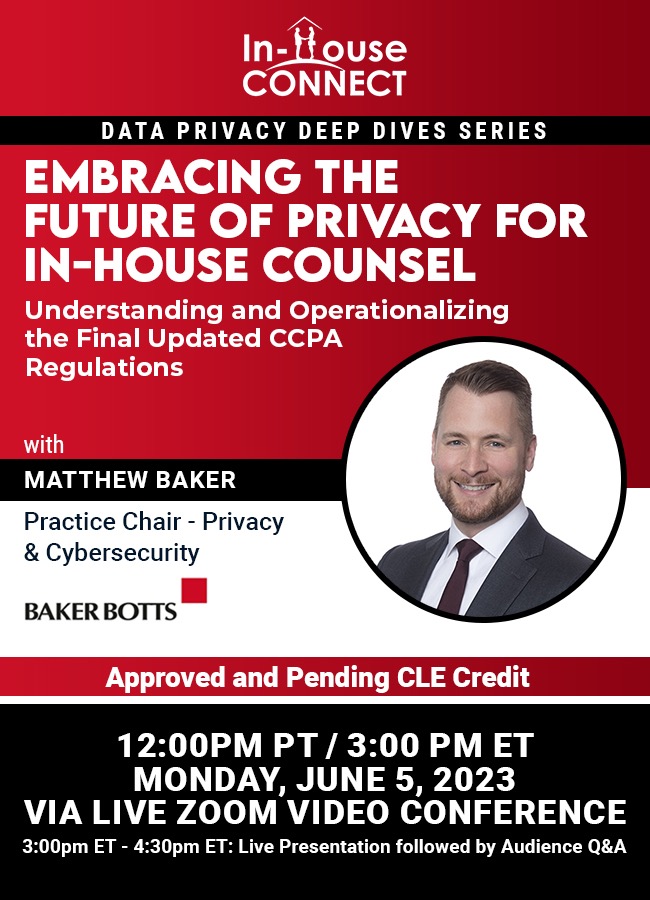 Speaker Bio

Sponsored by:

CLE Details
Matthew Baker
Matthew's cross-disciplinary practice focuses on data privacy, cybersecurity, crisis management, and incident response for a broad range of industries. He is well-versed in multi-jurisdictional privacy compliance; cyber risk identification, mitigation, and response strategies; complex information governance and data management issues; and cross-border electronic discovery. His diverse experience at the intersection of litigation, informational and operational technology, and data management enables him to provide clients with comprehensive business-oriented counsel proactively and in real time.
This program is approved for CLE credit in the following states: NY, PA, CA, IL, TX
This program is pending CLE credit in the following states:  TN, OH, MN, NC, WA, GA, IN, KY, MO, CO, VA.
This program is pending CLE credit for self-application by the attorney or for reciprocal CLE credit in the following states: AZ, CT, FL, ME, MT, NJ, & ND.
Embracing the Future of Privacy for In-House Counsel: Understanding and Operationalizing the Final Updated CCPA Regulations
The California Consumer Privacy Act (CCPA), as amended by the California Rights Privacy Act (CPRA), has set a new standard for privacy rights in the United States. As businesses continue to adapt to the evolving regulatory landscape, it is crucial to understand and operationalize the updated CCPA regulations.
Join us at 12pm PT/ 3pm ET on Monday, June 5, for the next edition of our IHC Data Privacy Deep Dives Series as Matthew Baker of Baker Botts will delve into the key provisions of the regulations and discuss:
1) the expanded scope of personal information,
2) the introduction of new privacy rights,
3) new restrictions on the use of targeted advertising, and
4) the establishment of the California Privacy Protection Agency (CPPA).
Who Should Attend
This program is designed for all levels of in-house counsel who work on data privacy matters and want to get up to speed on the CPRA!
There is NO COST to attend this LIVE program!
This program is FREE thanks to our gracious sponsor, Baker Botts! If you can't make it to the live program, the recording will only be available for viewing via our paid CLE library, In-House Connect On-Demand!