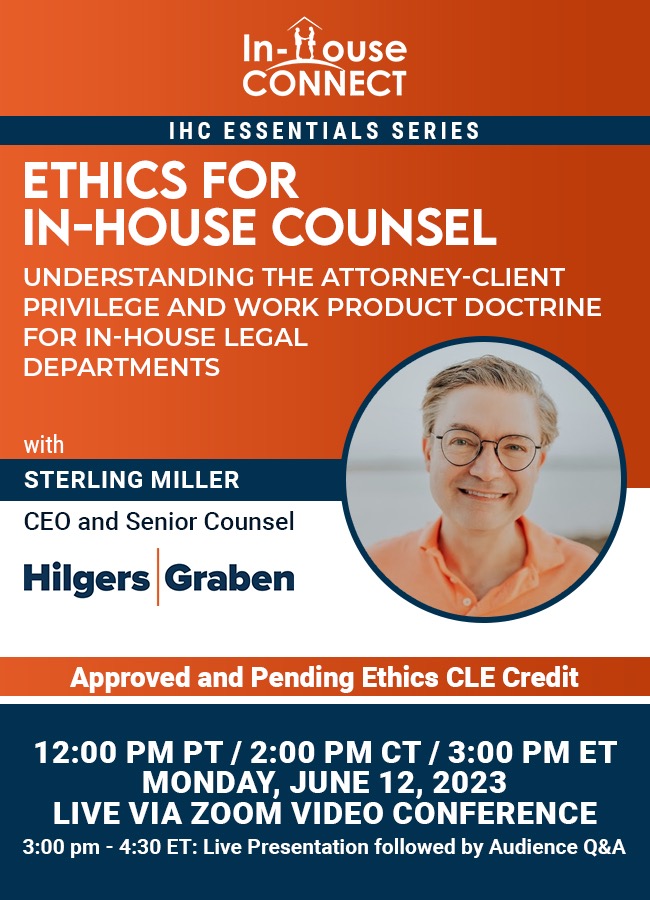 Speaker Bio

Sponsored by:

CLE Details
Sterling Miller is CEO and Senior Counsel at Hilgers Graben PLLC, a nationwide litigation boutique law firm.  He has enjoyed a wide and varied 30-year legal career. He is a three-time General Counsel, having served in that role at Marketo, Inc., Sabre Corporation, and Travelocity.com where he managed international teams handling a myriad of complex legal issues including "bet-the-company" litigation, M&A, IPO, corporate secretarial, data privacy, government affairs, and commercial agreements.
Out of law school, he was an associate at Gallop, Johnson, and Neuman in St. Louis. He began his in-house career in 1994 at American Airlines. He led the legal team for Sabre Holdings' successful IPO in April 2014. In January 2019, after leading the legal team that worked on the successful sale of Marketo to Adobe, he returned to the Dallas office of firm Hilgers Graben PLLC for a second stint as Senior Counsel, focusing on commercial matters, litigation, and data privacy. He has published five books with a sixth on the way for 2023.
Sterling earned his J.D. degree from Washington University in St. Louis (Order of the Coif/Law Review) and his bachelor's degree from Nebraska Wesleyan University, where he was Student Body President among other honors. He is certified in data privacy/security by the International Association of Privacy Professionals (CIPP/US). He is a highly sought-after speaker for legal department offsites and for legal and industry panels including presenting at the South-by-Southwest conference in Austin, TX and keynoting several ACC events. In all, he has presented over 200 times and growing.
Under his leadership, Inside Counsel magazine named the Travelocity Legal Department one of the "Ten Most Innovative" legal departments in the United States (with the Sabre legal department later winning honorable mention under his tenure). He has been a multi-year finalist for the Dallas Business Journal's "Best Corporate Counsel" award. Sterling also writes frequently for legal publications, including for Thomson Reuters, on topics like artificial intelligence, the use of data analytics, and issues of interest to in-house lawyers generally.  In 2020, he prepared a teaching module for Baylor Law School on the application of artificial intelligence and the practice of law.
Sterling serves on the Board of Directors of Terrasoul Superfoods and the advisory boards of Travefy.com and Kyte.com. He publishes a widely-read and award-winning legal blog entitled "Ten Things You Need to Know as In-House Counsel." The ABA published three of his books: "Ten Things You Need to Know as In-House Counsel: Practical Advice and Successful Strategies" in 2017, "Ten (More) Things You Need to Know as In-House Counsel: Practical Advice and Successful Strategies (Vol II)" in 2019, and "Showing the Value of the Legal Department: More Than Just a Cost Center" in 2021.  His third book – a cookbook titled "The Slow-Cooker Savant" – came out in late 2018. Sterling's first book, "The Evolution of Professional Football: 1920 – 2015", was published by Mill City Press in 2015.  His sixth book, and fourth for the ABA, is due out in 2023 and deals with productivity for in-house lawyers.
You can follow him on Twitter @10ThingsLegal and LinkedIn where he regularly shares his commentary and insights on legal issues.
This program is approved for CLE credit in the following states: NY, PA, CA, IL, TX
This program is pending CLE credit in the following states:  TN, OH, MN, NC, WA, GA, IN, KY, MO, CO, VA.
This program is pending CLE credit for self-application by the attorney or for reciprocal CLE credit in the following states: AZ, CT, FL, ME, MT, NJ, & ND.
This program is appropriate for newly admitted attorneys and experienced attorneys.
Ethics for In-House Counsel: Understanding the Attorney-Client Privilege and Work Product Doctrine for In-House Legal Departments
While critically important to the day-to-day operations of the legal department, many in-house lawyers do not truly understand how the attorney-client privilege works or how best to protect it.  The same is true for the work product doctrine, another form of "privilege."
Join us on Monday, June 12 at 12pm PT / 3pm ET for the next edition of our IHC Essentials Series, for a lively and interactive session with Sterling Miller, 3x General Counsel, 5x author, and publisher of the renowned "Ten Things You Need to Know as In-House Counsel" blog series. Sterling will share his perspective on the attorney-client privilege and work product doctrine in the context of the unique needs of in-house lawyers.
Discussion topics include:
Understanding the scope and limits of Attorney-Client Privilege;
What is the Work Product Doctrine and how does it work?
Best Practices for In-House Counsel to maintain and protect these privileges in various scenarios.
Who Should Attend
This program is designed for both experienced and new in-house counsel. All in-house counsel and their in-house colleagues can benefit from learning practical insights and key strategies for preserving and protecting attorney-client privilege and work product doctrine within their organizations.
There is NO COST to attend this LIVE program!
This LIVE program is FREE thanks to our gracious sponsor, In-House Connect On-Demand.  If you can't make it to the live program, the recording will only be available for viewing via our paid CLE library, In-House Connect On-Demand!