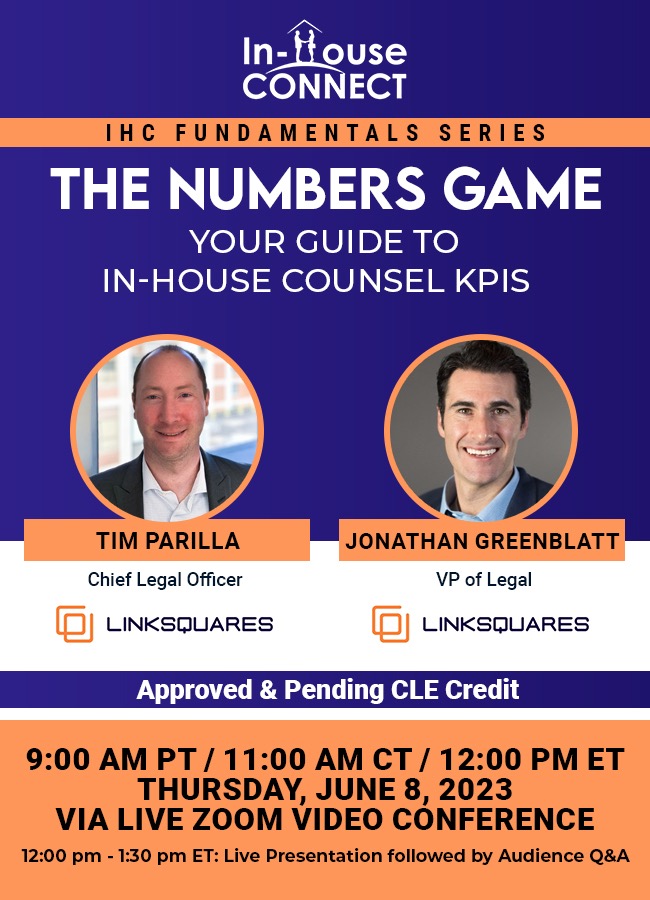 Speaker Bio

Sponsored by:

CLE Details
Jonathan Greenblatt, VP of Legal at LinkSquares
As LinkSquares VP of Legal, Jonathan is  responsible for managing LinkSquares' day-to-day legal operations. In this role, Jonathan oversees the commercial contracts function, handles corporate matters, and advises on privacy matters. Prior to joining LinkSquares, he was Associate General Counsel at a leading cybersecurity company. There he negotiated complex commercial agreements and managed the contracts function while advising on GDPR and other relevant privacy regimes. Jonathan's previous experience includes in-house roles at companies in the Internet of Things and Green Rnergy technology sectors. During law school, Jonathan also worked as a law clerk at Fannie Mae.
Jonathan received his Juris Doctor from George Mason University School of Law and a Bachelor of Arts with distinction from James Madison University. He is CIPP/US certified and a member of the Association for Corporate Counsel. Prior to attending law school, Jonathan served as a Peace Corps volunteer in the former Soviet Union.
Tim Parilla, Chief Legal Officer @ LinkSquares
As Chief Legal Officer, Tim oversees LinkSquares' legal posture and acts as a strategic advisor to the company's management and corporate counsel customer base.
He previously spent seven years as General Counsel for DraftKings. At DraftKings, he scaled the legal function and managed the company's legal posture throughout numerous financing and fundraising rounds, litigation, and regulatory actions, at both the state and federal level, including the high-profile legal challenges the company faced in 2015 alongside the explosion in popularity of daily fantasy sports and strategic acquisitions. Prior to DraftKings, Tim was General Counsel for Everest Gaming, a European-based online poker and casino operator, and was also a founder of a company in the cryptocurrency space.
Tim has a J.D. from the Walter F. George School of Law at Mercer University and a B.S. from Oakland University.
This program is approved for CLE credit in the following states: TX, NY, PA, CA, IL
This program is pending CLE credit in the following states:  TN, OH, MN, NC, WA, GA, IN, KY, MO, CO
This program is pending CLE credit for self-application by the attorney or for reciprocal CLE credit in the following states: AZ, CT, FL, ME, MT, NJ, & ND.
This program is appropriate for newly admitted attorneys and experienced attorneys.
The Numbers Game: Your Guide to In-House KPIs
Every legal department is different, but one thing remains consistent: Getting a seat at the executive table requires verifiable metrics. From productivity and performance metrics to the number of contracts reviewed and sent, identifying and analyzing the KPIs of a legal team is vital for strategic decision making and growth. Implementing metrics-backed changes allows the legal department (and the whole organization) to operate with increased efficiency, track changes and make impactful decisions.
Join on Thursday, June 8, at 12pm ET / 9am PT for the next edition of our IHC Fundamentals Series as Jonathan Greenblatt and Tim Parilla, lead an informative and engaging session on all things KPIs for in-house legal teams.
From this session, you'll learn:
Key metrics your executive team cares about
How to use metrics to improve performance
Why legal technology is crucial to the process, and much more!
Who Should Attend
This program is designed for both experienced and new in-house counsel who are eager to learn how to implement KPIs in their organizations.
There is NO COST to attend this LIVE program!
This program is FREE thanks to LinkSquares – Legal tech for humans, powered by AI. If you can't make it to the live program, the recording will be available for viewing via our paid CLE library, In-House Connect On-Demand!